SECRET CUTTER continues to bring their Bethlehem-rusted and feedback-drenched sludgecore brutality to the masses abroad, booking new live shows while new visual evidence in the wake of recent encounters with the scathing act surfaces.
As SECRET CUTTER's live itinerary has seen the band performing in NYC frequently in the wake of their debut LP, Self Titled, including supporting Vision Of Disorder and Primitive Weapons as part of CBGB's Festival, the trio will return to Brooklyn again next week for their first New York headlining show at Black Bear Bar on Tuesday, November 11th. A slew of additional tour dates are currently being devised.
See SECRET CUTTER unloading their caustic barrage courtesy of Metal Injection's Pit Full Of Shit archives RIGHT HERE.
SECRET CUTTER LIVE:
11/11/2014 Black Bear Bar – Brooklyn, NY w/ Huldra, Beefrot, Autocatalytica [info]
Following their independent release of Self Titled through their own Bethlehem Rust label earlier this year, Bethlehem, Pennsylvania-based SECRET CUTTER was literally drenched in awed press reactions and reviews, the album's sheer brutality and caustic originality leaving unsuspecting listeners mangled in its wake. London-based Holy Roar Records (Enabler, OHHMS, Strife, Coliseum) then picked up the record for European distribution, and San Diego-based Grimoire Cassette Cvlture (Indian, Fister, Goryl), manufactured a 150-copy run of the album on tape. Melding sludge, hardcore and grind elements, SECRET CUTTER's output is delivered through a backline massive enough to power a band twice their size, delivering a live show as intense as their recorded material. With over twenty-six minutes of pure slaughterhouse material, produced by the band at Stimpfl's Captured Recording Studios, SECRET CUTTER's forceful songwriting, and eclectic, brutal musical dementia comes alive through a ten-song maelstrom on Self Titled.
Self Titled can be purchased on black vinyl in Europe via Holy Roar HERE, on cassette from Grimoire Cassette Cvlture HERE, and stateside on three different colors of vinyl as well as digital through the band HERE. All physical versions of Self Titled include a free digital download of the full album.
Watch out for SECRET CUTTER's next creation to be released in 2015, with a pile of new material written and more in construction. Stay tuned for more info in the coming weeks.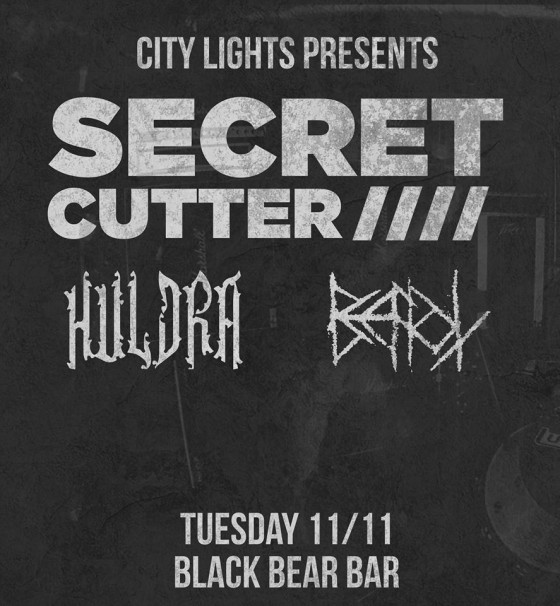 http://www.secretcutter.com
http://www.facebook.com/SecretCutter
http://secretcutter.bandcamp.com
http://twitter.com/cutter_secret