SCOUR – the extreme metal collaboration featuring Philip H. Anselmo (Pantera, Down, Superjoint etc.), John Jarvis (Pig Destroyer, Agoraphobic Nosebleed), Derek Engemann (Cattle Decapitation), and Chase Fraser (Continuum, former Animosity, Decrepit Birth) will bring their scathing odes to the stage next week on a one off show at Saint Vitus Bar in Brooklyn, New York before heading to Clisson, France for a performance at this year's edition of Hellfest. SCOUR — who recently enlisted Adam Jarvis (Misery Index, Pig Destroyer) to their drum position – have played just one show together this past February at One Eyed Jacks in New Orleans, Louisiana. View live footage below. [Filmed by Mike Holderbeast, Carolyn Babauta, Ritchi Rooster, Steven W. Richardson and Justin Delong. Audio recorded and mastered by Steven W. Richardson].
SCOUR:
6/14/2017 Saint Vitus Bar – Brooklyn, NY w/ Necroptic Engorgement, Ampallang Infection [info]
6/18/2017 Hellfest – Clisson, FR [info]
SCOUR released their six-track, "The Grey" debut EP last year via Anselmo's own Housecore Records. Conjuring a harrowing strain of blackened, grind-infused sonic murk, the tunesare dark, deviant, and distinctly unlike any of their root bands. Mixed by Dave Otero (Cephalic Carnage, Cattle Decapitation, Cobalt, Khemmis), the EP continues to reap critical accolades from media globally.
Order your copy today HERE. Stream it in full at THIS LOCATION.
Writes Loudwire, "With no song eclipsing the three-minute mark, SCOUR is a sonic deathblow spanning just fourteen minutes," the esteemed blog further hailing the band's, "caustic brand of black metal in the vein of Scandinavian greats like Marduk and Necrophobic." In a 5/5 review, Skulls 'N' Bones gushes, "This short, sweet EP proves that the former Pantera frontman has the ability to take his talents to the black metal genre and fucking destroy all… This album not only shows that this group of musicians can excel in a different genre than what they normally play, but provides that they can own that genre." In an 8/10 score, Metal Wani celebrates a, "short, sharp offering," adding of Anselmo's various side projects, "this one is right up there with the best of them." No Clean Singing hails an offering that's "shockingly intense," adding, "The disc basically starts at apocalyptic and stays there, so the opening songs might actually blow your hair back some." Stereoboard concurs noting, "This EP is Morbid Angel and Obituary wrestling, with Mayhem and Napalm Death watching from the sidelines with their younger buddies. If this is what SCOUR can knock out in their spare time, imagine what they can accomplish through a full-length? The world shivers with anticipation." Add PureGrainAudio, "a raw, unholy blast of traditional black metal; no grooves, no mellow bits, just raw, nasty buzzing black metal riffs with Anselmo's feral screams layered over the top of the six tracks. It doesn't mess around, it's got none of that Emperor symphonic nonsense, this is just six short blasts of vicious fury that demonstrate not only the raw, oldschool brutality of the genre, but also how Anselmo has still got the ability to turn his hand to pretty much any form of extreme music with consummate ease."
SCOUR:
Phillip H. Anselmo – vocals
Derek Engemann – guitar
Chase Fraser – guitar
John Jarvis – bass
Adam Jarvis – drums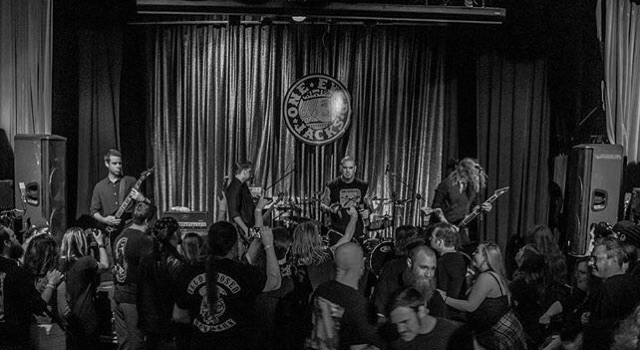 http://www.facebook.com/scourband
http://www.thehousecorerecords.com
http://www.facebook.com/housecorerecords