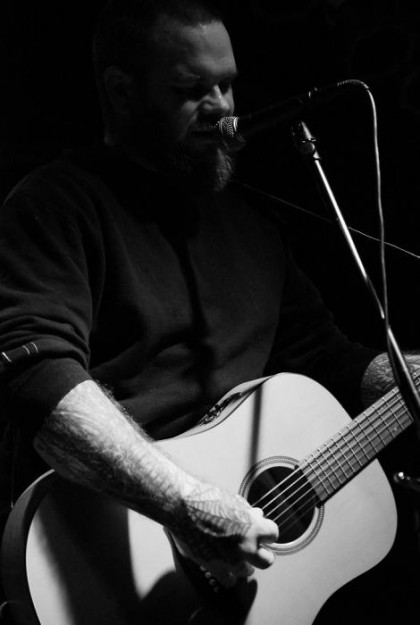 Having his American acoustic tour alongside Bob Wayne and Jay Munly in December, and just recently a trek through Australia and New Zealand alongside John Baizely, SCOTT KELLY's newest U.S. solo tour with support from EUGENE S. ROBINSON (Oxbow) is now underway.
If there was ever a certainty of damage done, dealt and overcome, the SCOTT KELLY solo tour is an object lesson in the character building parameters of life's grinding parade. Bringing equal parts sonorous weight and lambent beauty, the man, the guitar and the songs from a songbook heavy with NEUROSIS and SHRINEBUILDER antecedents, KELLY's current tour sees him debuting unreleased songs from his upcoming solo record, as well as his previous solo LPs for a live show experience burnished by the acoustic and not diminished by it. "There's fear everywhere," Kelly says. "In moments both quiet and small. And there's surviving them all. And we are."
EUGENE S. ROBINSON supports with a brand of storytelling that draws from his previously published work, as well as stories from the beast that has driven OXBOW for the past two decades.
SCOTT KELLY American Winter Tour w/ Eugene S. Robinson [remaining dates]:
2/21/2012 Record Bar – Kansas City, MO
2/22/2012 Fubar Lounge – St Louis, MO
2/23/2012 MOTR Pub – Cincinnati, OH
2/24/2012 Intersection Front Bar – Grand Rapids, MI
2/25/2012 Lager House- Detroit, MI
2/26/2012 Rockstar Pro Arena – Dayton, OH
2/28/2012 Now That's Class – Cleveland, OH
2/29/2012 Ace Of Cups – Columbus, OH
3/01/2012 Mohawk Place – Buffalo, NY
3/02/2012 Cafe Nine – New Haven, CT
3/03/2012 Church of Boston – Boston, MA w/ Marc Pinansky
3/04/2012 Knitting Factory – Brooklyn, NY
3/06/2012 Johnny Brenda's – Philadelphia, PA
3/07/2012 Golden West Cafe – Baltimore, MD
3/08/2012 Strange Matter – Richmond, VA
3/09/2012 The Pinhook – Durham, NC
3/10/2012 Snug Harbor – Charlotte, NC
More news on SCOTT KELLY's upcoming solo LP will be released in the weeks ahead.
http://www.facebook.com/pages/Scott-Kelly/190019681030268
http://www.facebook.com/eugenerobinson
http://www.eugeneSrobinson.com
http://www.neurotrecordings.com
http://www.facebook.com/neurotrecordings