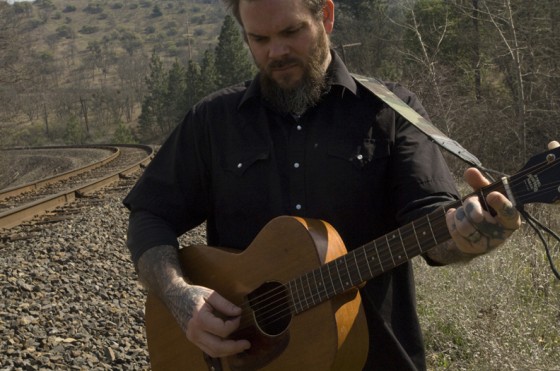 In an ongoing stream of tour announcements over recent weeks, Neurosis/Shrinebuilder frontman Scott Kelly has just confirmed another run of American solo acoustic performances to take place this Winter.
Scott Kelly's Western U.S. tour is currently underway alongside Bob Wayne and Jay Munly. Following the tour, Kelly will play a one-off show in Chicago the first week of the year alongside Bruce Lamont, followed by his first tour of Australia and New Zealand as a solo artist this February with direct support from John Baizley (Baroness).
The newly-confirmed tour will take place immediately upon Kelly's return from his stint in Australia and New Zealand, with 22 new dates now confirmed, kicking off in Atlanta on February 15th and running a clockwise swath through the Southeast, Midwest and East Coast into mid-March. For this tour the solo talents of Eugene S. Robinson (Oxbow) will serve as support for Scott Kelly on all dates.
Scott Kelly Western U.S. Tour w/ Jay Munly, Bob Wayne [remaining dates]:
12/07/2011 Club Congress – Tucson, AZ
12/08/2011 Bar Pink – San Diego, CA
12/09/2011 Juke Joint – Anaheim, CA
12/10/2011 Echo – Los Angeles, CA
12/11/2011 Alex's Bar – Long Beach, CA
12/13/2011 Fulton 55 – Fresno, CA
12/14/2011 The New Parish – Oakland, CA
12/15/2011 Brick and Mortar – San Francisco, CA
12/16/2011 Crepe Place – Santa Cruz, CA
Scott Kelly Solo Headlining Show:
1/04/2012 Empty Bottle – Chicago, IL w/ Bruce Lamont [free RSVP here]
Scott Kelly New Zealand/Australian Tour w/ John Baizely
2/02/2012 King's Arms – Auckland
2/03/2012 SF Bath House – Wellington
2/04/2011 The Civic – Perth
2/05/2012 Fowlers Live – Adelaide
2/06/2012 The National Hotel – Geelong
2/08/2012 ANU – Canberra
2/09/2012 The Zoo – Brisbane
2/10/2012 Corner Hotel – Melbourne
2/11/2012 Manning Bar – Sydney
2/12/2012 The Brisbane Hotel – Hobart
*NEW – SCOTT KELLY American Winter Tour w/ Eugene S. Robinson:
2/15/2012 The 529 – Atlanta, GA
2/16/2012 The End – Nashville, TN
2/17/2012 Downtown Music Hall – Little Rock, AR w/ Iron Tongue
2/18/2012 La Grange – Dallas, TX
2/19/2012 Mohawk – Austin, TX
2/21/2012 Record Bar – Kansas City, MO
2/22/2012 Fubar Lounge – St Louis, MO
2/23/2012 MOTR Pub – Cincinnati, OH
2/24/2012 Intersection Front Bar – Grand Rapids, MI
2/25/2012 Lager House – Detroit, MI
2/26/2012 Rockstar Pro Arena – Dayton, OH
2/28/2012 Now That's Class – Cleveland, OH
2/29/2012 Ace Of Cups – Columbus, OH
3/01/2012 Mohawk Place – Buffalo, NY
3/02/2012 Cafe Nine – New Haven, CT
3/03/2012 Church of Boston – Boston, MA w/ Marc Pinansky
3/04/2012 Knitting Factory – Brooklyn, NY
3/06/2012 Johnny Brenda's – Philadelphia, PA
3/07/2012 Golden West Cafe – Baltimore, MD
3/08/2012 Strange Matter – Richmond, VA
3/09/2012 The Pinhook – Durham, NC
3/10/2012 Snug Harbor – Charlotte, NC
http://www.facebook.com/pages/Scott-Kelly/190019681030268
http://www.neurotrecordings.com
http://www.facebook.com/neurotrecordings