[photo by Jacki Vitetta]
Delaware deathmongers SCORCHED deliver their Ecliptic Butchery LP through 20 Buck Spin this week, letting the entire debilitating album out of the dungeon ahead of its street date via a stream at Decibel Magazine.
Ecliptic Butchery, the prime operating theater from which to broadcast the uniquely gut-wrenching death metal of SCORCHED, was produced, mixed, and mastered by Arthur Rizk (Tomb Mold, Pissgrave, Prurient), resulting in a seemingly impossibly heavy final product.
SCORCHED vocalist Matt Kapa offers, "We're extremely excited to finally share this with everyone. We had a vision when we started this band and we have built upon that with each release. Finally, with our newest addition of Federico Dimarco on guitar, we were able to create exactly what we have been aiming for. With Eclipitic Butchery, the demented murderer we have always written from the perspective of discovers through flashbacks and night terrors that he has been given the duty to report back to creatures from beyond who have abducted him and returned him to earth after torturing and experimenting on humans."
Decibel notes, "When the intro fades out and the first notes of 'Blood Splatter Eclipse' kick in, it becomes immediately apparent that SCORCHED are here to kick your ass with their highly-anticipated second LP, Ecliptic Butchery. The east coast old-school death metal crew exhibit the highest degree of savagery of their career so far; primitive riffs, dive bombs, tremolo riffs, and cavernous vocals mix together across the nine tracks… Ecliptic Butchery stands as one of the year's finest death metal albums…."
Hear SCORCHED deliver the Ecliptic Butchery LP in its entirety through Decibel Magazine at THIS LOCATION.
Completed with cover art by Misanthropic Illustrations, Ecliptic Butchery is simply one of the most malicious onslaughts of 2018. Fans of Vastum, Suffocation, Cannibal Corpse, Extremity, Witch Vomit, Necrot, Exhumed, and Homewrecker need to get SCORCHED.
Ecliptic Butchery will see 20 Buck Spin release on LP, CD, and digital formats this Friday, September 28th; the CD version paired with a bonus disc includes the entire Excavated For Evisceration album. Find digital preorders at Bandcamp HERE and find preorders for all physical versions and merch at the label shop HERE.
Following tour dates with Demilich and Blood Incantation earlier this year, SCORCHED recently assaulted audiences on the Poison Fumes Over North America MMXVIII across the East Coast. The tour saw them supporting Portuguese black/death sect and labelmates, The Ominous Circle, and included a set at the massive Migration Festival in Pittsburgh. The band will play NYC this week at Metal Punk Death Fest III with the likes of Saccage, Perpetual Warfare, Blasphemous, and more on September 30th, and is booking new shows into the fall months. Watch for additional live announcements, audio samples, and more from SCORCHED in the weeks ahead.
SCORCHED Live:
9/30/2018 Saint Vitus Bar – Brooklyn, NY @ Metal Punk Death Fest III [info]
11/09/2018 Sanctuary Detroit – Hamtramck, MI w/ Ulkum, Void Rot, Triangulations, Dagon [info]
11/10/2018 Kung Fu Necktie – Philadelphia, PA w/ Horrendous, Tomb Mold, Daeva [info]
SCORCHED returns with their second full-length experiment in barbarity, their first new full-length since 2016's Echoes Of Dismemberment. Earlier in 2018, 20 Buck Spin collected the body of the band's non-LP material onto the Excavated For Evisceration platter, reintroducing the band under the label's banner. And yet, Excavated… served as mere appetizer to the main course of Ecliptic Butchery, a sadistic tale of deep space terror and desolate inhumanity smeared in blood red brutality. The eerie bizarre intro of "Blood Splatter Eclipse" sets the unearthly mood of a place far beyond. The band fades in with a savagely slow churn indicating a crossover to a domain where piercing shrieks of pain are to be indifferently lost in the lifeless expanse of the void. The hopeless punishment continues as "Exhibits Of Torture" are everywhere and the "Mortuary Of Nightmares" leads only deeper into the horror until finally a formless mass of "Dissected Humanity" is all that remains.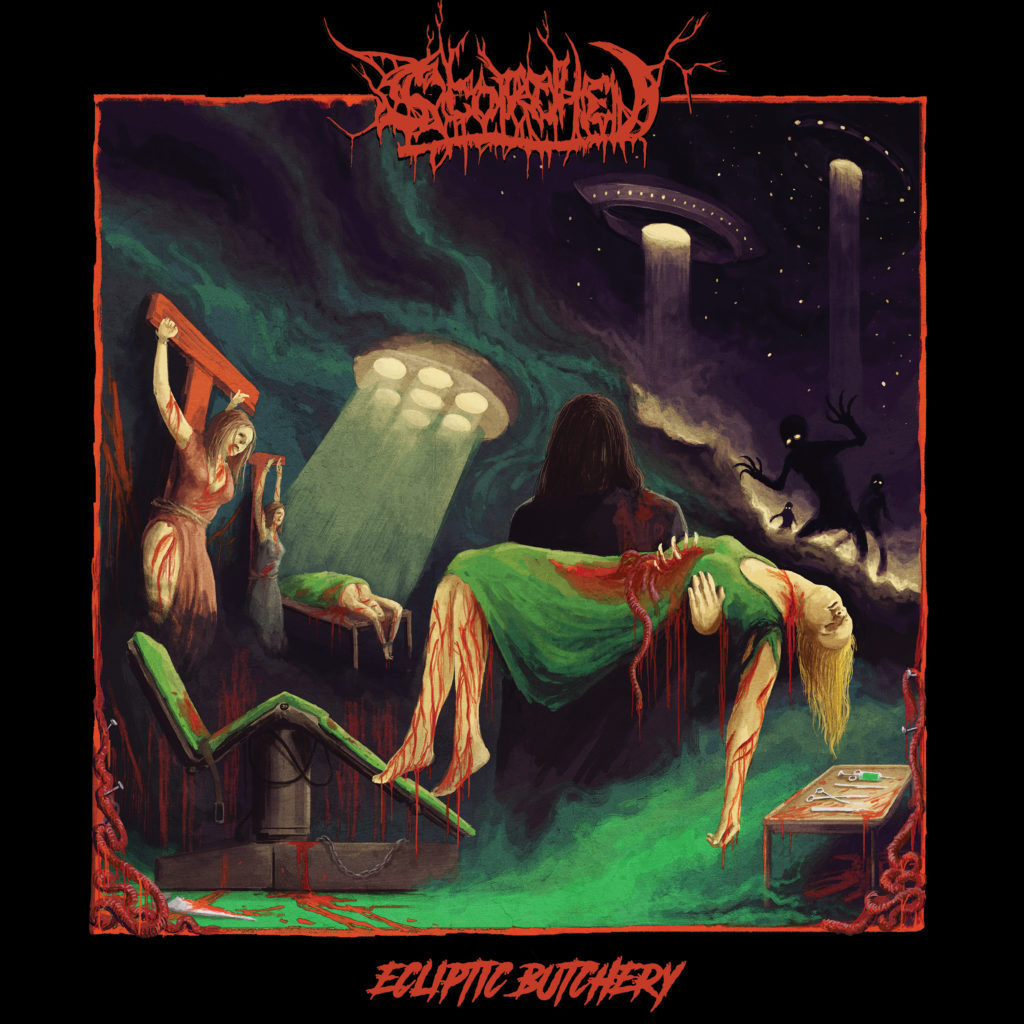 https://www.facebook.com/scorchedde
http://www.20buckspin.com
http://www.facebook.com/20buckspin
http://twitter.com/20buckspinlabel