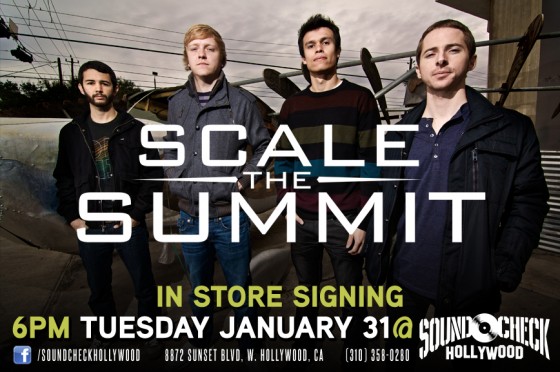 Houston progressive instrumentalists SCALE THE SUMMIT will be doing an in-store signing TOMORROW, January 31 at Sound Check in Hollywood, CA before their headlining performance at The Whisky. The signing will begin at 6:00PM. For more info, visit: http://www.soundcheckhollywood.com/.
SCALE THE SUMMIT is currently on their first-ever headlining tour. The tour kicked off in the band's hometown of Houston on Friday, and will wrap its way through the U.S. before concluding on February 20 in Shreveport, Louisiana. Support will be provided by Elitist at most shows.
SCALE THE SUMMIT Their Strings Are Voices Tour Dates [remaining dates]
1/31/2012 The Whisky – Los Angeles, CA *
2/02/2012 Branx – Portland, OR
2/03/2012 Studio Seven – Seattle, WA
2/05/2012 Kilby Court – Salt Lake City, UT
2/06/2012 Marquis Theater – Denver, CO
2/07/2012 Riot Room – Kansas City, MO
2/08/2012 Fubar – St Louis, MO
2/09/2012 Reggie's Chicago, IL
2/10/2012 Mac's – Lansing, MI
2/11/2012 Wreck Room – Toronto, ON
2/12/2012 Lost Horizon – Syracuse, NY
2/13/2012 TT's The Bear – Cambridge, MA
2/14/2012 Architekt Music – Butler, NJ
2/15/2012 Barbary – Philadelphia, PA
2/16/2012 Empire (formerly Jaxx) – West Springfield, VA
2/17/2012 The Drunken Unicorn – Atlanta, GA
2/18/2012 Will's Pub – Orlando, FL
2/19/2012 Handlebar – Pensacola, FL
2/20/2012 Tiki Bar – Shreveport, LA
* – No Elitist
SCALE THE SUMMIT formed in 2005 while attending the Musicians' Institute in Los Angeles. The band relocated to Texas in 2006, where they recorded their self-released debut album. After signing with Prosthetic, they released Carving Desert Canyons, which Revolver called "a cinematic blast of intricately melodic fretwork and pummeling percussion," in 2009. The band subsequently toured with Dream Theater, Devin Townsend and Between The Buried And Me, among others. SCALE THE SUMMIT also has tracks available for the Rock Band video game through the Rock Band Network, while Chris Letchford was recently featured in MetalSucks' "Top 25 Modern Guitarists" list.
https://www.facebook.com/scalethesummit
http://www.scalethesummit.com
http://prostheticrecords.com