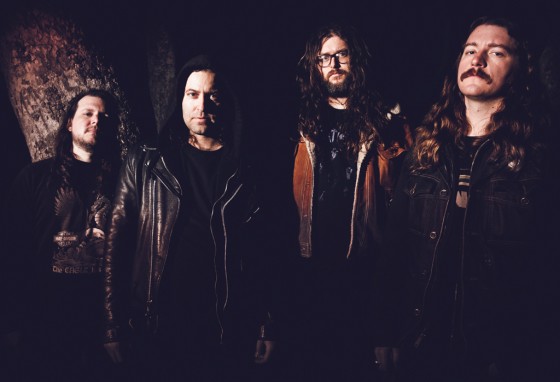 Today, Oakland metal unit, SAVIOURS, will kick off a short run of live dates. Beginning in Vancouver at The Astoria, the band will pillage through nine cities, the trek coming to a close in Fresno at Strummer's.
SAVIOURS:
4/01/2015 The Astoria – Vancouver, BC
4/02/2015 El Corazon – Seattle, WA
4/03/2015 Tonic Lounge – Portland, OR
4/05/2015 Backstage Bar & Billiards – Las Vegas, NV
4/06/2015 Club Red – West Theater – Mesa, AZ
4/07/2015 Club Congress – Tucson, AZ
4/08/2015 Constellation Room at the Observatory – Santa Ana, CA
4/09/2015 SLO Brew – San Luis Obispo, CA
4/10/2015 Strummer's – Fresno, CA
SAVIOURS recently put the finishing touches on their as-yet-untitled new full-length. Captured at Type Foundry in Portland with the inimitable Billy Anderson, the band's forthcoming long player will be released via Listenable Records this Fall. With four full-lengths and seven EPs to their name and having played in an astounding twenty-one countries, SAVIOURS, continues to forge ahead with their towering riffs, colossal rhythms, infectious guitar harmonies and an obsession with the end of times, the occult, psychedelics and the arcane built upon the foundation that Black Sabbath, Iron Maiden, Thin Lizzy and Motörhead laid. Further SAVIOURS news updates to be transmitted in the weeks to come. Stand by.
SAVIOURS:
Austin Barber – guitar, vocals
Sonny Reinhardt – guitar, vocals
Scott Batiste – drums
Andy Anderson – bass
"A dual-guitar riff-fest inspired by NWOBHM and '70s proto-doom." –Revolver
"You know you're playing a good set when your music not only commands the attention of the likes of J Mascis and Matt Pike, but you're sounding so tight that it compels the two guitar greats to air shred like a couple of Maiden fans circa 1980." – Decibel

http://ww.facebook.com/pages/Saviours/142771603462
http://www.killforsaviours.blogspot.com
http://www.saviours.bandcamp.com
http://www.facebook.com/listenablerecs?fref=ts
http://www.listenable.net