This October, Poland's pulverization purveyors Selfmadegod Records will unload the first new full-length release from UK hardcore punk act, SATANIC MALFUNCTIONS, in over twenty-two years with the release of Them.
The newest SATANIC MALFUNCTIONS LP since the Scarborough, UK-based act's 1990-released Disgrace To Humanity, the whirlwind of old-school hardcore punk on Them is a throwback to the mid-late '80s hardcore scene when the grindcore was only beginning to take shape. Raging with twenty tracks in just over thirty minutes, recorded by Bri Doom, of UK crust legends, Doom, Them proves that the quartet — vocalist Kai, guitarist Yaga, bassist Ryan and drummer Ade — haven't let their guard down, and are as capable of deploying the same aggressive, ultra-fast and frenzied socio-political musical melee they did more than two decades ago. A must-have for diehards of Active Minds, Disorder, Doom, Atavistic, Electro Hippies, L'arm and Heresy.
Ahead of the LP's release the track, "Gospel Truth" has been leaked; join the fight RIGHT HERE.
Them will be on the loose October 1st in Europe and October 15th in North America via Selfmadegod, who in 2012 also released the SATANIC MALFUNCTIONS Disgrace To Music 2xCD compilation including the band's complete discography prior to Them, including both previous LP's and all EP and compilation tracks. Merch bundles are available now direct from Selfmadegod HERE, and Them is available digitally HERE.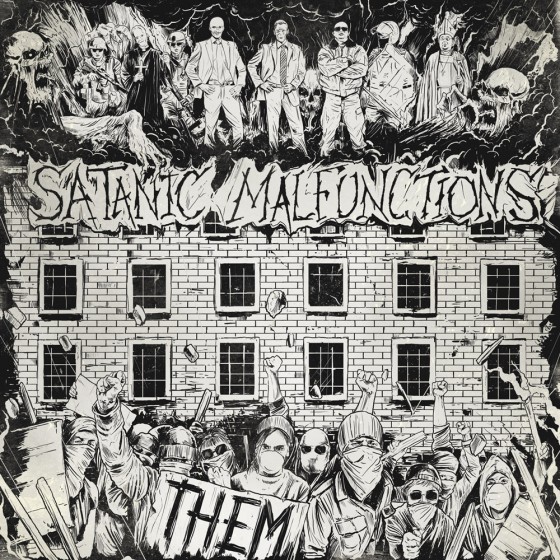 Them Track Listing:
1. Nothing New
2. Technological Religion
3. Them
4. Daze Of The Weak
5. No Masters Or Slaves
6. On Your Knees
7. Lies
8. Gospel Truth
9. Pissed & Angry
10. Beatings
11. Disorder Rule
12. Trappings Of Faith
13. Rules & Regulations
14. Dealing Out Death
15. Anthem
16. Another Fiction
17. On The Cusp
18. Everything's Digital
19. Do You Know Who You Are?
20. Many Go Round
https://www.facebook.com/pages/Satanic-Malfunctions/205738386131017?fref=ts
http://www.selfmadegod.com
http://www.facebook.com/selfmadegod
http://www.selfmadegod.bandcamp.com
http://www.soundcloud.com/selfmadegodrecords
http://www.youtube.com/user/SelfmadegodRecords