SARPANITUM's imminent Blessed Be My Brothers long player is set to detonate via Willowtip Records next week. Captured at Dreaming Studios UK by drummer Leon Macey (Contrarian, Mithras, The Senseless et al) and centered on the abysmal consequence of religious warfare, the latest offering from the atmospheric blackened death metal collective is corrosive in its delivery spewing forth a delectably diseased fusion of traditional death metal, blackened riff assaults, twisted atmospheres and an alluring brand of controlled chaos that can only come from the technical prowess of its creators.
Following teasers from the likes of Decibel Magazine and Stereogum, today the malefactors at MetalSucks deafen the masses with a stream of the record in all its venomous glory, noting, "When SARPANITUM's new full length, Blessed Be My Brothers, came across our screens it was love at first listen, like a sexy, beautiful used car in tip-top shape that you've been fawning over in the classifieds section of the paper for weeks. You've got your ripping old-school death metal chassis, your proggy underpinnings, a heavy dose of atmospheric detail and a frosty layer of char-grilled, blackened paint. Shit's sleek as hell! Only later did we learn that Leon Macey of long-running UK DM duo Mithras handles drum duties here, but it makes perfect sense."
Wrap your head around Blessed Be My Brothers, courtesy of MetalSucks, at THIS LOCATION.
Named in part after Babylonian mother goddess, Sarpanit, meaning "the shining one," companion of the chief god, Marduk, SARPANITUM – who feature within their rants current and former affiliates of Mithras, Lantlos and Tenebrous Aeon – has maintained a maniacal DIY ethos, crumbling stages throughout Europe supporting the likes of Insision, Visceral Bleeding, Desecration, The Monolith Death Cult and Macabre since their formation in 2003. Based on Babolyanian folklore, the band's Galactic Records-released debut full-length, Despoilment Of Origin (2007) was an eloquently guttural performance of mythological blackened death metal that reaped the praise of underground listeners and media outlets in the proverbial "know." The band's Fidelium EP, independently-released four years later, reaffirmed their inexorable brutality both sonically and conceptually. Crowned, "one of the most compelling death metal releases of the year," by Last Rites and guaranteed to, "tickle the taste buds of anyone into this kind of domineering metal in the vein of The Monolith Deathcult and Mithras," the EP established SARPANITUM's ability to cohesively meld audio savagery and epic, cinematic segments, centering itself on the ultimate perils of religious fanaticism using first person perspectives from genuine participants of the First Crusade.
Blessed Be My Brothers will be unleashed via Willowtip Records on February 17th, 2015. Preorder your copy today at THIS LOCATION.
"Blessed Be My Brothers sports a combination of flashy speed and sheer power more commonly seen in blue-chip NFL defensive ends and 21st century war machines; it is a dazzling, mind-melting aural experience. And unlike many of this approach's lesser practitioners, SARPANITUM can and do write nasty hooks aplenty." — Stereogum
"From epic and canorous instrumentals such as 'Komenos' and the haunting 'Immortalised By Golden Spires' to more barbaric savageries such as 'Truth,' 'Malek Al-Inkitar' and 'By Virtuous Reclamation,' Blessed Be My Brothers is a beautiful and remorseless masterpiece with personal and emotional touches that fogs the brain and pulls at the heartstrings… one of the best releases of this year." — Core Of Destruction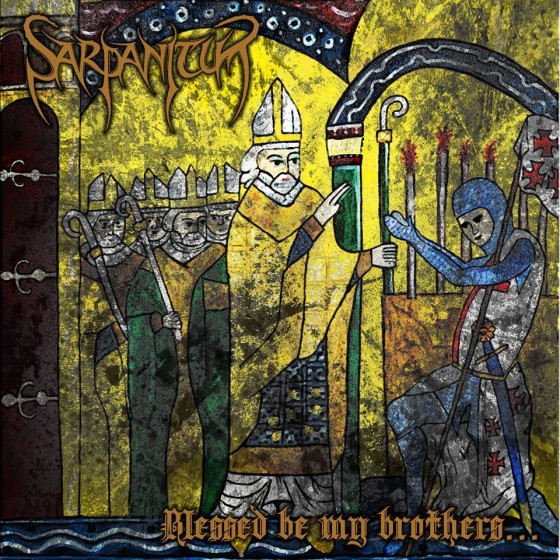 http://www.facebook.com/sarpanitum
http://www.willowtip.com
http://www.facebook.com/willowtip
http://www.willowtip.bandcamp.com
http://www.twitter.com/Willowtip