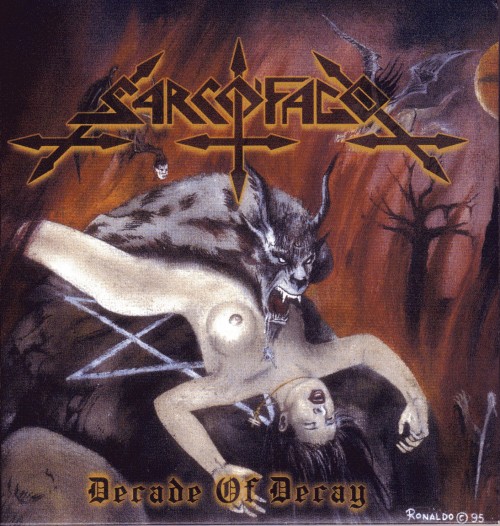 This week, Greyhaze Records is officially issuing the first North American release of Decade Of Decay, one of the rarest albums within the legacy of infamous Brazilian black/thrash overlords, SARCOFAGO. In celebration of this classic release, for a limited time, the label is now streaming the album's massive 20 tracks, totaling over one hour and twelve minutes of crushing intensity, AT THIS LOCATION.
The first release in a series of SARCOFAGO albums set for reissue via Greyhaze by way of Brazil's Cogumelo Records throughout 2012 and beyond, Decade Of Decay is available here in a 6-panel/full color digipak CD, featuring a full-color fold-out poster with information on all of the songs. Initially released in 1995, official copies of Decade Of Decay were virtually impossible to find anywhere until this new Greyhaze-issued pressing. This reissue of the compilation album includes bonus tracks available here for the first time anywhere, officially. The packaging features never-before-seen photos from SARCOFAGO throughout their various stages, going from INRI all the way to the Hate album. The entire reissue process for this compilation album has been overseen by SARCOFAGO's Wagner "Antichrist" Lamounier himself!
Stay tuned for updates on the forthcoming limited-edition deluxe 2xLP version of Decade Of Decay to be announced in the weeks ahead, followed by details on more SARCOFAGO and other infamous Cogumelo Records releases to be issued stateside via Greyhaze.
http://greyhazerecords.com/artists/sarcofago
http://www.facebook.com/greyhazerecords
http://www.cogumelo.com