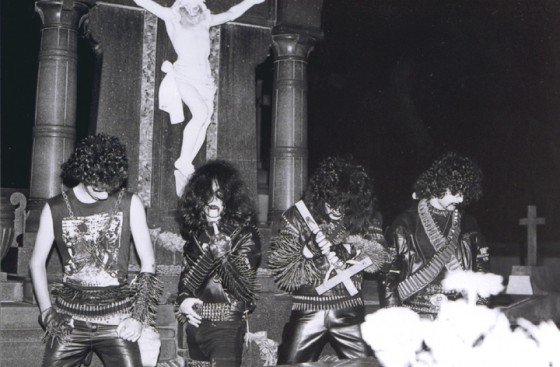 Following the recent release of the first North American release of SARCOFAGO's previously ultra-rare Decade Of Decay album on CD/digital formats, Greyhaze Records has just released the details on the upcoming 2xLP pressing, marking the record's first time on vinyl.
The first release in a series of SARCOFAGO albums set for reissue via Greyhaze by way of Brazil's Cogumelo Records, the Decade Of Decay reissue unites over an hour of music and never-before seen photos from the band's INRI, Rotting, The Laws of Scourge and Hate LPs, as well as their Satanic Lust, The Black Vomit and Christ's Death demos. The gatefold package houses two 12″ LPs available in black and limited translucent purple vinyl color schemes, joined by a 12″ x 24″ Decade of Decay poster as well as a 12″ x 24″ two-sided, full color gatefold insert featuring album liner notes and a large photo collage poster. The entire reissue process for this compilation album has been overseen by SARCOFAGO's Wagner "Antichrist" Lamounier himself!
Preorders for the 2xLP pressing of the album are available alongside a player streaming Decade Of Decay AT THIS LOCATION.
Decade Of Decay Track Listing:
Side A:
1. The Lost Of Innocence
2. Orgy Of Flies
3. Hate
4. The God's Faeces
5. Song For My Death
Side B:
1. Midnight Queen
2. Screeches From The Silence
3. Piercings
4. Crush, Kill, Destroy
Side C:
1. Nightmare
2. Rotting
3. I.N.R.I.
4. Desecration Of Virgin
Side D:
1. Recrucify
2. The Black Vomit
3. Satanic Lust
4. Christ's Death
5. The Anal Rape of God
6. Satanas
7. Third Slaughter
More SARCOFAGO and other Cogumelo Records releases are set to be issued stateside via Greyhaze in the months ahead; stay tuned.
http://greyhazerecords.com/artists/sarcofago
http://www.facebook.com/greyhazerecords
http://www.cogumelo.com