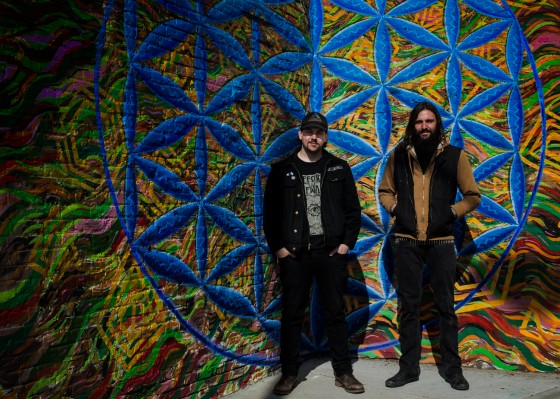 Philadelphia's genre-morphing duo SADGIQACEA today celebrates the official North American release of their debut album, False Prism. Recorded by Chris Grigg (Woe), the sprawling forty-minute album projects the organic, monstrous tones and unified, distinctive style which has helped the two-piece act become one of Philly's hottest live acts over the past two years. The record features virtually no overdubs or studio trickery, the band wishing to preserve the authentic recording quality of their live performances.
In coordination with the street date of False Prism, today the diehards at Invisible Oranges/Brooklyn Vegan are streaming the entire album, RIGHT HERE.
Formed in 2010, SADGIQACEA (pronounced sad-juh-kay-sha) forges a diverse sonic palette that has been likened at times to Neurosis, Intronaut, Hull, The Atlas Moth, Weakling, and Kylesa. Musically and artistically, the band draws from a melting pot of influences that together presents a lush yet tension-filled sound. The band calls it, "music for our trodden minds and sodden souls." In a continuing effort to bring their craft to public forums, the band is finalizing the details for a bulky tour set to take place through most of July and well into August, joined by local cohorts Hivelords. The full tour routing will be announced in the coming days.
"In order to properly hone that organic process, producer (and Woe mastermind) Chris Grigg captured the exquisite bedlam of False Prism in alive recording scenario' with minimal overdubs and no studio trickery." – Decibel
"…False Prism, their excellent full-length debut due May 7 on Candlelight, indicates that a limited membership doesn't entail diminished ideas or abilities. They bridge thrash and doom, black metal and drone, field recordings and power metal into often-seamless long-form pieces." – Pitchfork
"The Philadelphia two-piece's epic sludge-doom sprinkles in moments of post-rock, Neurosis-y riffage and black metal across their four-track effort…" – Invisible Oranges
"Their song structures are smooth and varied, progressive in scope, and the record's unsettling psychedelia is very engaging, adding a wanton mystery to their barrage of riffs." – About.com
http://sadgiqacea.bandcamp.com
http://www.facebook.com/sadgiqacea
http://www.twitter.com/sadgiqacea
http://www.candlelightrecordsusa.com
http://www.facebook.com/candlelightrecordsusa
http://www.twitter.com/candlelightusa
http://www.candlelightrecords.co.uk
http://www.facebook.com/candlelightrecords