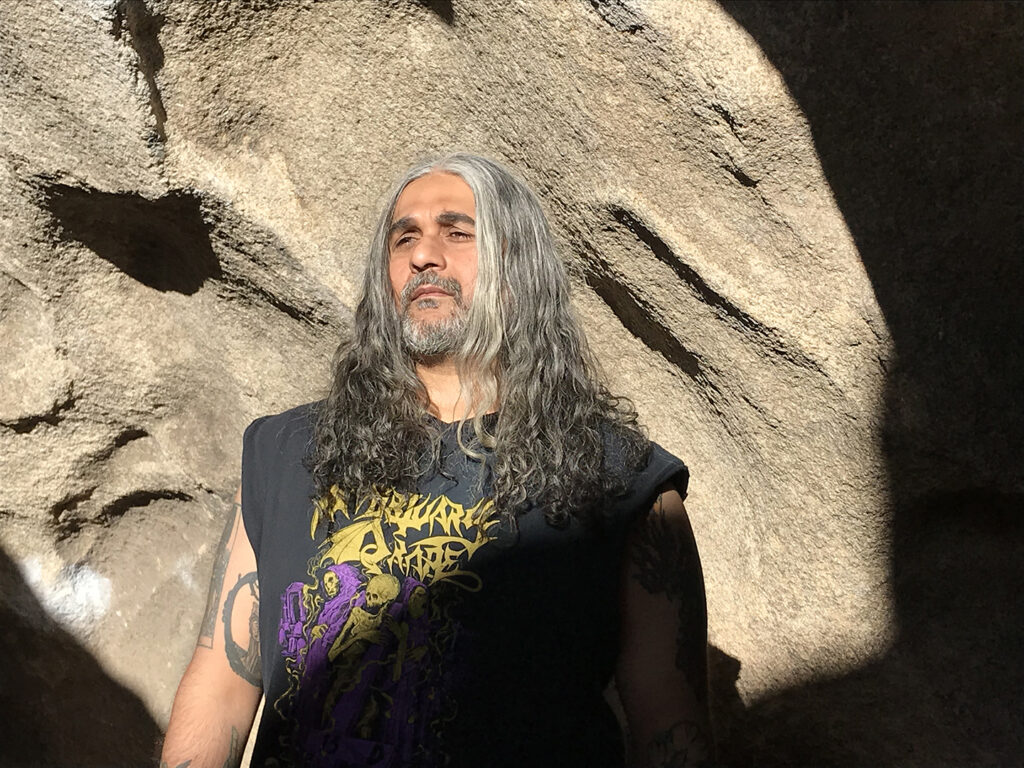 photos by Joelle Garson
"…a cinematic synthscape for the coolest gritty sci-fi movie that has yet to be made." – Toilet Ov Hell
As Oakland, California-based dark cinematic synthwave solo project S.C.R.A.M. prepares to release its filmic new concept album, The Inner City, in just over a week, Toilet Ov Hell today unveils the record's third single, "Never Could Live Like That."
Formed in the isolation of the 2020 Covid lockdowns, S.C.R.A.M. (Safety Control Rod Axe Man) is the solo project of Pranjal Tiwari. Known for his work with the long-running cult doom metal band Cardinal Wyrm, Finnish-language hardcore band Ransu's Revenge, and more, Tiwari utilizes this project to create cinematic, experimental, ambient, electronic, and heavily instrumental passages, focusing tension and negative space to create immersive auras. Having released an EP, two prior albums, and a split with Gridfailure over the past two years, the soloist offers his most introspective material yet with the third full-length album, The Inner City.
With ten new songs on The Inner City, S.C.R.A.M. delivers a record that channels the soundtracks of 1970s-80s classic films such as Blade Runner, Tron, and even Taxi Driver, yet transcends dystopian and futuristic cliches with a very personal and reflective approach.
The Inner City was written, performed, and recorded by Tiwari, with crucial contributions from several guests, including trumpet on "Welcome To New Damascus," "Tomorrow Is Always Right Behind You," and "Never Could Live Like That," by Mac Gollehon (multi-platinum David Bowie, Duran Duran, Blondie, Onyx session player), trumpet on "A Rooftop Funeral" from Leila Abdul-Rauf (Vastum, Cardinal Wyrm, Ionophore), additional keyboards on "Never Could Live Like That" from Nathan Bishop-Bolin (Cardinal Wyrm), and field recordings on "A Rooftop Funeral" and "Never Could Live Like That" from David Brenner (Gridfailure, Diminishing). The album was mixed and mastered by Greg Wilkinson at Earhammer Studios and is fitted with artwork by the legendary UK sci-fi artist Chris Moore, photography by Joelle Garson, and layout and additional photography by David Brenner.
With the new single, Tiwari delves, "I've always loved movie soundtracks since I was a kid; I love how you can listen to a good soundtrack album all the way through and conjure up your own images along the way. It flows like a story on its own, separate from any other media. With this album I envisioned a story set in a Blade Runner type megacity, with the dark brooding atmosphere that environment would create for the characters that find themselves there.
"'Never Could Live Like That' is the tenth and closing track of the album, and I feel like it's the conclusion to the story the album tells. It's less of a climax than an epilogue – listening to it, you feel the weight of the characters' journey. They've seen some shit, you know, and I imagine them walking through the rainy neon lit streets trying to take in what they've just been through. Mac Gollehon's bluesy film noir style trumpet on this track really captures the moody atmosphere that I was imagining when I wrote it, gives it that Bernard Herrmann/Taxi Driver soundtrack vibe. And the keyboard crescendo created by Nathan Bishop-Bolin in the middle of the track is the perfect frenetic build up, like all the images from the characters' journey firing in their heads until they reach overwhelming levels. I'm grateful to both these musicians for contributing to this album.
"I grew up in a giant city and I used to love walking around with headphones on, often in the rain, taking everything in with a soundtrack in my ears. Hopefully there's a love of that experience conveyed through this track as well."
Toilet Ov Hell writes in part, "The solo work of Pranjal Tiwari (Cardinal Wyrm), S.C.R.A.M. is a cinematic synthscape for the coolest gritty sci-fi movie that has yet to be made. It's moody, atmospheric, and hauntingly emotional. It's the background music for a down-on-his-luck detective that used to be someone until this city chewed him up and spat him out."
Listen to S.C.R.A.M.'s "Never Could Live Like That" first through Toilet Ov Hell now at THIS LOCATION.
The Inner City will be released digitally and on digipak CD through Tiwari's own Tumbril's Wedge label next Friday, October 6th. Find preorders at the label webshop HERE and Bandcamp HERE, and view the "Slipstream Visions" visualizer HERE.
https://scramofficial.bandcamp.com
https://www.instagram.com/scramofficial
https://www.tumbrilswedge.com