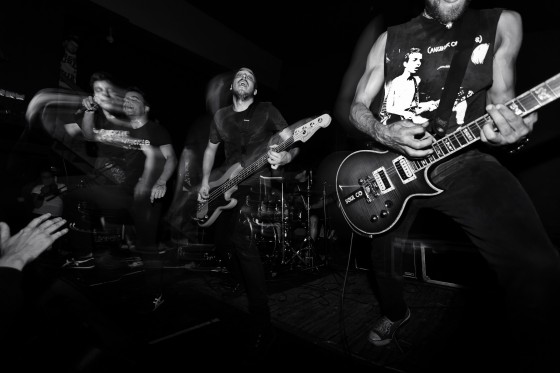 With the official detonation of their forthcoming new full-length, The Sieve And The Sand, now less than a week away, Arizona punk/hardcore unit, RUN WITH THE HUNTED, offers rambunctious ears a chance to hear the record in its entirety!
A name derived from classic dystopian novel Fahrenheit 451 by Ray Bradbury, The Sieve And The Sand serves as the follow-up to the band's 2011 self-titled full-length, which Punknews fittingly commended for its "heavy, lurching mosh parts." Engineered and mixed by Alex Estrada (Touche Amore, Nails, Joyce Manor) and mastered by New Alliance East (Converge, Dropdead, Doomriders), RUN WITH THE HUNTED defies genre norms, sporting a maturity seldom realized in hardcore, seamlessly weaving in and out of multiple genres while maintaining the constant sense of urgency and desperation for which they are known. The result is a seven-track monolithic offering fit for The Secret, Champion and Burning Love enthusiasts, encompassing a lifetime of pain, struggle and a desperate search for meaning and purpose in an otherwise careless world. Metal Insider notes, "The band's fourth album… should make fans of Every Time I Die or Converge feel right at home with their wild energy bound together by a focus on tight playing, knowing exactly when to lash out and when to remain poised" while American Aftermath boasts in a 9/10 review, "RUN WITH THE HUNTED have written their best record yet, plain and simple. The Sieve And The Sand is an intelligent, yet chaotic excursion lined with existential musings. Basically, do not sleep on this band."
Sink into The Sieve And The Sand, now streaming in its entirety at THIS LOCATION.
The Sieve And The Sand will be released via Panic Records on June 3rd, 2014. For North American preorders, point your browser HERE. For European preorder, scroll HERE.
http://panicrecords.net
http://www.facebook.com/PanicRecords
http://www.thesieveandthesand.com
http://www.runwiththehunted.storenvy.com/products
http://www.runwiththehunted.bandcamp.com/
http://www.facebook.com/runwiththehuntedaz