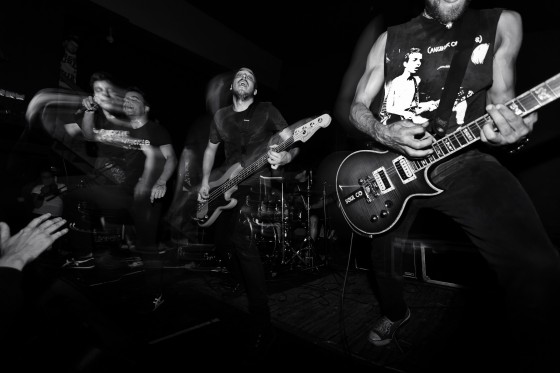 With the unleashing of their forthcoming long player now less than a month away, Arizona punk/hardcore instigators, RUN WITH THE HUNTED, hurl forth new bruiser, "Mea Culpa."
Latin for "through my fault," the rambunctious, wholly gang-chantable tune serves as the fifth movement of The Sieve And The Sand. Notes Metal Insider, "The band's fourth album… should make fans of Every Time I Die or Converge feel right at home with their wild energy bound together by a focus on tight playing, knowing exactly when to lash out and when to remain poised."
Fracture some pavement with "Mea Cupla" courtesy of Metal Insider at THIS LOCATION.
And if you missed it, sample "Silent Spring" still streaming at Lambgoat at THIS LOCATION.
A name derived from classic dystopian novel Fahrenheit 451 by Ray Bradbury, The Sieve And The Sand serves as the follow-up to the band's 2011 self-titled full-length, which Punknews fittingly commended for its "heavy, lurching mosh parts," and "often fast and occasionally angular tendencies that seem to span the last 20 years well, mixing elements cleanly for a pulsating, scratchy take." With The Sieve And The Sand, RUN WITH THE HUNTED defies genre norms, falunting a maturity seldom realized in hardcore, seamlessly weaving in and out of multiple genres while maintaining the constant sense of urgency and desperation for which they are known. The result is a seven-track behemoth of a record for The Secret, Champion and Burning Love enthusiasts, encompassing a lifetime of pain, struggle and a desperate search for meaning and purpose in an otherwise careless world. Vocalist/lyricist Drew Wilkinson lays his soul bare in his most honest and vulnerable performance yet, exploring existential dilemmas and exorcising private personal demons in the process.
The Sieve And The Sand was engineered and mixed by Alex Estrada (Touche Amore, Nails, Joyce Manor), mastered by New Alliance East (Converge, Dropdead, Doomriders) and will be released via Panic Records on June 3rd, 2014.
http://panicrecords.net
http://www.facebook.com/PanicRecords
http://www.thesieveandthesand.com
http://www.runwiththehunted.storenvy.com/products
http://www.runwiththehunted.bandcamp.com/
http://www.facebook.com/runwiththehuntedaz