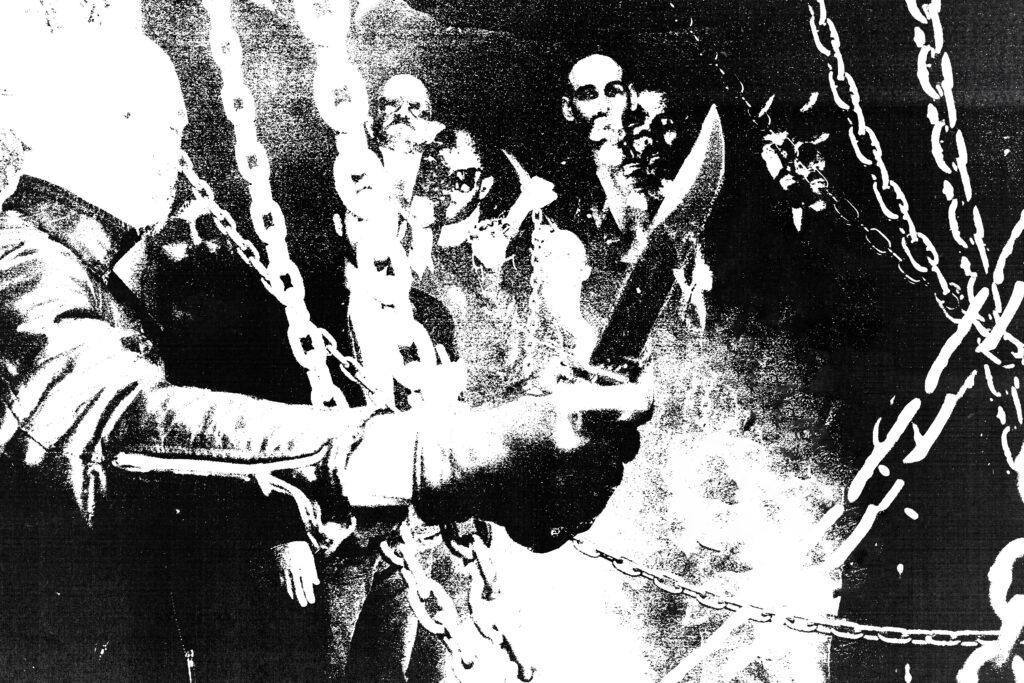 As New York City-based death/war metal collective RUIN LUST prepares to release their fourth album, Dissimulant, at the end of the month through 20 Buck Spin, the title track to the monstrous record has today been unveiled.
Having dropped their third album, Choir Of Babel, in early 2020 just before the world shut down, the forces of the pandemic did not succeed in silencing RUIN LUST for good. Though confined to their fallout bunker, the band, with martial fervor, began work on what has now, three years later, emerged as their fourth album Dissimulant.
In the final phase of imperialist rot, RUIN LUST declares war against the festering delusions of a devolving species. The most withering aspects of modern death metal, grinding war metal, and black metal's more bestial tendencies compel this audial exorcism, poisoning the well like a bioweapon spread through open air, suffocating and contemptuous. By the time album closer "Chemical Wind" is done all that remains are parched bones and desiccated shadows.
Barbarically pestilent yet compositionally deliberate, Dissimulant casts a bitter pall and leaves an open wound on the death metal scene for 2023. A militant milestone in the RUIN LUST discography. This is a must-hear release for followers of Gravesend, Ascended Dead, Savage Necromancy, Kommand, Of Feather And Bone, Vermin Womb, Caustic Wound, Knelt Rote, Revenge, Disimperium, and the like.
Dissimulant was recorded and mixed by Nolan Voss, mastered by Dan Lowndes at Resonance Sound Studio, and completed with artwork by the band.
RUIN LUST collectively reveals, "'Dissimulant' names a new type of human subject – one that has become so fully enveloped by the primal need for acceptance that submission to the collective is the basis of its identity. Cradle to grave, immersed in a homogenizing mass of expectations and desires, it divests itself of the burdens of independent thought and feeling like a serpent sheds its skin. It is the 'new man' for an age that has dispensed with even the pretense of building a better world. Its dreams are not its own. It dies without ever having lived."
Stream RUIN LUST's "Dissimulant" now playing at YouTube HERE and Bandcamp HERE.
Dissimulant will be released on LP, CD, CS, and digital formats on September 29th, the vinyl including a gatefold insert. Find preorder options including merch and more at the 20 Buck Spin webshop HERE and Bandcamp where prior single "Eden" is also streaming HERE.
Watch for Eastern US tour dates from RUIN LUST to post over the weeks ahead in support of Dissimulant.
https://www.20buckspin.com
https://listen.20buckspin.com
https://www.facebook.com/20buckspin
https://twitter.com/20buckspinlabel
https://www.instagram.com/20buckspinlabel