photo by Carmen Canchola
Decibel Magazine is hosting the exclusive premiere of "Slow Degradation," the new single from Phelan, California-based death metal collective, RUIN. The track has been issued ahead of the band's new Spread Plague Death LP, set for August release through Nameless Grave Records.
RUIN was spewed forth in 1991 by Mihail Jason Satan (Dead Conspiracy, ex-Gravehill), the current lineup fleshed out with drummer D-Muerte (Aeternum, Oscuros, ex-Mictlantecuhtli), bassist Spine, and guitarists Carsten Brix (Destroyed in Seconds, ex-Gravehill) and Bodybag. 2021 sees the collective prepared to release the crushing blow if their third LP, Spread Plague Death.
Packing thirteen tracks into the record, Spread Plague Death features additional assistance with soundscapes by Scott Lee Martin and Alex Allenruso. Recorded at Trench Studios by John Haddad and The Church Of Sacrifice by Carsten LaRoque in late 2020 and early 2021, with mixing handled by LaRoque at The Church Of Sacrifice as well as at the Ascension Falls Blk/Str Cabin at Apache Junction/Helican Gate, Spread Plague Death was mastered by Dan Randall at Mammoth Sound Mastering, and completed with original paintings by Janine Wunsch and photography by Carmen Canchola/CSGF and The Death Metal Cult.
The band proclaims, "We are eager to share our depravity with this putrid song, 'Slow Degradation.' It's a sickening hymn about our usual topics: Murder, madness, and death! This is the heaviest song on the album. Spread Plague Death!"
With the new track, Decibel writes, "When it comes to prolific, indiscriminate, and senseless brutality across all relevant formats, few bands can match RUIN's strength, vision or work ethic… Despite their relentless output, RUIN remain obstinately dedicated to their strain of death metal ultraviolence."
Deploy the gore of RUIN's "Slow Degradation" first at Decibel Magazine RIGHT HERE.
Spread Plague Death will see release August 27th on 12″ vinyl by Nameless Grave Records, on cassette through Nero One Records and Death Metal Cult, and on CD through Goat Throne Records. Find preorders for all formats HERE.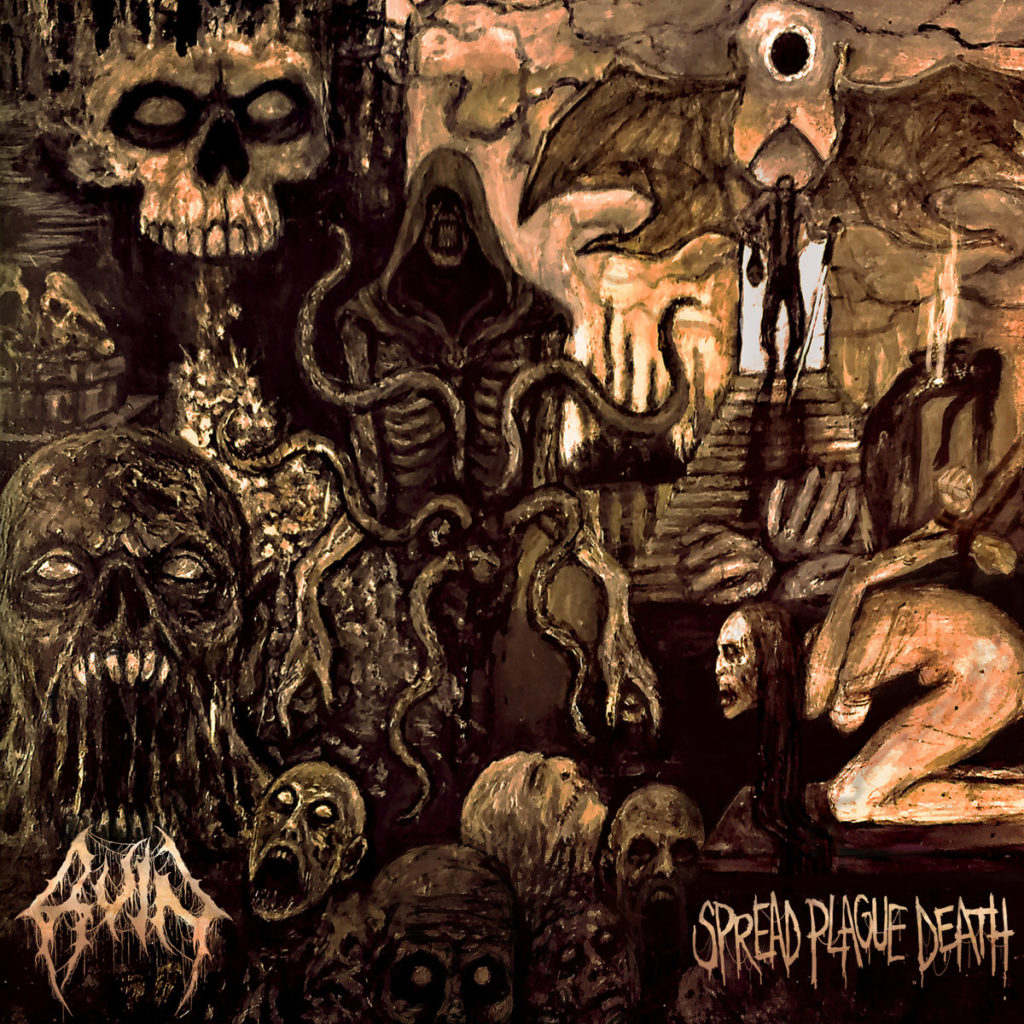 https://thedeathmetalcult.bandcamp.com
https://www.instagram.com/ruin_death_metal_cult
https://www.facebook.com/SPREADPLAGUEDEATH
https://www.facebook.com/NamelessGraveRecords
https://www.instagram.com/namelessgraverecords
https://namelessgraverecords.bandcamp.com