Akron, Ohio-based sludge metal bastards RUE have again planted their vile seed, and in these putrid days of Summer, in this foul Year Of Our Lord 2011, these corruptive crops are nearing harvest. The vines that shall sprout forth will take the form of Thorns, RUE's first new release in over three years, and their first on CD in over seven.
Preceded by their 2003 self-titled CD (re-released later on LP), a split CD with Aldebaran in 2004, and their 2008 vinyl-only A Heart Held by Demons EP, RUE's newly completed Thorns is a full-length affair, comprised of twelve new life-ruining anthems clocking in around an hour in duration. The album bears marks of progress for RUE, the band having spent the last four years honing their craft, cultivating influences and focusing wholly on creating their best music ever. Here they wander paths familiar to some of their more expansive influences such as Neurosis, High On Fire, Deftones and Mastodon and more, yet Thorns is fully infected by the same scathing animosity the thugs are infamous for throughout the sludge metal circuit, all the while placing an emphasis on pulverizing your existence into a gritty puddle.
The CD pressing of Thorns is set for release through independent stalwart Shifty Records on October 4th, 2011 — through whom the entire RUE catalog to date has been released — and an LP pressing will follow at a later date. Without a doubt, Thorns promises to be one of the sludge metal scene's top exports of the year. Check out the killer cover art by Dave Cintron (Terminal Lovers).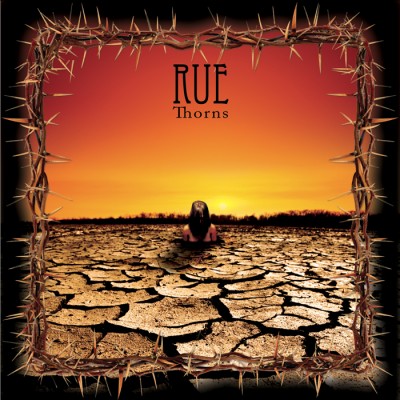 Thorns Track Listing:
1. Thorns
2. Brown
3. For Thousands of Years
4. Sadaver
5. Broken Arms Broken Wings
6. Storm and Sea
7. Preassures
8. Choice
9. Strong Will Evolve
10. High Iron Blues
11. Everfailure
12. A Walk of Lies
13. Thorns (Reprise)
Over several tours and regional shows over the years, RUE have hammered the U.S. alongside Weedeater, Bongzilla, Rwake, YOB, Dot[.], Graves At Sea, Zoroaster, Keelhaul, Goatwhore, Eyehategod, Mushroomhead, -16-, Alabama Thunderpussy, Meatjack, High on Fire, Unsane, and countless more, and plan on continuing the tradition throughout the year and into next in support of Thorns, starting with several upcoming appearances including the Mutants of the Monsters Fest on September 4th where RUE will appear as one of the co-headliners of the fest along Rebreather, Rwake, Suplecs, Deadbird, and featuring tons of killer support acts.
RUE – Confirmed Live Assaults:
9/02/2011 JB's Down – Kent, OH w/ Burn Blue Sky, Mockingbird, Two Hundred Black Bear on the Horizon
9/04/2011 Downtown Music – Little Rock, AR @ Mutants of the Monsters Fest [info]
9/10/2011 Dude Locker – Columbus, OH w/ Lo Pan, Bastards, 1point3, John Wilkes Booth, PB Army, more
http://ruetheday.net
http://www.facebook.com/rueakronohio
http://www.myspace.com/zeerue
http://www.shiftyrecords.com
http://www.facebook.com/earsplitPR