RIVERS OF NIHIL will begin their North American tour supporting labelmates The Black Dahlia Murder this Friday! The Up From The Sewer Tour 2021 will commence September 3rd in Chicago and run through October 10th in New York City. Additional support will be provided by After The Burial, Carnifex, and Undeath. See all confirmed dates below.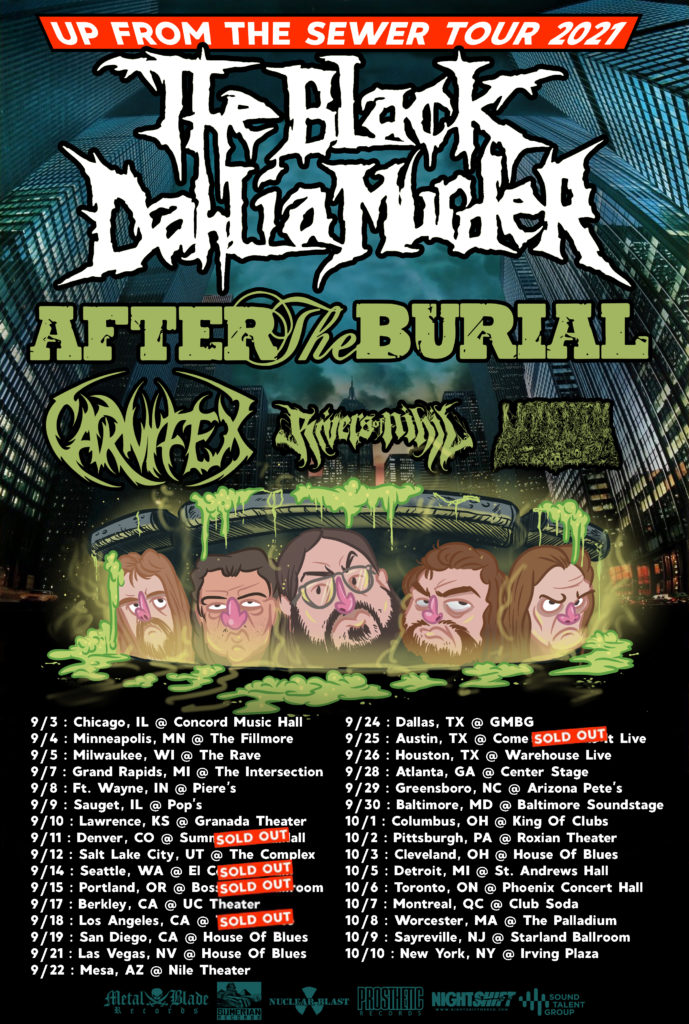 RIVERS OF NIHIL w/ The Black Dahlia Murder, After the Burial, Carnifex, Undeath:
9/03/2021 Concord Music Hall – Chicago, IL
9/04/2021 The Fillmore – Minneapolis, MN
9/05/2021 The Rave – Milwaukee, WI
9/07/2021 The Intersection – Grand Rapids, MI
9/08/2021 Piere's – Ft. Wayne, IN
9/09/2021 Pop's – Sauget, IL
9/10/2021 Granada Theater – Lawrence, KY
9/11/2021 Summit Music Hall – Denver, CO * Sold Out
9/12/2021 The Complex – Salt Lake City, UT
9/14/2021 El Corazon – Seattle, WA * Sold Out
9/15/2021 Bossanova Ballroom – Portland, OR * Sold Out
9/17/2021 UC Theater – Berkley, CA
9/18/2021 The Belasco – Los Angeles, CA * Sold Out
9/19/2021 House Of Blues – San Diego, CA
9/21/2021 House Of Blues – Las Vegas, NV
9/22/2021 Nile Theater – Mesa, AZ
9/24/2021 GMBG – Dallas, TX
9/25/2021 Come And Take It live – Austin, TX * Sold Out
9/26/2021 Warehouse Live – Houston, TX
9/28/2021 Center Stage – Atlanta, GA
9/29/2021 Arizona Pete's – Greensboro, NC
9/30/2021 Baltimore Soundstage – Baltimore, MD
10/01/2021 King Of Clubs – Columbus, OH
10/02/2021 Roxian Theater – Pittsburgh, PA
10/03/2021 House Of Blues – Cleveland, OH
10/05/2021 St. Andrews Hall – Detroit, MI
10/06/2021 Phoenix Concert Halls – Toronto, ON
10/07/2021 Club Soda – Montreal, QC
10/08/2021 The Palladium – Worcester, MA
10/09/2021 Starland Ballroom – Sayreville, NJ
10/10/2021 Irving Plaza – New York, NY
RIVERS OF NIHIL will be touring in support of their upcoming fourth full-length, The Work, set for release September 24th via Metal Blade Records. RIVERS OF NIHIL has never fit neatly into a box, but with 2018's Where Owls Know My Name, they transcended all labels applied to them. Returning in 2021 with The Work, they've forged further into new territory, delivering an album that's as cerebral as it is visceral, and that covers a staggering sonic range, definitively placing them in a category of their own. Inarguably a dense, heavy collection, The Work is far too dynamic to be considered a solely metal record and there is a genuine warmth that shows through, particularly tracks like "Wait" and the gorgeous "Maybe One Day." Additionally, the band has incorporated far more clean vocals alongside the screaming that tears through many of the record's heavier tracks. Courtesy of their friend Zach Strouse, saxophone once again adds extra layers of atmosphere to the collection, utilizing baritone, soprano, and alto saxes to great effect.
View the band's recently issued video, directed by David Brodsky, for newest single "Focus" at THIS LOCATION. Preorder The Work at metalblade.com/riversofnihil.
http://www.facebook.com/riversofnihil
http://twitter.com/riversofnihil
http://www.youtube.com/Riversofnihilpa
http://www.metalblade.com
http://www.facebook.com/metalbladerecords
http://twitter.com/MetalBlade
http://www.instagram.com/metalbladerecords