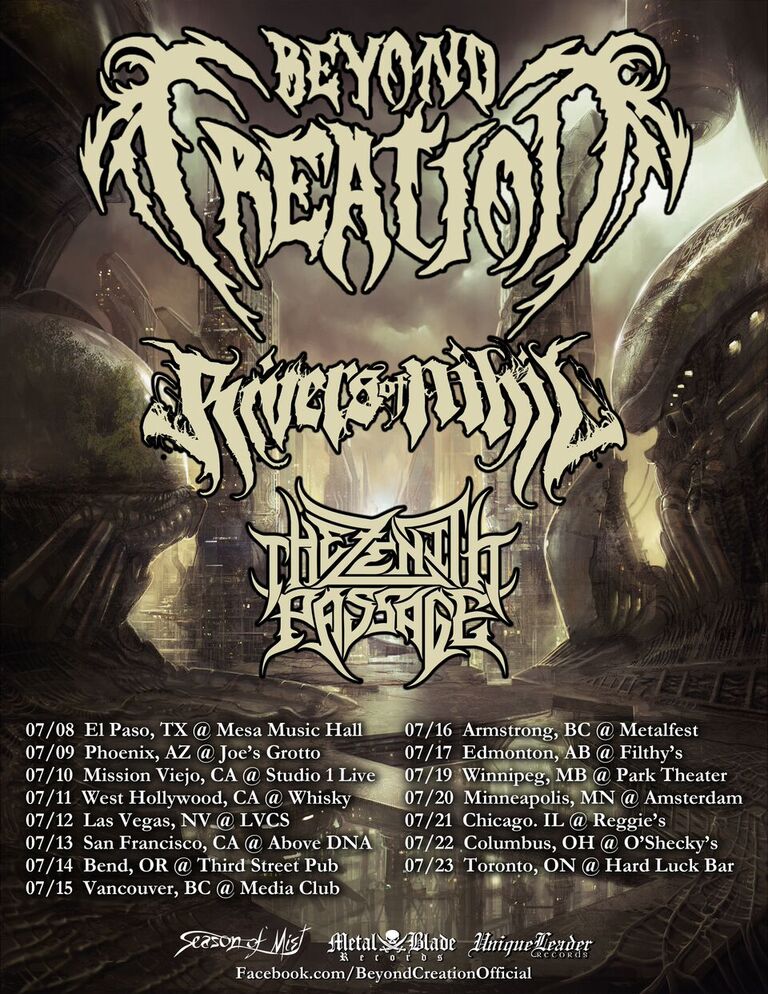 This July, RIVERS OF NIHIL will embark on another North American trek, touring in support of their acclaimed sophomore album, Monarchy. The quintet will first play a short run of headlining shows before joining Beyond Creation and The Zenith Passage for a tour that will run from July 8th through July 23rd. See all confirmed dates below.
Hailed as, "the gold standard for extreme, technical, progressive, and passionate death metal right now," by HeavyBlogIsHeavy.com, Monarchy continues the seasonal concept that began with Spring on RIVERS OF NIHIL's debut, The Conscious Seed Of Light, this time, welcoming the oppressive Summer heat. Adam Biggs, who also serves as the band's primary lyricist, explains: "The Earth has been transformed into a vast desert wasteland, where after aeons of lifelessness, new beings begin to take shape and begin their journey as shepherds of the planet. But after a while, a class system forms from a sun-worshiping religious dictatorship, and these beings start to lose their way. Only the guidance of an ancient earthly force can help them save themselves as well the planet."
RIVERS OF NIHIL:
7/01/2016 The Champ – Lemoyne, PA
7/02/2016 The Mad Frog – Columbus, OH
7/03/2016 The Beat Kitchen – Chicago, IL
7/04/2016 The Jackpot – Lawrence, KS
7/05/2016 Thunder Alley – Oklahoma City, OK
w/ Beyond Creation, The Zenith Passage:
7/06/2016 Dirty Dog Bar – Austin, TX w/ Psycroptic
7/07/2016 The Rail Club – Fort Worth, TX w/ Psycroptic
7/08/2016 Mesa Music Hall – El Paso, TX
7/09/2016 Joe's Grotto – Phoenix, AZ
7/10/2016 Studio One Live – Mission Vejo, CA
7/11/2016 Whisky – W. Hollywood, CA
7/12/2016 LVCS – Las Vegas, NV
7/13/2016 Above DNA – San Fransisco, CA
7/14/2016 Third Street Pub – Bend, OR
7/15/2016 Media Club – Vancouver, BC
7/16/2016 Armstrong Metalfest – Armstrong, BC
7/17/2016 Filthy's – Edmonton, AB
7/19/2016 Park Theater – Winnipeg, MB
7/20/2016 Amsterdam Bar & Hall – Minneaoplis, MN
7/21/2016 Reggie's – Chicago, IL
7/22/2016 O'Shecky's – Columbus, OH
7/23/2016 Hard Luck Bar – Toronto, ON
To preview and purchase Monarchy, visit: metalblade.com/riversofnihil.
For live coverage inquires contact liz@earsplitcompound.com.
http://www.facebook.com/riversofnihil
http://www.twitter.com/riversofnihil