[photo by Rasmus G. Sejersen]
While epic metallers RISING are currently writing their next album, the band now releases the bonus track "Beautiful Tomorrow," recorded during the recording sessions for their Oceans Into Their Graves LP. The band also announces new tour dates for 2017.
In April 2016, RISING released its third album Oceans Into Their Graves, which was also the first collection of songs from their new lineup. The band spent the past year playing mostly national shows, among those a performance at their own one-day festival Risefest as well as the prestigious Roskilde Festival. Oceans Into Their Graves was recorded with producer Jacob Bredahl in the fall of 2015, eleven songs were tracked, but only ten of them made the cut, as one last song was considered an outsider and left unfinished. Despite this, RISING has now completed the track entitled "Beautiful Tomorrow," with its new mix and mastering undertaken by Bredahl. The music incorporates more of the prog and classic metal influences of the band than the songs included on Oceans Into Their Graves. The lyrics reflect upon the human ability to forget their mistakes and rebuild past regimes from the hope of making a better world – a theme that still seems to be hugely relevant with consideration of the enormous changes in recent national and international politics.
"Beautiful Tomorrow" is now available for streaming and free download at RISING's Bandcamp RIGHT HERE.
Oceans Into Their Graves is available on 180-gram vinyl internationally through Indisciplinarian HERE and stateside via Earsplit Distro HERE
RISING is currently working on new material to be recorded in the Fall of 2017, once again with producer Jacob Bredahl. As for now, the band announces their 2017 shows including Danish and German dates and festival appearances, not at least Copenhell in June, which will be the last show of the year until the final album preparations will take over.
RISING – Killers Of The Mind Tour 2017:
1/27/2017 Mono Goes Metal Festival – Aarhus, DK
2/11/2017 Midwinter Meltdown Festival – Randers, DK
2/25/2017 Kasernen – Næstved, DK
3/23/2017 VeB – Lübeck, DE
3/24/2017 Bährenzwinger – Dresden, DE
3/25/2017 Akko – Leipzig, DE
3/26/2017 Bastard Club – Osnabrück, DE
3/27/2017 Alte Meierei – Kiel, DE
5/12/2017 Pitstop – Kolding, DK
5/13/2017 Stengade – Copenhagen, DK
6/03/2017 Spillestedet – Rønne, DK
6/24/2017 Copenhell – Copenhagen, DK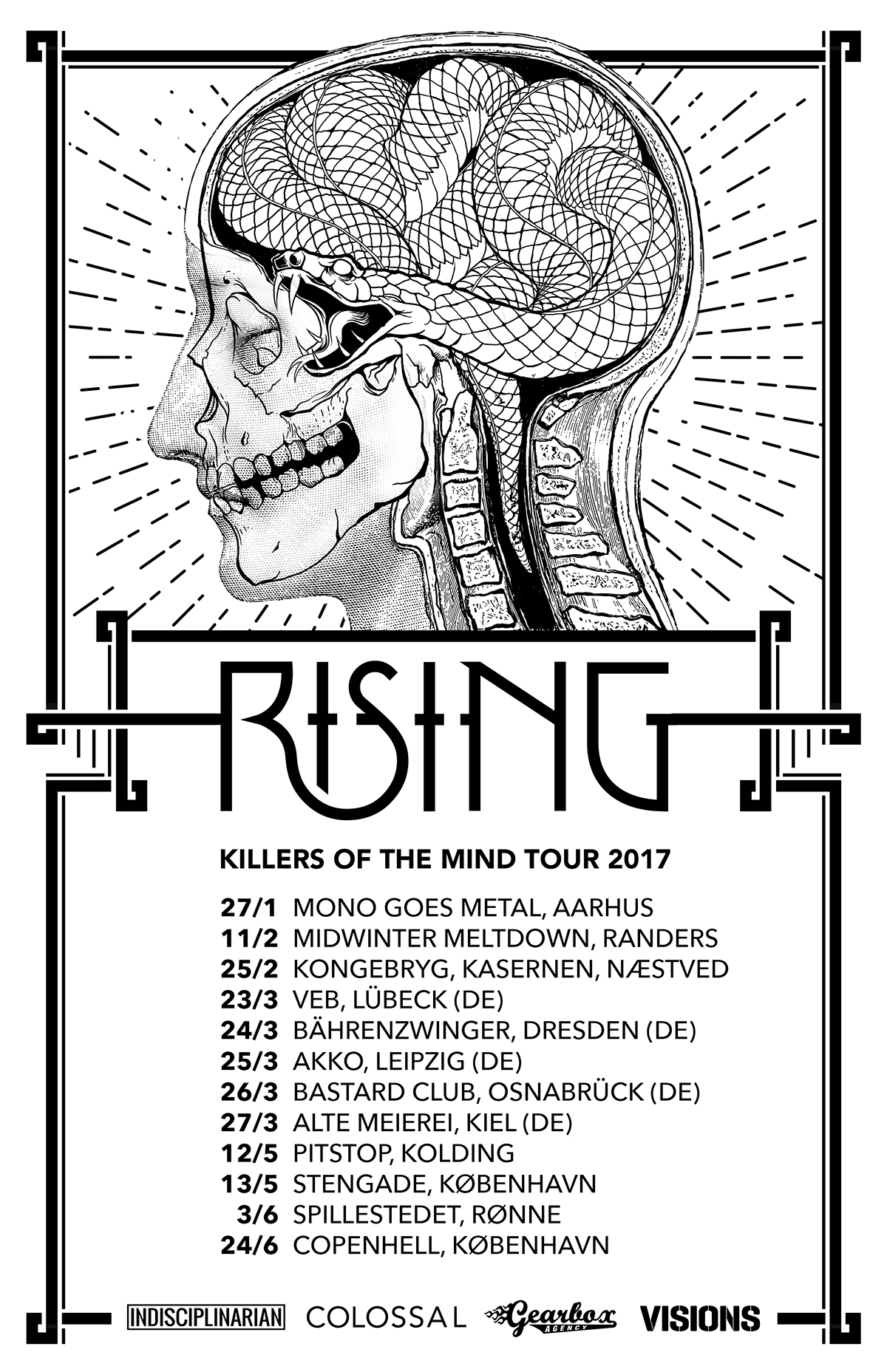 http://www.rising.bandcamp.com
http://www.facebook.com/risingdk
http://www.indisciplinarian.com
http://www.facebook.com/indisciplinarian
http://www.earsplitdistro.com