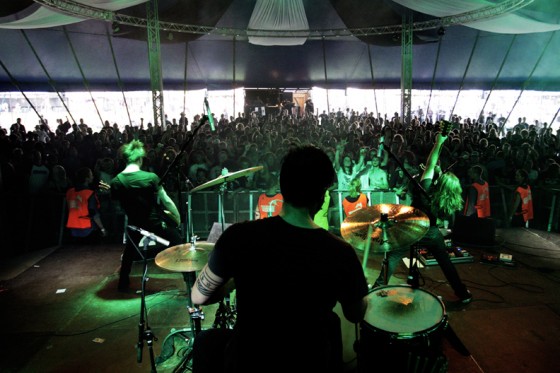 After months of anticipation, To Solemn Ash — the debut album from Danish sludge/metal trio RISING — is now available for purchase across North America, released today via Exile On Mainstream and E1 Distribution.
In support of the stateside release of RISING's debut beast, the henchmen that handle the daily duties at stoner/rock/metal portal The Obelisk have posted a stream of the entire neckbreaking To Solemn Ash to exploit at your convenience RIGHT HERE.
To Solemn Ash boasts nearly fifty minutes of RISING's solid doom-and-groove heavy metal thunder over ten tracks. The album was produced by Jakob Reichert Nielsen, mastered by Alan Douches (Converge, Mastodon, High On Fire, etc.) and bears artwork by Jakob Printzlau aka Plastic Kid (Lack, Volbeat, BMTH, Kashmir, etc). The record is available in a 4-panel digifile CD and digital download, as well as a limited edition import-only 180-gram gatefold LP.
"…tracks that sound like they're going to implode in a mess of smoldering tar, cracked horse hooves, bong glass shards, transmission pieces from a 1971 Corvette Stingray and flaming lumberjack axes… 8/10" – Decibel
"The 10 tracks are catchy and heavy in equal proportion, balancing brutality and melody with precision and a feel that is neither amateurish nor contrived." – The Obelisk
"…Rising have a knack for huge, blustery sludge anthems…" – Pitchfork
"The band tempers the heft and brutality of sludge and doom with enough trad-metal finesse to render an exceptionally listenable record that still hits hard." – MetalReview
"The band knows how to put rocking, heavy-ass tunes together, tunes that flow like a river of molten lead." – Doommantia
"…the attitude of Thin Lizzy, the bass lines of Black Sabbath, the melodic approach of Maiden and Priest, the thrash and mayhem of early Metallica and Celtic Frost, and the modern metal sound of High on Fire and Mastodon." – We Love Metal
"…these guys expertly blend vintage metal with sludge to create both the typical down-in-the-muck feel and headbanging grooves." – Popdose
"Moving from menacing to melodic in the space of minutes, the band are clearly competent at their sound…" – Metal Reviews
http://www.risingmetal.com
http://www.listn.to/RISINGband
http://www.mainstreamrecords.de
http://www.myspace.com/exileonmainstream