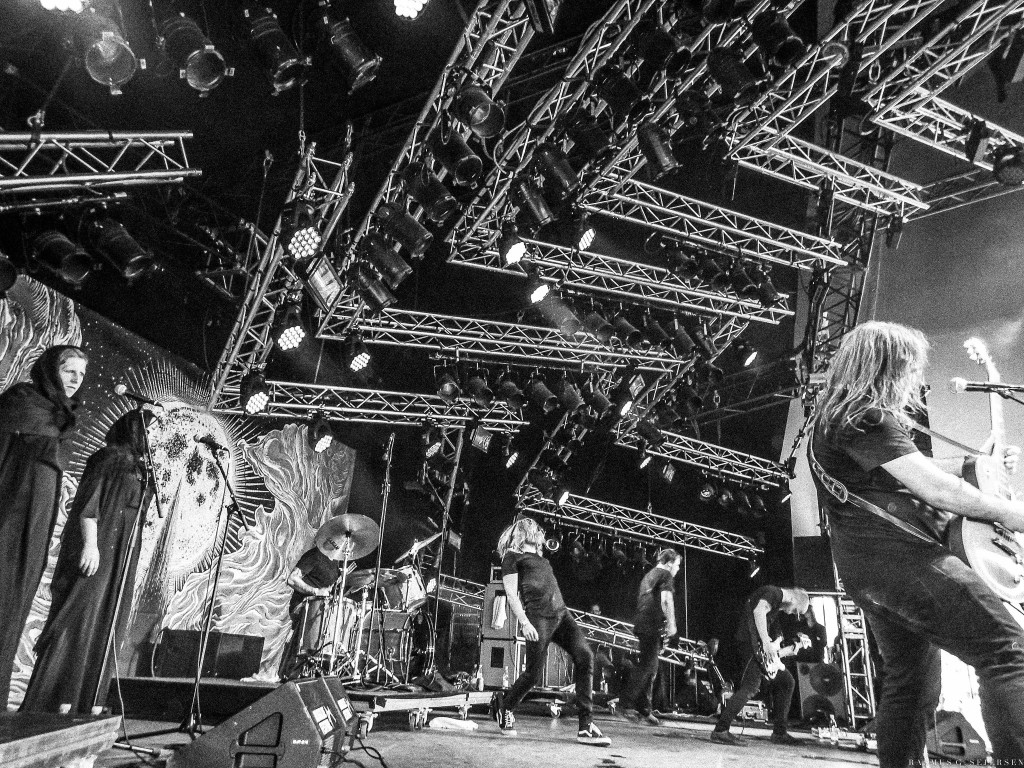 [photo by Rasmus G. Sejersen]
Danish metal ensemble RISING released its third album, the epic and crushing Oceans Into Their Graves LP, this past April, the first with the band's new lineup. After two release shows and a successful performance at the esteemed Roskilde Festival, RISING now announces three Fall shows in Denmark.
The release of RISING's third Oceans Into Their Graves marked the beginning of a new era, being the first album with a new line-up, giving way to a more melodic and classic heavy metal feel to the band's aggressive and sludgy trademark sound. The album was received with praise with fans and press alike, having The Sludgelord stating that the album is, "Armed with fat, sledgehammer riffs, crafty harmonies and glorious vocal melodies… RISING have created a monster," and Loudwire proclaiming, "if you bow down at the altar of the RIFF, here's your new preachers."
In connection with the release, RISING played a couple of shows in their native Denmark, among those a successful performance at this year's Roskilde Festival, one the biggest and most esteemed music festivals in Northern Europe. Now, the band announces another three Danish headlining club shows in the Fall. RISING will bring along special guests for the shows in the shape of sludgy doomsters Bethmoora in Copenhagen and blackened heavy metal horde Slægt in Aalborg and Aarhus.
RISING Live:
9/24/2016 Beta – Copenhagen, DK w/ Bethmoora
10/14/2016 Studenterhuset – Aalborg, DK w/ Slægt
10/15/2016 Radar – Aarhus, DK w/ Slægt
New visual work will be presented in the months to come and additional dates are being planned for 2017, among those festival appearances, a European tour and more Denmark dates.
Oceans Into Their Graves will be released on 180-gram virgin black 12″ vinyl and digital formats this Friday, April 29th; preorders for the vinyl are available in the US exclusively through Earsplit Distro HERE and internationally via Indisciplinarian HERE.
See RISING's claustrophobic video created for the track All Dirt at Metal Injection HERE, and stream the Oceans Into Their Graves LP at Decibel HERE.
http://www.rising.bandcamp.com
http://www.facebook.com/risingdk
http://www.indisciplinarian.com
http://www.facebook.com/indisciplinarian