Following a period of radio silence in recent months, malicious ailiencore invaders, RINGS OF SATURN, will storm through sectors of the continent this Fall with a plethora of new tour dates, including a North American mission supporting The Faceless.
The report on the impending North American attack was just broadcasted this week, confirming that RINGS OF SATURN will forge an alliance with After The Burial and Toothgrinder as a three-pronged support force for The Faceless on a nearly thirty-date invasion, running from November 5th through December 11th. The trek will begin in California and then burn a counter-clockwise crop circle in the entire continent, with shows booked all the way across Texas, a full East Coast raid, one Canadian show planned in Toronto and more before cutting back through the Midwest and back down the West Coast, ending in California as well. Additional support from Guardian will be supplied in West Rochester and Minneapolis will see the additions of Reflections and Texas In July to the bill.
The upcoming tour supporting The Faceless will mark the first time RINGS OF SATURN will be performing material from their Lugal Ki En LP, which was released last October, live on stage. The band has confirmed that a good portion of the album will be included in the set.
Preceding the tour with, RINGS OF SATURN will play several one off sets in California, including a headlining show in Salinas on October 22nd, the next night seeing them play a private show for campers and VIP ticket holders at Knotfest in San Bernardino, joining The Faceless, As Blood Runs Black and Motorbreath supporting Sepultura.
RINGS OF SATURN Tour Dates:
10/22/2015 La Movida – Salinas, CA w/ The Soothing Sound Of Flight
10/23/2015 San Manuel Amphitheater Festival Grounds – San Bernardino, CA @ Knotfest w/ Sepultura, The Faceless, As Blood Runs Black, Motorbreath
RINGS OF SATURN w/ The Faceless, After The Burial, Toothgrinder
11/05/2015 SOMA – San Diego, CA
11/06/2015 Joe's Grotto – Phoenix, AZ
11/07/2015 Mesa Music Hall – El Paso, TX
11/08/2015 Jake's Backroom – Lubbock, TX
11/10/2015 Dirty Dog Bar – Austin, TX
11/11/2015 Trees – Dallas, TX
11/12/2015 Jack's Patio Bar – San Antonio, TX
11/13/2015 Scout Bar – Houston, TX
11/14/2015 The Syndicate Lounge – Birmingham, AL
11/15/2015 Local 662 – Saint Petersburg, FL
11/17/2015 Greene Street Club – Greensboro, NC
11/18/2015 Soundstage – Baltimore, MD
11/19/2015 Marlin Room @ Webster Hall – New York, NY
11/20/2015 Voltage Lounge – Philadelphia, PA
11/21/2015 Tha Palladium – Worcester, MA
11/22/2015 The California Brew Haus – West Rochester, NY w/ Guardian
11/23/2015 Virgin Mobile Mod Club – Toronto, ON
11/24/2015 The Pike Room @ The Crofoot – Pontiac, MI
11/25/2015 Agora Ballroom – Cleveland, OH
11/27/2015 The Abbey – Chicago, IL
11/28/2015 Skyway Theatre – Minneapolis, MN w/ Reflections, Texas In July
11/29/2015 Vaudeville Mews – Des Moines, IA
12/01/2015 Marquis Theater – Denver, CO
12/02/2015 In The Venue – Salt Lake City, UT
12/05/2015 El Corazon – Seattle, WA
12/06/2015 Hawthorne Theatre – Portland, OR
12/08/2015 DNA Lounge – San Francisco, CA
12/09/2015 The Whiskey – West Hollywood, CA
12/11/2015 Chain Reaction – Anaheim, CA
Amidst heavy bouts of touring, in October 2014, Bay Area alien death metal outfit, RINGS OF SATURN, released their third album, Lugal Ki En, through Unique Leader Records, the record's over-the-top blistering proficiency and uniquely bizarre output literally vaporizing nearly any other technical metal release of the year. Lugal Ki En's relentless, cyber-infused deathcore destruction is based on a lyrical concept in which the Aliens wage war on the angels and demons of the universe after having conquered humanity. Metal Injection issued a 9/10 review, proclaiming, "Lugal Ki En is a refined and mature sounding Dingir. Speedy catchy riffs, fast beats, choppy transitions, and even some expressive timing is thrown in small segments enhancing specific qualities and making the entire album a rich experience… If technical extreme metal is a genre that you enjoy, there is no doubt Lugal Ki En will satisfy." Another 9/10 write-up from TechnicalDeathMetal.com adds, "This time around RINGS OF SATURN let the songs evolve more naturally, and while the spastic bursts of jabbing high notes still exist, listeners can hear a variety of influences and new elements as well." MetalSucks issued, "… it might be the heaviest thing laid down in years," and Headbang Or GTFO's 4.5/5 review states, "The band add a lot more to this album with background noise and technical guitar playing that actually feels natural this time around and not random wild guitar playing. Lugal Ki En is one of the better technical death metal albums of 2014 and their best album yet."
RINGS OF SATURN's official video for "Senseless Massacre" is viewable HERE, and the entire Lugal Ki En album streaming HERE. CD, LP and a plethora of merch options are available via Unique Leader Records right HERE.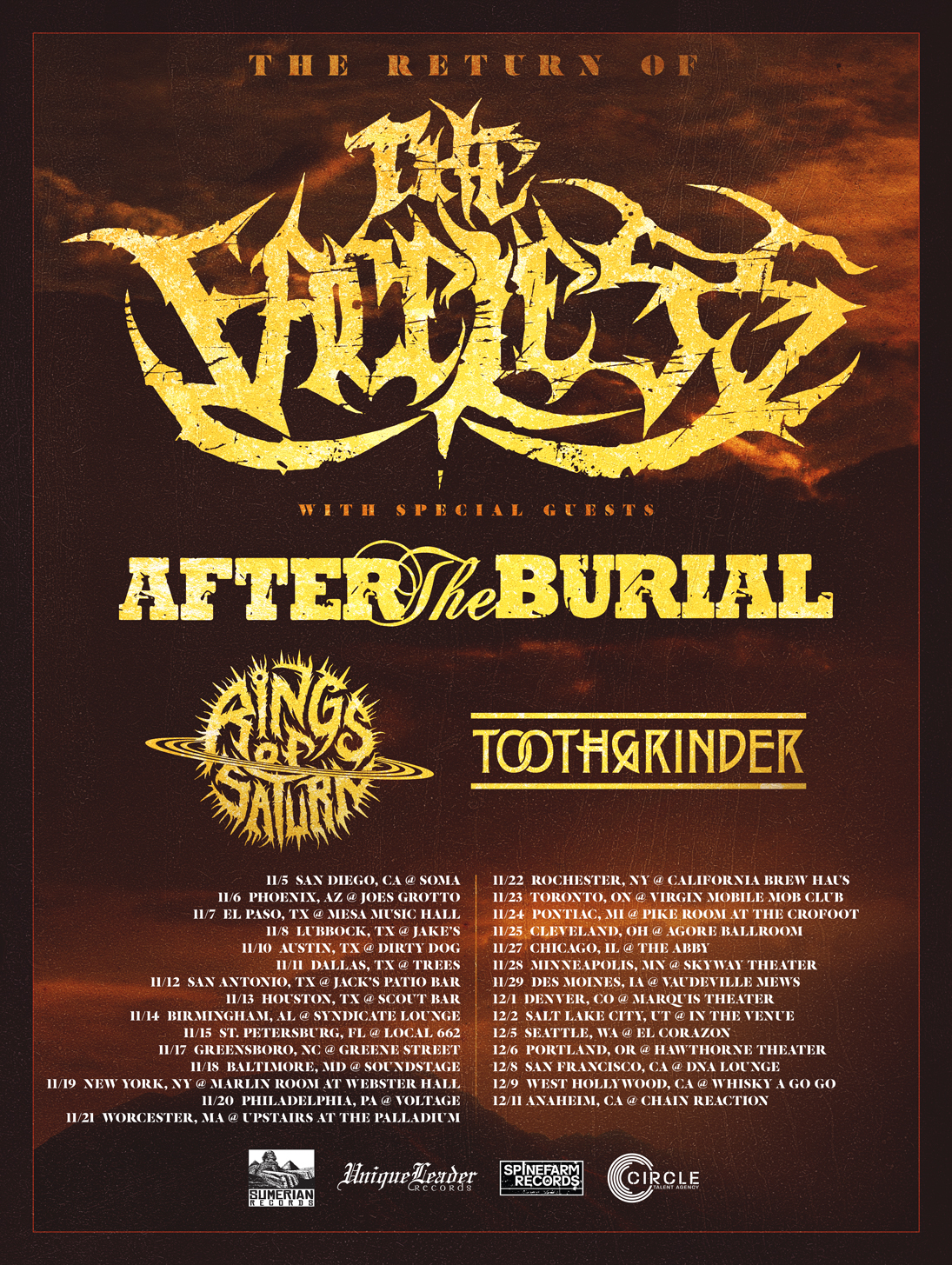 http://www.facebook.com/RingsofSaturnband
http://www.uniqueleader.com
http://www.facebook.com/UniqueLeaderRecords