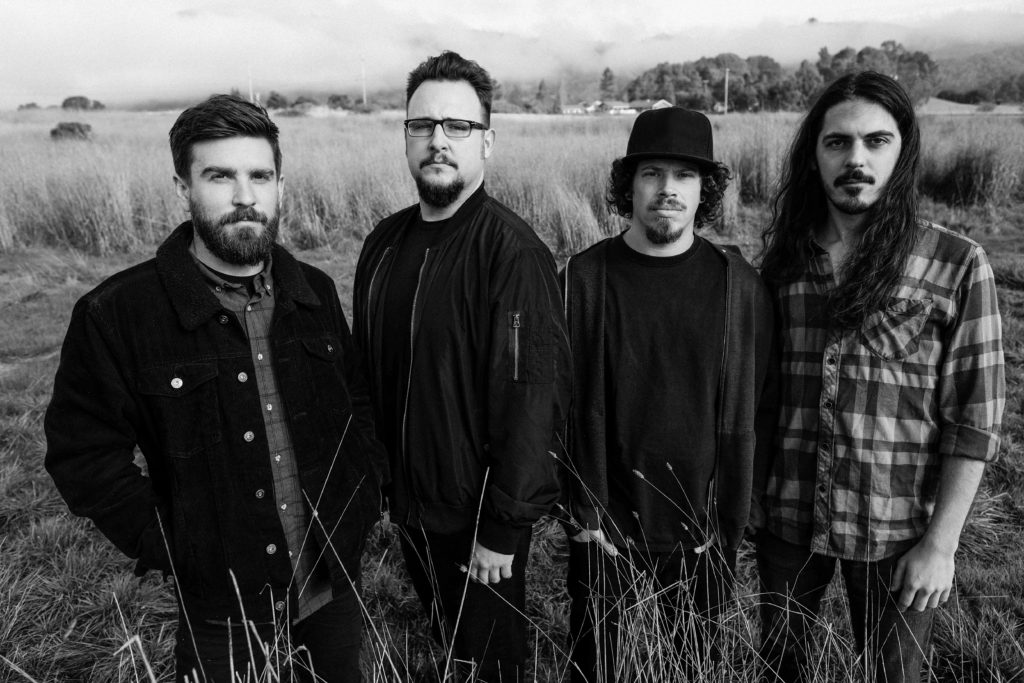 [photo by Matt Kadi]
Creator-Destructor Records is extremely excited to announce the late March release of Through All Unknown, the upcoming full-length from Bay Area-based REALMS OF VISION.
REALMS OF VISION began in 2015 and has been establishing a name for themselves regionally with their special blend of slow destruction. Featuring Frank Costa (Animosity, Entheos) and Corey Largent on guitars and vocals, Mike Ambrose (Set Your Goals) on drums, and Brandon McCubbin on bass, the California hard-hitters are road-worn experts in their craft, and the nine tracks that comprise Through All Unknown reveal that resoundingly.
While their debut EP introduced the world to the band's sonic intent, their debut album serves as a massive accomplishment in the band's progression. Costa explains: "Through All Unknown is an album about trudging down the path of reality. It explores life and death, the natural world, the dark powers that control our lives, and trying to connect with a spirit greater than ourselves. The music has expanded melodically and thematically from the Unrevenged EP, while keeping the influences heard on that release very much alive. Through All Unknown is the first major step in our identity as a band, and we can't wait to keep exploring."
REALMS OF VISION will release Through All Unknown on CD, LP, and digital platforms on March 30th, 2018. The cover artwork, track listing, and more have been issued, with preorders, audio previews, tour dates, and more to be posted over the coming weeks.
Through All Unknown Track Listing:
1. Invoke
2. State Of Silence
3. Deception Mask
4. Two Wolves
5. Through All Unknown
6. Communion At Dusk
7. Boundless
8. Isolation's Crown
From the eerie opening of the intro, "Invoke," straight into the absolutely decimating sludge/stoner riffage of "State Of Silence," the listener can tell immediately that these musicians know what they're doing on Through All Unknown. While combining down-tuned, expertly-written riffs and song-structures is the band's specialty, the powerful vocals of Costa harken back to the best and darkest aspects of '90s grunge, with a clean-singing approach that adds crucial memorable hooks to the band's sound, while not detracting from the sheer heaviness in the slightest. Creating such a unique sound is no easy feat, but REALMS OF VISION has here succeeded in spades.
Tracks like "Deception Mask" and "Isolation's Crown" reveal a combination of influences such as Alice in Chains, High On Fire, Type O' Negative and Black Sabbath; an amalgamation of darkness, melody, and esoteric intensity, potently paired with the modern flare of Costa's slam/death metal tendencies on guitar from his years in San Francisco's furiously technical hometown heroes, Animosity.
REALMS OF VISION:
Frank Costa – Guitars/Vocals
Corey Largent – Guitars/Vocals
Mike Ambrose – Drums
Brandon McCubbin – Bass
https://realmsofvision.bandcamp.com
https://www.facebook.com/realmsofvision
http://www.creator-destructor.com
http://www.facebook.com/creatordestructorrecords
http://www.twitter.com/CD_Records
http://www.creator-destructor.bandcamp.com