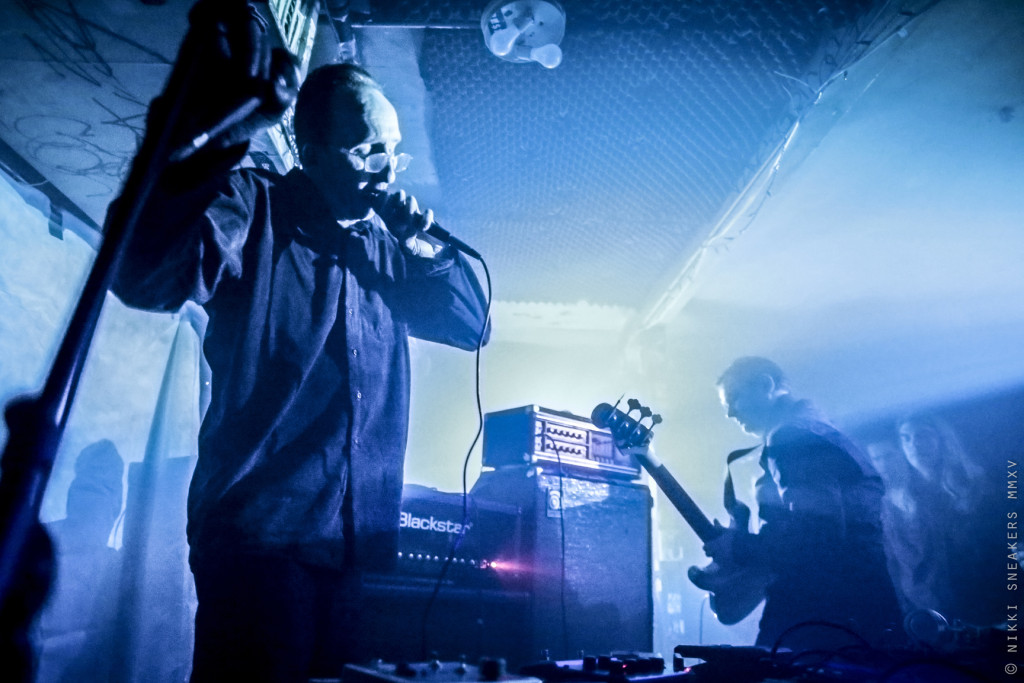 Circular Time, the extensive double-disc album from legendary British noise/electronic rock outfit, RAMLEH, is out today through Crucial Blast Records.
One of the key bands to emerge from the UK's post-industrial underground of the early 1980s alongside their Broken Flag label-mates, Skullflower, RAMLEH continually shifted between the extreme, confrontational power electronics of their early material and their later forays into searing, lysergic noise rock, right up until the band went on an extended hiatus in the late '90s. With nearly two decades having passed since their last "rock-oriented" album, Circular Time sees the outfit returning with their most intense work since re-emerging in recent years. Now comprised of founding member Gary Mundy, longtime member Anthony Di Franco, and new drummer Martyn Watts, RAMLEH has returned with nearly two hours of speaker-shredding, void-gazing psychedelia, pushing the pummeling, Hawkwindian meltdowns heard on classic 90s-era albums.
Listen to RAMLEH's Circular Time in its entirety now at THIS LOCATION.
Circular Time is out today as a six-panel gatefold jacket 2xCD and all digital outlets through Crucial Blast. The record can be preordered now through the label's website HERE, Bandcamp HERE and iTunes HERE.
RAMLEH will be performing a series of rare stateside live dates in early 2016. As soon as the final details on this trip are aligned, official announcements will be made.
The Quietus champions RAMLEH's sprawling album in a new review, offering, "Circular Time is a feast of a reward for those who have been waiting for this incarnation of RAMLEH to get its moment in the sun: a wild, celebratory, unrelenting epic of an album that at times, notably on the industrial slab of impassive drone 'Weird Tyranny' (ironically closer in style to Valediction-era duo RAMLEH, with Watts absent) and the elegiac closing masterpiece 'Never Returner' reaches rarely-paralleled heights of what Gary Mundy once referred to as "bleak psychedelia." Brainwashed published a massive, positive review, which includes, "Everything and anything I could have hoped for on a new release from RAMLEH can be found on Circular Time. The perverse psychedelia, the motorik rhythms, and the oppressive, noise heavy ambience all appears here, and hangs strongly with the band's previous records… Without a doubt on my short list for best albums I have heard this year." Heavy Blog Is Heavy dubbed the record with a 4/5 review, including, "Circular Times' double album status is due more to the album's length and the constraints of physical music mediums. On a thematic level, the album is a strong, consistent project that tampers with a sonic palette that will generally favor the interest of My Brother the Wind fans. Expansive passages of Can-esque guitar jamming, thumping jazz fusion bass lines and careful but poignant drumming stands firm as the core of RAMLEH's approach, which favors subtle repetition and development in the vein of Earth's recent output." The Grim Tower's excellent review offers, "Circular Time is like LSD without the blotter, it can simply take you on a journey without a real need for chemical substances of any kind; which I would consider to the be the generalized power of music… for a band that's been around for almost four decades, they're definitely showing that they've still got it."
http://www.facebook.com/Ramleh-245880515463532
http://www.crucialblast.net
http://www.facebook.com/CrucialBlast
http://www.crucialblast.bandcamp.com