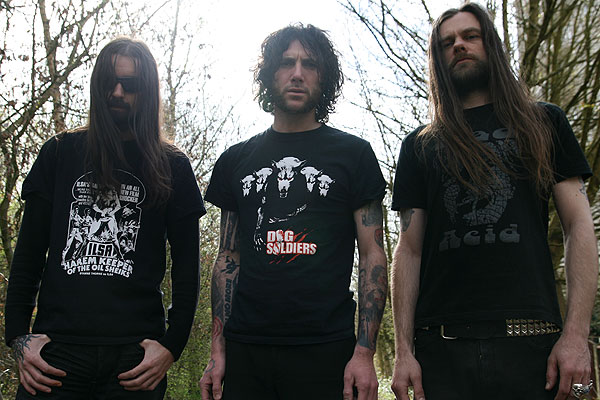 The psychedelic doom trio RAMESSES were spawned in the woodland of Dorset, England in 2003, and have been brutalizing their devoted fanbase ever since, unleashing a rash of EPs and demos, one full-length release, splits with Negative Reaction and Unearthly Trance and more over the past seven years. They've ripped a wound in the UK and across Europe with brutalizing live shows alongside some of the best and heaviest names in the extreme metal world.
2010 brings the next slab of raging doom from RAMESSES, in the form of their second mammoth full-length release Take The Curse, which is set to infect the general public on the 2010 Summer Solstice, June 21st. Releasing the album is new label Ritual Productions; the label formed by the band's management. The beast will see worldwide release on CD and digital download formats through Ritual, as well as a 2xLP version to be released by Scottish label At War With False Noise.
On Take The Curse, mournful harmonies are the backdrop to the ever-increasing influence of The Occult on the band. Although a riff tsunami remains the centerpiece, the RAMESSES sound is refracted through even more circles of hell; of dirge-sludge, of rhythm, of Lucifer himself. Grim melodies, blistering spaced-out guitar solos and atmospheric samples add depth to the tracks and display the band's eclectic traits and 70's influences.
Take The Curse Track Listing:
1. Iron Crow
2. Terrasaw
3. Black Hash Mass
4. Take The Curse
5. Vinho dos Mortos
6. Baptism Of The Walking Dead
7. Another Skeleton
8. Hand Of Glory
9. The Weakening
10. Khali Mist
Take The Curse is a shattering expression of cruelty where RAMESSES' bleak sound finds an accurate counterpart in UK artists Jake and Dinos Chapman (http://www.jakeanddinoschapman.com) and their grand vision of suffering; the Chapman's controversial art piece "Fucking Hell" has become the front cover art of Take The Curse. The pieces of this masterpiece used for the album's art have never been released to the public until now. The CD version of the album will come with two alternative covers, and first 200 orders through the label website will receive a limited edition collectors art card set featuring the 2 alternative covers. The music and the artwork dredge the turpitude of humanity and explore the utter horror of possibility. Prepare to be engulfed by torrential riffing!
Check out the official video for the track "Khali Mist" from the album here:
http://www.myspace.com/ramesses666
http://www.ritualproductions.net
http://www.myspace.com/ritualproductions