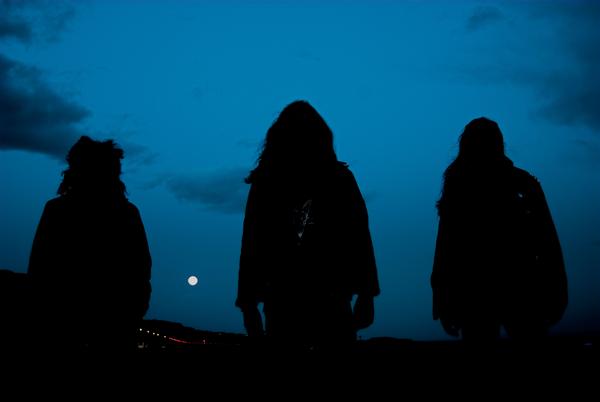 Dorset, England's pummeling doom trio RAMESSES have been ultra busy this year, and have a lot planned for the coming months.
RAMESSES just recently completed their latest wave of European live dates, selling out most of the concerts on their ten date tour through France and Spain. At press time the band are currently gearing up for a three day attack on British soil this week with support from Norway's Obliteration for a rampage through Newcastle, Birmingham and ending in London, at the Fenriz-curated Live Evil Festival this Saturday, also appearing alongside Angel Witch, Volcano, Hooded Menace and tons more. These will probably be the last shows the band will play for 2010.
RAMESSES October 2010 UK Tour w/ Obliteration:
10/21/2010 Trillians – Newcastle, UK
10/22/2010 The Asylum – Birmingham, UK
10/23/2010 The Underworld – London, UK @ Live Evil Fest
More tour actions will ensue in 2011 of course; RAMESSES are already confirmed to play the annual Roadburn Festival on April 16th, 2011.
Additionally, Jake and Dinos Chapman — the artists who crafted the controversial "Fucking Hell" art masterpiece used for RAMESSES' Take The Curse cover art — offered to make a video for the track "Baptism of the Walking Dead" from the album.
While RAMESSES have been working hard all year in support of their latest full-length Take The Curse, released in June of 2010 on Ritual Productions, they're already preparing their next opus for release. Tentatively set for a March 2011 release, the band have already captured ten new tracks for their upcoming 3rd full-length entitled Possessed by the Rise of Magik, again coming out via Ritual Productions. Some confirmed track titles for the new album include "Safety in Numbness," "Towers of Silence" and an epic 15-minute title track. More details will be released in the coming weeks on this monster.
Previous to the release of Possessed by the Rise of Magik, the band are planning a two-song 12″ EP entitled Chrome Pineal/Blazoned Fauna. "Chrome Pineal" is a ten minute 1960s style exploration recorded during the Take the Curse sessions, and "Blazoned Fauna" is another brand new track from the Possessed by the Rise of Magik recording sessions.
RAMESSES were spawned in the woodland of Dorset, England. They have been disfiguring the innards of their army of devoted listeners since 2003 when drummer Mark Greening and guitarist Tim Bagshaw hooked up with Adam Richardson (bass + vox). In the intervening years, RAMESSES have ripped an incurable wound in the metal scene with killer live shows around the UK and Europe.
"…an album that gets stronger as it goes on, sucks you in more with repeat listens, and seems to ingest you every time only to spit you out for your unworthiness. Simply put, Take the Curse is as doomed as doom gets… The far out evil psychedelia and aural cruelty are undeniable." – Stonerrock.com
"…a heavy and retro doom-fluenced occult hallucination back to the glory days of tube amps and Satanic acid-inspired orgies…" – Hellride Music
"…a vicious black blob of a record, stitched with genre touchstones and soaked in drug-fueled suffering… Ramesses' cursed offering sounds more like a blessing." – Rue Morgue Magazine
"…deathly atmospherics and crushing tones the likes of which few can match." – The Aquarian Weekly
http://www.myspace.com/ramesses666
http://www.ritualproductions.net
http://www.myspace.com/ritualproductions