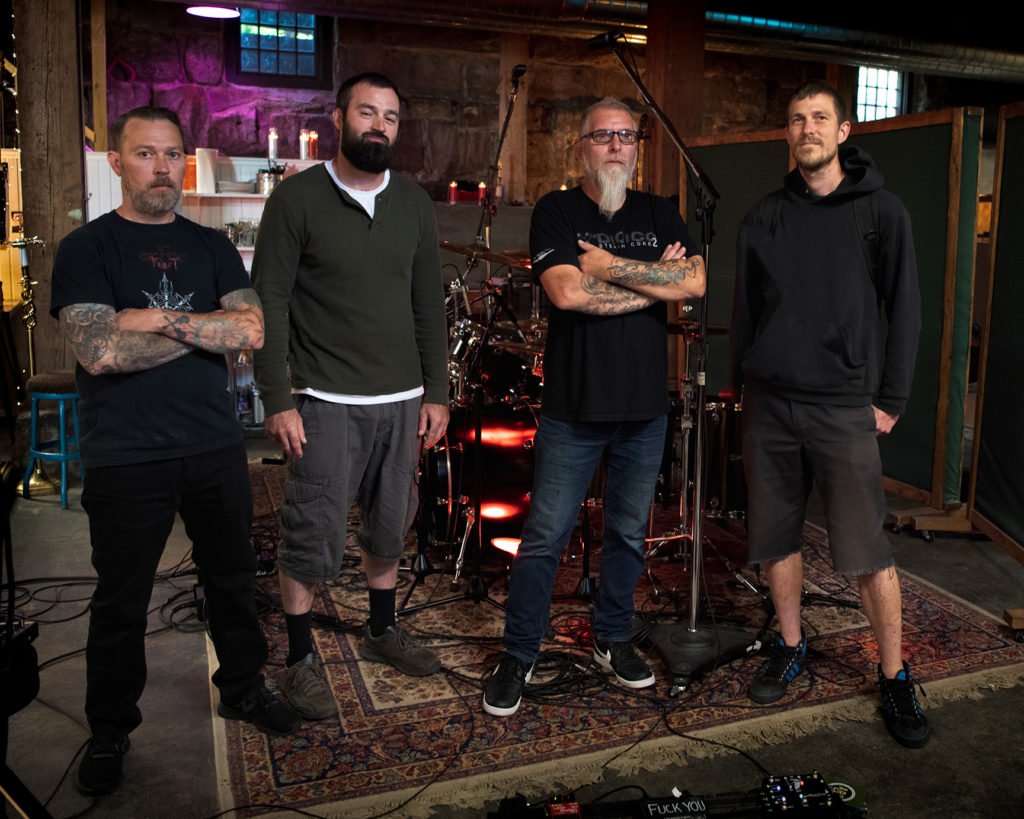 photo by Josh Fitzjarald
As Akron, Ohio doom/sludge metal quartet RADIAN prepares to release the bulldozing Discordian LP in June, The Sleeping Shaman is hosting the premiere of the album's second single, "The Sun Spoils."
RADIAN's sound is both more vicious and vibrant on Discordian, the album delivering six new songs with an elevated sense of living in a perilous world wrought with political discontent and societal unrest. Discordian was recorded and engineered at Akron Recording Company Akron September of 2020 by Sanford Parker, who provides synth elements to the album. Parker mixed the album at his Hypercube Studio in Chicago, after which it was mastered by Colin Jordan at Boiler Room Mastering in Chicago.
With the release of "The Sun Spoils," RADIAN vocalist Jeff Fahl writes, "Life is indeed for living. But you can spend half of it killing yourself and half of what's left dying. Who are you breaking all of those rocks for? For whom do you carry the stone?"
The Sleeping Shaman writes with their premiere of the track, "It could be argued that RADIAN are a bit of a who's who from the doom, sludge, and stoner genres as its boasts members of Fistula, Abdullah, Sofa King Killer, and Rue amongst its ranks. Quite an illustrious history and wealth of experience to call upon when the quartet wrote their filth riddled sophomore album Discordian that features six tracks of despondent sludge and doom."
Stream RAIDAN's "The Sun Spoils" first at The Sleeping Shaman RIGHT HERE.
RADIAN will release Discordian through Mike Burns' own Elburno Records on June 24th, digitally and on two vinyl variants – Transparent Beer and Green/Black Splatter in runs of 125 each. Find preorders at Bandcamp where "The Discordian" is playing HERE.
Watch for additional audio and video action to post over the weeks ahead.
Having just completed a three-city run of shows over the weekend, RADIAN has been confirmed to join Portrayal Of Guilt and Yautja in Cleveland on May 21st, while currently plotting more widespread live dates to post over the weeks ahead.
RADIAN Live:
5/21/2022 Grog Shop – Cleveland, OH w/ Portrayal Of Guilt, Yautja
Formed in the Winter of 2017, RADIAN is currently embodied by guitarist Mike Burns (ex-Rue, Sofa King Killer), drummer Jeff Sullivan (ex-Fistula), bassist Bill Govan (ex-Goosed, Ravenna Arsenal), and vocalist Jeff Fahl (ex-Rue). Coalescing elements of groove and grime from their prior acts into a cohesive, slamming sludge attack, they independently released their debut LP, Chapters, in 2019 to an enthusiastic response from the sludge and metal media and fans alike.
Following the album's release, RADIAN supported the record live until the pandemic brought everything to a crawl. Like many other bands, the members found ways to write and create remotely and continued honing their sound until it was safe to gather and record again. December 2021 saw RADIAN release a split cassette with Celophys as part of Robustfellow Productions' Robust Split Series, while the final touches were being implemented on their second album, Discordian.
https://www.facebook.com/RadianAkron
https://radianakron.bandcamp.com
https://www.instagram.com/radian_akron