Following the recent dissemination of news that Portland antisocialite brigade, RABBITS, has a bruising new album cruising towards release this Summer, today the first public audio flogging from the impending Untoward takes place through Invisible Oranges.
Through RABBITS's already unwelcoming tsunami of blaring amplification and sarcastic, parasitic methodology, the outsider trio unloads nearly a half-hour of their most centered but dynamic aggravation yet on Untoward, ranging from the pentatonic/schizophrenic album-opening bender, "Ever Mind," to the ten-and-a-half minute closer, "Like You A Lot." The second of the six tracks, "Pack Up Your Shit" thunders open with a bit more bludgeoning double-bass blastery and upbeat rips than the majority of Untoward; it's a real ripper. The band quickly shit out a bit of insight on the anthem's background: "It's a touching story about a friend who loses another friend due to that friend being more of a colossal fuck up then, uh, the first-person plural narrator, whoever that may be. We're talking about drawing a line in the fucking filth, man. The last defense against rampant advantage-taking by those dear to oneself. The coming class war between the low class and the no class…"
Blaze-up, throw down, throw up… whatever you have to do, do it to "Pack Up Your Shit" ultra-loud via Invisible Oranges RIGHT HERE.
RABBITS will release Untoward on August 12th via Lamb Unlimited, the label spawned of Chris Spencer of Unsane and Alan Schneider of No More Records. With the snarling trio's most back-alley, gutter dredging, ultimately sinister cavalcade of captivatingly negative hymns yet, the record was exhaustingly tracked live to tape at Type Foundry, Portland in one day and mixed in two. The engineering duties on Untoward were tag-teamed by Jeremy Romagna (Trees, Tecumseh, Wives) and Fester (Nux Vomica, Usnea, Stoneburner), both of whom have recorded the majority of the band's previous material, the tracks mastered by Ryan Foster at Foster Mastering, and the cover artwork hand-sewn by Anne Mersereau.
Preorders for Untoward have just been made accessible HERE.
The band is locked to perform at the three-day, seven-show, twenty-five-band D.I.Y. "anti-fest" dubbed Festicide, running from August 15th through 17th in Portland, Oregon, booked by RABBITS and their resurrected outsider label, Eolian Empire. A celebration of the heavy, noisy, and weird, Festicide will boast sets from Honduran, Diesto, Towers, Drunk Dad, Big Black Cloud, Thrones, Stoneburner and a slew of others, all shows priced at $5 or free. RABBITS will also raid Seattle on August 23rd, the trio due to give kickass regional radio station KEXP's studio beating with a live on-air set to be aired at midnight, following the taping and a show with labelmates Prizehog in town that evening. This October, RABBITS returns to Europe with Norwegian greats, ARABROT, following their split 7″ of The Cure cover tunes released early this year.
RABBITS Live:
8/16/2014 East End – Portland, OR @ Festicide w/ Honduran, Diesto, Towers [free matinee]
8/23/2014 The Victory Lounge – Seattle, WA w/ Prizehog
Stand by for full disclosure on the impending live debacles, an official video for Untoward's next single and all types of ill shit in the coming weeks.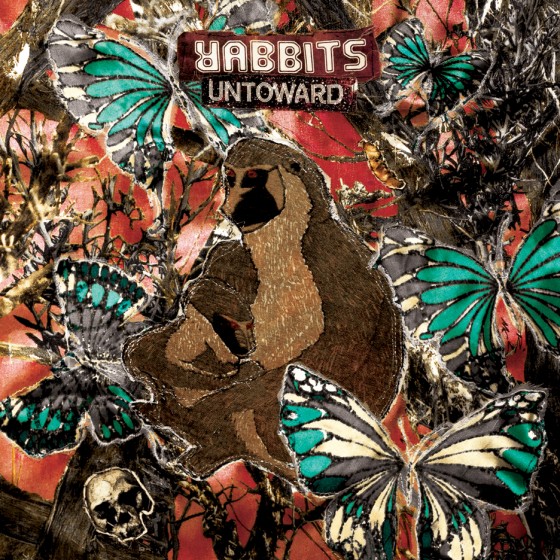 http://rabbitusmaximus.com
https://www.facebook.com/RabbitusMaximus
http://rabbitusmaximus.bandcamp.com
http://lambunlimited.com
https://www.facebook.com/LambUnlimited