Portland, Oregon's most steadily producing noise metal tacticians, RABBITS, will release their third studio full-length this Summer via Lamb Unlimited, the label spawned of Chris Spencer of Unsane and Alan Schneider of No More Records.
Debauchery-fueled ruckus, intoxicating hangover nightmares, scathing audio beatings you can't help but ask for repeat doses of, RABBITS does something brutally infectious with every pulsating moment of their seemingly haphazard but ultimately succinctly executed delivery. Formed in 2003 by three musicians with prior time spent in Angel Hair, The VSS, Hutch and assorted West Coast acts, the contorted tones of RABBITS immediately drew comparisons to Melvins, Karp, Jesus Lizard, Cows, Flipper, Butthole Surfers, Volcano Suns, Harvey Milk and others. Like auditory sandpaper, their grating noise-soaked sludge/rock grooves harshly wears down the listener with a demoralizing and punishing rhythmic attack, with all levels jacked to the max.
With nearly thirty minutes of all new material, RABBITS's inbound third LP undertaking, Untoward, captures the snarling trio's most back-alley, gutter dredging, ultimately sinister cavalcade of captivatingly negative hymns yet, the record exhaustingly tracked live to tape at Type Foundry, Portland in one day and mixed in two. The engineering duties on Untoward were tag-teamed by Jeremy Romagna, who recorded/mixed the band's Lower Forms debut, their early 7″ releases, all the covers on the band's recent SOS collection, in addition to records from Trees, Tecumseh, Wives and more, and Fester, who recorded the band's Bites Rites sophomore LP and subsequent splits with Whores and Arabrot, and a long line of other notable acts including Nux Vomica, Usnea, Stoneburner and others, then mastered by Ryan Foster at Foster Mastering.
Lamb Unlimited will welcome RABBITS to their collective releasing Untoward on audiophile LP and digital download on August 12th. The track listing and cover artwork, which was hand-sewn by Anne Mersereau and photographed by James Rexroad, have been released.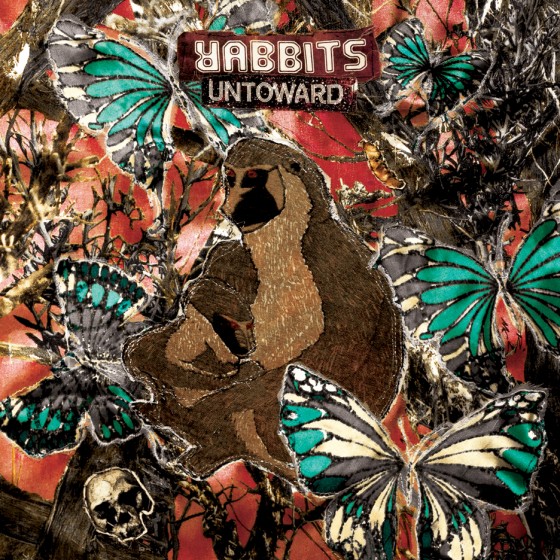 Untoward Track Listing:
A1. Ever Mind
A2. Pack Up Your Shit
A3. So Fake It's Real
A4. Reek and Ye Shall Find
B1. An Odd Coloration
B2. Like You A Lot
Amidst a slew of EPs, splits and other independent releases the band has produced since their 2003 inception, RABBITS's debut LP, Lower Forms, was released via Relapse in 2011, which was followed only a year later with their Bites Rites LP via Good To Die Records. The band has also since revived Portland DIY label Eolian Empire, their cohorts who released multiple early RABBITS releases, and have since inundated the planet with a variety of potent releases from only Portland-based acts, including Prizehog, Towers, Diesto, Honduran, Dead, Drunk Dad and more. Amidst sporadic Western US touring in recent years, the band will forage throughout North America and Europe in support of Untoward. Stand by for further tour info, audio transmissions, a video for the track "So Fake It's Real" and more on Untoward in the coming weeks.
http://rabbitusmaximus.com
https://www.facebook.com/RabbitusMaximus
http://rabbitusmaximus.bandcamp.com
http://lambunlimited.com
https://www.facebook.com/LambUnlimited