Indonesian atmospheric/symphonic black metal unit PURE WRATH will unleash The Forlorn Soldier EP March 6th via Debemur Morti Productions. The poignant offering serves as the band's Debemur Morti debut as well as a teaser to the band's third full-length.
Forged in 2014 in West Java, PURE WRATH is the solo project of multi-instrumentalist Januaryo Hardy who presents here an emotive three-track, near-half-hour exploration of events behind a brutal incident during the '60s genocide in Indonesia where male members of a family were kidnapped and "vanished" by a tyrannical army in the name of "so-called nationalism."
Far darker and more immersive, expansive, and organic than previous works, The Forlorn Soldier — with its powerful, melodic cascades, impassioned vocals, skilled guest drum work by Yurii Kononov (ex-White Ward), and piano contributions by Dice Midyanti (Victorian) — journeys to an all-encompassing realm where mythic dreamscapes meet bloody thematic realism.
Sample opening track, "When A Great Man Dies," HERE.

PURE WRATH's The Forlorn Soldier will be released worldwide on digipack MCD, 10″ MLP, special edition 10″ MLP, and digital formats. Find preordering options below:
Bandcamp: https://purewrath.bandcamp.com/album/the-forlorn-soldier
North America: https://debemurmorti.aisamerch.com/band/pure-wrath
Europe: https://www.debemur-morti.com/en/422-pure-wrath-shop
The Forlorn Soldier Track Listing:
1. When A Great Man Dies
2. Children Of The Homeland
3. With Their Names Engraved
PURE WRATH initially began as a primitive black metal solo project before Hardy shifted focus a bit "to be more open and realistic to my real life and family history." In early 2017, PURE WRATH's Ascetic Eventide was released via Indonesian label, Hitam Kelam Records. The record received an overwhelmingly positive response and sold out in just four months. Throats Productions in Mexico issued the record on vinyl later that year followed by a split release between PURE WRATH and French symphonic black metal project, Onirism, entitled Endless Journey. By 2018, Hardy unveiled his second full length, Sempiternal Wisdom, via a joint collaboration with Hitam Kelam and China's Pest Productions. This year's The Forlorn Soldier EP serves as a thematic bridge from Sempiternal Wisdom to PURE WRATH's as-yet-untitled third opus, to be released via Debemur Morti Productions.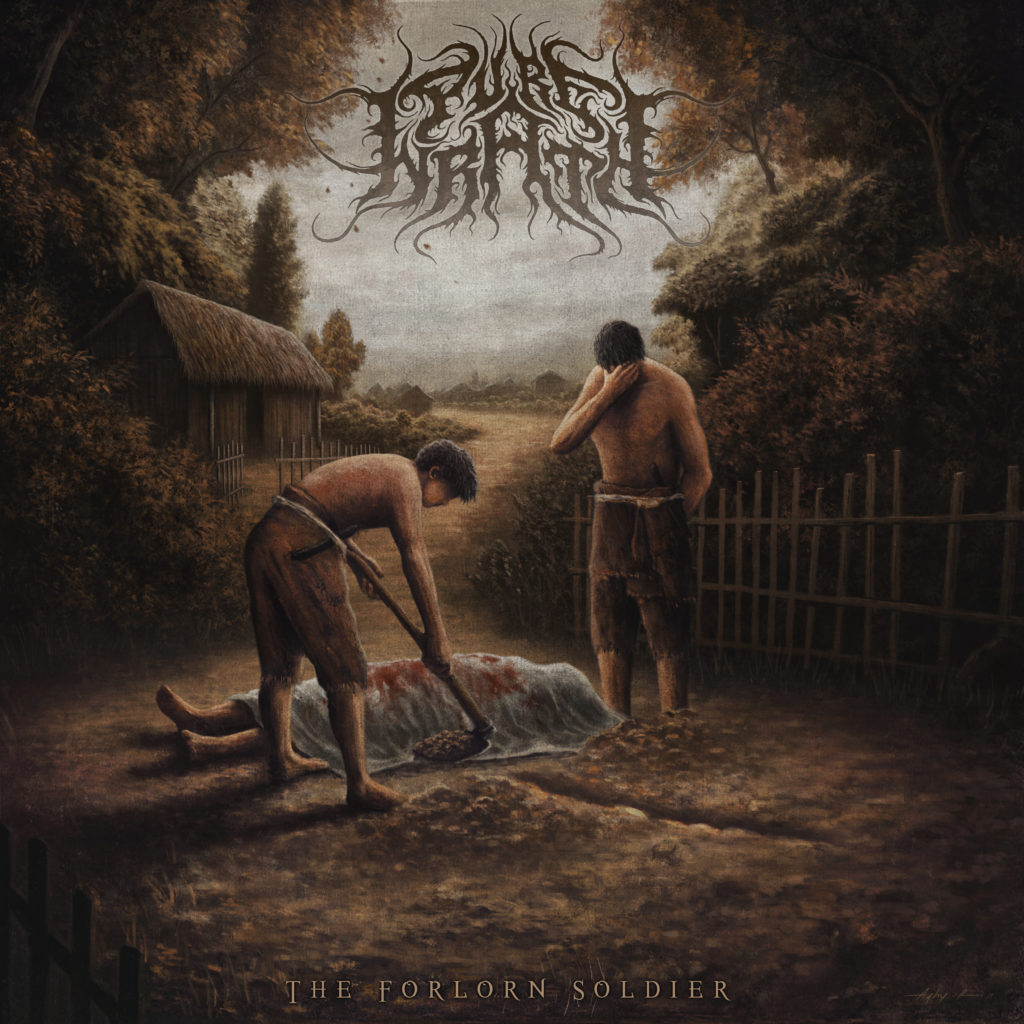 http://www.facebook.com/purewrath
http://www.debemur-morti.com
http://www.facebook.com/debemurmorti
http://dmp666.bandcamp.com
http://www.instagram.com/debemurmorti/