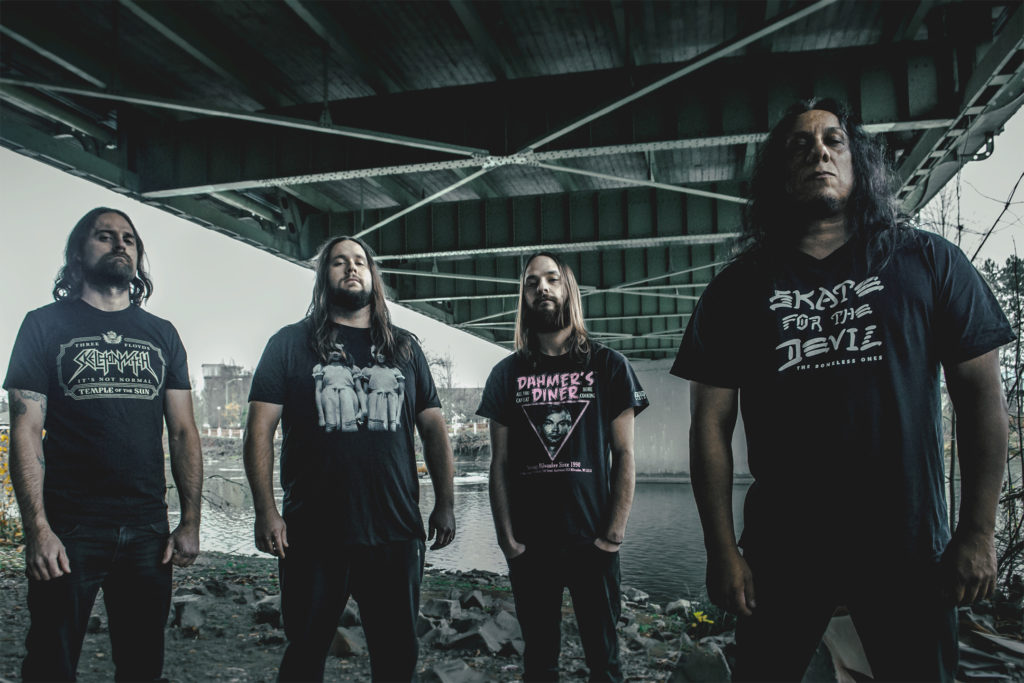 [photo by Michael Alvarez]
Nefarious Industries proudly announces the signing of long-running Sacramento, California thrash assassins PSYCHOSOMATIC, and is lining up the band's rabid new LP, The Invisible Prison, for release this summer. A brief teaser video, the album's cover art, and more have been issued.
See a brief teaser for PSYCHOSOMATIC's impending The Invisible Prison RIGHT HERE.
Formed in 1988, PSYCHOSOMATIC has released six studio albums, two EPs, and four music videos. With more than three decades of touring the US and Canada under their belt, the band has played over a thousand shows canvasing the North American tapestry with the likes of Exodus, Vio-Lence, Death Angel, M.O.D., Havok, D.R.I., Fear, Possessed, Arsis, Warbringer, Exmortus, Black Breath, Ghoul, Possessed, Phobia, The Accused, Eat The Turnbuckle, Hammer Fight, Deathwish, Wartorn, Dr. Know, Verbal Abuse, Attitude Adjustment, Hirax, and many more.
PSYCHOSOMATIC's seventh full-length record The Invisible Prison features twelve tracks of modern thrash metal, crossing over with death metal and punk rock. The album was produced, engineered, and mixed by David Sanchez (Havok) at Riffs or Die Recordings, mastered by Mark Lewis (Chimaira, Trivium, The Black Dahlia Murder) at Audio Hammer Studios.
Summer 2020 will see the release of The Invisible Prison on LP, CD, and all digital platforms via Nefarious Industries. Watch for an official street date, audio samples, tour dates, and more to post over the months ahead.
PSYCHOSOMATIC:
Jeff Salgado – bass, lead vocals
Daniel Mills – guitars, vocals
Viktor Hansen – guitars, vocals
Toby Swope – drums
http://officialpsychosomatic.com
https://www.instagram.com/psychosomatic_band
https://www.facebook.com/officialpsychosomatic
http://nefariousindustries.com
http://www.facebook.com/NefariousIndustries
http://www.twitter.com/NefariousInd
https://www.instagram.com/nefarious_industries