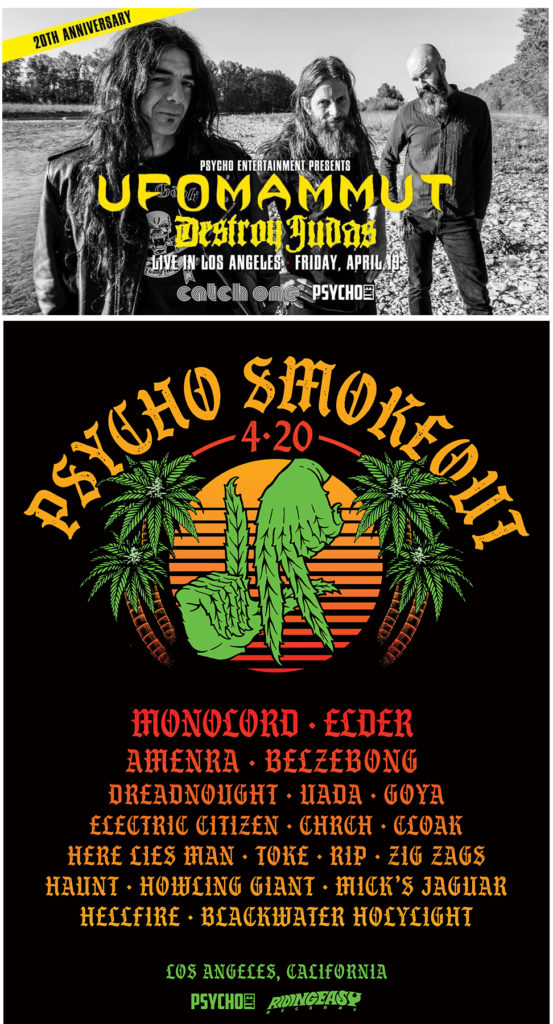 Psycho Entertainment has announced a special PSYCHO SMOKEOUT pre-party at the historic Catch One nightclub. Set to commence April 19th, the kick off show will feature a headlining performance from Italy's favorite psychedelic doom trio, Ufomammut.
Celebrating twenty years and eight albums of unapparelled cerebral audio/visual sensory explorations, Ufomammut – founded by Poia, Urlo, and Vita, a lineup which has remained solid to this day – was formed in a small room on the Italian countryside province of Alessandria. Their goal was simply to survive the boredom of living in a small town, while also hoping to reach other listeners around the globe. As the band's slow, seismic grooves and mammoth, supernatural/interplanetary tones caught on within the doom, stoner, and sludge scenes worldwide, Ufomammut quickly developed an intensely loyal following. Their sonic alchemy has steadily continued to morph and expand with each passing album.
The band released their eighth LP, 8, in 2017 via Neurot Recordings. Captured at Crono Sound Factory in Vimodrone, Milano, Italy, 8 is a major turning point in the heavy alchemic arts, with the elements of Ufomammut's recording constellation being re-aligned. Although the musicians within the collective remain unturned, a change in recording approach saw the trio playing and recording live together in the same room, even utilizing their live sound engineer Ciccio and his project Femore for production purposes, with Fabrizio San Pietro on mixing duties. Overdubs were used only for vocals, synth sounds, and minor details, with the result of the endeavor being a stricter focus on the soul, darkened groove, and overall cohesion of the music and themselves as musicians. In turn, 8 clarified to Ufomammut who they are as a unit now and their new sonic path.
Ufomammut will be joined by Long Beach doom bringers Destroy Judas. For further info go to THIS LOCATION.
Saturday, April 20th will see the first annual PSYCHO SMOKEOUT take over Catch One. For PSYCHO SMOKEOUT, the strategists at Psycho Entertainment have partnered with their comrades RidingEasy Records to enter the fray of a busy spring concert season. The event features headlining performances from Boston heavy psych trio Elder and Swedish doom titans Monolord, an exclusive US appearance by Polish stoner doom unit Belzebong as well as Amenra, Chrch, Here Lies Man, Electric Citizen, Blackwater Holylight, R.I.P., Zig Zags, and so many others. The all-day puffathon will also include The Riding Psycho Open-Air Vendor Market and paves the way for future Psycho Entertainment / RidingEasy co-sponsored galas. General admission tickets are currently available at psychosmokeout.eventbrite.com.
PSYCHO SMOKEOUT:
4/19/2019 Pre-Party w/ Ufomammut @ Catch One – Los Angeles, CA [info]
4/20/2019 Catch One – Los Angeles, CA [info]
PSYCHO SMOKEOUT Lineup (in alphabetical order):
Amenra
Belzebong
Blackwater Holylight
Chrch
Cloak
Cloven
Dreadnought
Elder
Electric Citizen
Goya
Haunt
Hellfire
Here Lies Man
Howling
Giant
Mick's Jaguar
Monolord
R.I.P.
Toke
Uada
Zig Zags
http://www.facebook.com/events/179272422957103/
http://www.vivapsycho.com/
http://www.ridingeasyrecs.com