The countdown begins! Next week, PSYCHO LAS VEGAS will descend upon Hard Rock Hotel & Casino in Las Vegas, Nevada for four days of riffs, doom, art, films, and general debauchery. The property-wide, epic three-stage festival – two main stages indoors, as well as a pool stage – will commence with a pre-party on August 25th and run through August 28th, 2016 playing host to nearly one-hundred acts from around the globe including Alice Cooper, Blue Öyster Cult, Converge, Down, Drive Like Jehu, High On Fire, Sleep, Pentagram, Yob, Mars Red Sky, exclusive 2016 US performances from both Electric Wizard and Candlemass, and many more. Official set times are listed below
Due to popular demand, single-day PSYCHO LAS VEGAS passes are now available. As always, three-day PSYCHO LAS VEGAS passes include Free Admission to Psycho Pool pre-party on Thursday, August 25th at the Paradise Pool Stage. For more info on all pass options, visit Event Brite at THIS LOCATION.
Additionally, fans now have a chance to win a private meet and greet with Alice Cooper! To enter, simply share the image found at THIS LOCATION on Instagram by tagging a psycho friend and #vivapsychoLV. A winner will be announced on August 22nd at 10:00pm PST.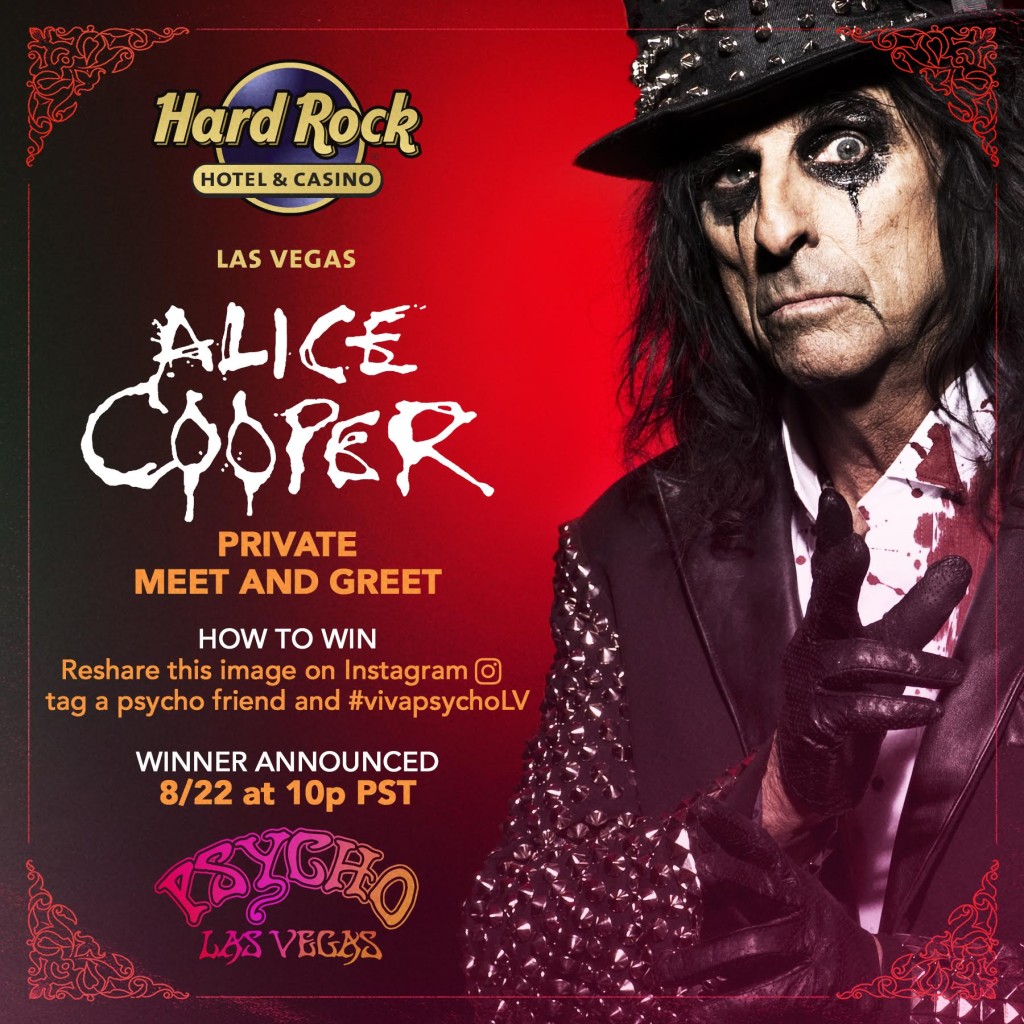 Among the many features of PSYCHO LAS VEGAS beyond great music is the Black Light Lounge which will highlight PSYCHO LAS VEGAS' artists in residence, Arik Roper, Dirty Donny Gillies, Skinner, as well as main festival artist David D'Andrea. Attendees will be able to purchase new, limited edition works from all of them and get them autographed.
In addition to the interactive backlight chamber, PSYCHO LAS VEGAS includes film screenings, DJ sets hosted by Scott Ian (Anthrax), Sean "Pellet" Pelletier (Last Days Here), J. Bennet (Ides Of Gemini), Evan Hagen (Psycho LV/CA Curator), Scott Carlson (Repulsion), Bob Lugowe (Relapse Records), and Nate Carson (Witch Mountain) as well as the Psycho Pool Party kick off at the Paradise Pool Stage August 25th featuring Mudhoney, Fatso Jetson, Mothership, and more as well as an indoor pre party on the Vinyl stage featuring Black Mountain, White Hills, and Acid Witch.
Convenient lodging is still available at Hard Rock Hotel & Casino Las Vegas located on 4455 Paradise Road, Las Vegas. Use the code. Book today at THIS LOCATION.
PSYCHO LAS VEGAS 2016 – Full Lineup (in alphabetical order):
A Place To Bury Strangers
A Storm Of Light
Acid King
Alice Cooper
ASG
Ashbury
Baroness
Beelzefuzz
Behold The Monolith
Belzebong
Black Heart Procession
Blood Of The Sun
Blue Öyster Cult
Bongripper
Boris
Budos Band
Candlemass
Cave Of Swimmers
Chrch
Colour Haze
Converge
Crazy Bull
Crypt Sermon
Danava
Dead Meadow
Death
Death Alley
Demon Lung
Dirty Streets
Disenchanter
Down
Drive Like Jehu
Elder
Electric Wizard
Evan Hagan
Family
Fireball Ministry
Flavor Crystals
Fu Manchu
Goya
Gozu
Great Electric Quest
Has A Shadow
High On Fire
Highlands
Holy Grove
Hornss
Ides Of Gemini
Invdrs
Jucifer
Lecherous Gaze
Lo-Pan
Lumerians
Lycus
Mantar
Mars Red Sky
Midnight
Mondo Drag
Oresund Space Collective
Pentagram
Brian Posehn
Satan's Satyrs
Saviours
Shroud Eater
Sleep
Spelljammer
Spencer Moody Solo (Murder City Devils)
Subrosa
Tales Of Murder And Dust
The Company Corvette
The Cosmic Dead
The Crazy World Of Arthur Brown
The Rare Breed
The Shrine
Tombstones
Tribulation
Truth And Janey
Uncle Acid & The Deadbeats
Valkyrie
Washerwoman
Witch Mountain
Wovenhand
Yob
Zombi
Psycho Pool Party: Paradise Pool Stage (August 25th, 2016):
Electric Citizen
Fatso Jetson
Golden Void
Greenbeard
Mac Sabbath
Mothership
Mudhoney
Psycho Pre-Party: Vinyl stage (August 25th, 2016):
Acid Witch
Black Mountain
White Hills
http://www.psycholv.com
http://www.facebook.com/psychoLasVegas
http://www.hardrockhotel.com/