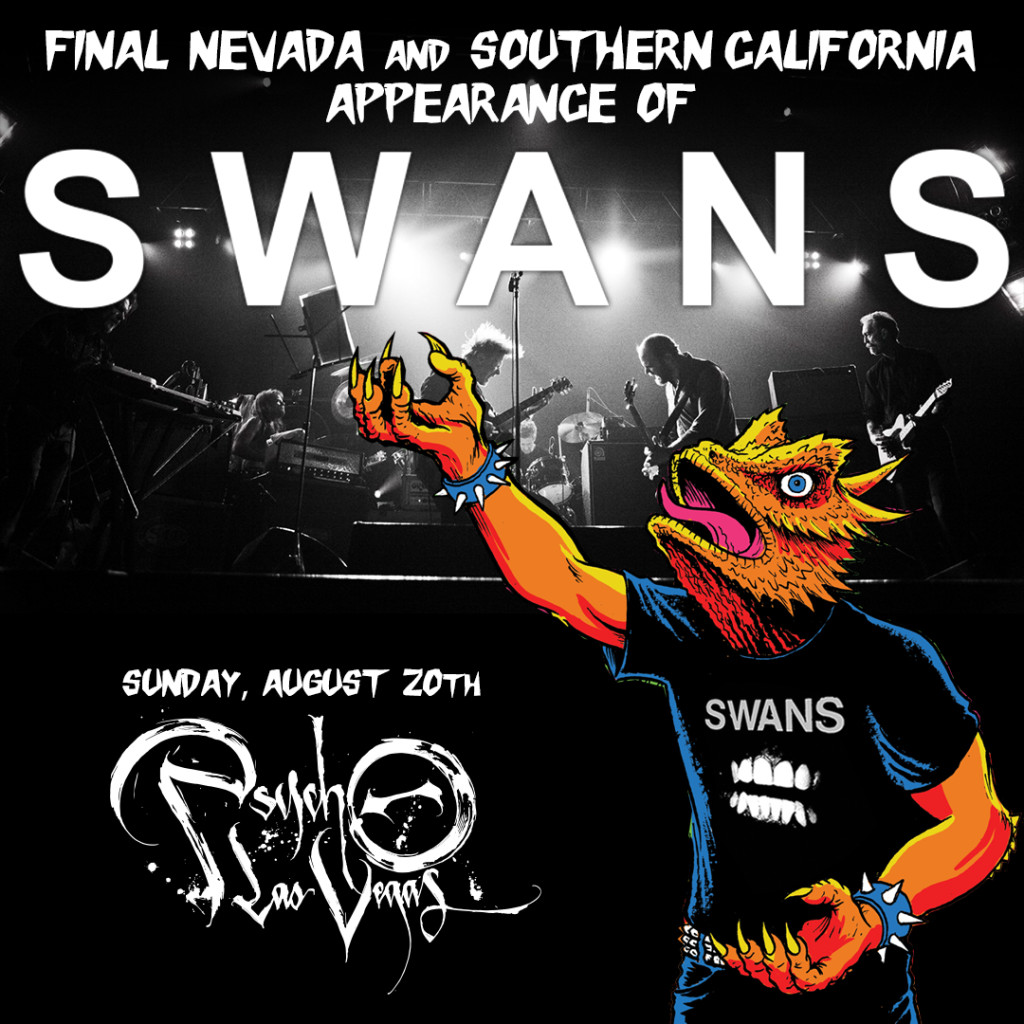 In less than one month, PSYCHO LAS VEGAS will make its descent upon the Hard Rock Hotel And Casino Las Vegas in Las Vegas, Nevada. Set to take place from August 18th and run through August 20th, with a special peparty to be held on August 17th, the event boasts one of the best heavy lineups ever put together for an American festival, with headlining sets from Atlanta behemoths, Mastodon, psychedelic rock heroes, The Brian Jonestown Massacre, and heavy metal legend King Diamond performing the zenith Abigail opus in its entirety as a US-exclusive. Additionally, reunited UK doom icons, Warning, will grace the fest alongside cult stoner/desert rock unit Slo Burn, fronted by Kyuss' John Garcia, Sleep, Wolves In The Throne Room, Ace Frehley, Neurosis, Gojira, Corrosion Of Conformity, Pelican, Chelsea Wolfe, Carcass, Dark Castle, Jex Thoth, and over seven dozen of the scene's most groundbreaking, eclectic, and plainly ruling acts.
PSYCHO LAS VEGAS 2017 also marks the final Nevada/Arizona/Southern California region appearance for experimental rock icons SWANS. SWANS released their critically-lauded The Glowing Man full-length in June 2016, which was billed as the last album release of SWANS' current incarnation. The record has been followed by touring throughout North America, Europe, and their first ever South American shows. SWANS will grace PSYCHO LAS VEGAS 2017 on Sunday, August 20th.
Said SWANS founder Michael Gira upon the release of The Glowing Man, "In 2009, when I made the decision to restart my musical group, SWANS, I had no idea where it would lead. I knew that if I took the road of mining the past or revisiting the catalog, that it would be fruitless and stultifying. After much thought about how to make this an adventure that would instead lead the music forward into unexpected terrain, I chose the five people with whom to work that I believed would most ably provide a sense of surprise, and even uncertainty, while simultaneously embodying the strength and confidence to ride the river of intention that flows from the heart of the sound wherever it would lead us – and what's the intention? LOVE! And so finally this LOVE has now led us, with the release of the new and final recording from this configuration of SWANS, The Glowing Man, through four albums (three of which contain more complexity, nuance and scope than I would have ever dreamed possible), several live releases, various fundraiser projects, countless and seemingly endless tours and rehearsals, and a generally exhausting regimen that has left us stunned but still invigorated and thrilled to see this thing through to its conclusion. I hereby thank my brothers and collaborators for their commitment to whatever truth lies at the center of the sound. I'm decidedly not a Deist, but on a few occasions – particularly in live performance – it's been my privilege, through our collective efforts, to just barely grasp something of the infinite in the sound and experience generated by a force that is definitely greater than all of us combined. When talking with audience members after the shows or through later correspondence, it's also been a true privilege to discover they've experienced something like this too. Whatever the force is that has led us through this extended excursion, it's been worthwhile for many of us, and I'm grateful for what has been the most consistently challenging and fulfilling period of my musical life…" Adding of PSYCHO LAS VEGAS 2017, "Join us on this special desert night for a tangible re-emersion into the sensation of SWANS music. Let it rush through our bodies in waves as we rise into an ecstatic force of simultaneous self-negation and rebirth."
PSYCHO LAS VEGAS recently earned Best Festival accolades from Las Vegas Weekly, the publication noting, "The heavy-rock bash made an auspicious Hard Rock Hotel debut in 2016, blending stoner-rock subgenres from metal to psych, and next month's follow-up looks just as enticing, with SWANS, King Diamond, The Brian Jonestown Massacre and many more set to join the party."
Adding to the four-day adventure, the curators of PSYCHO LAS VEGAS added an additional show — now sold out — featuring cosmic doom trio Yob. The band with lay their purifying riff rituals upon the Hard Rock Hotel & Casino on August 17th directly following the pool party. Additional support will be provided by experimental doom practitioners Subrosa.
Single day tickets for PSYCHO LAS VEGAS 2017 are on sale now and selling fast. Don't miss out. Secure yours today at THIS LOCATION.
Payment options for PSYCHO LAS VEGAS 2017 are available through Affirm, with immediate delivery of tickets. More info at THIS LOCATION. Hotel discounts at the Hard Rock Hotel And Casino are also available using the code "psych17" (Note: You must use this special code at the time of booking; not when you arrive at the hotel). Book today at THIS LOCATION.
PSYCHO LAS VEGAS 2017 At The Hard Rock Hotel And Casino – Las Vegas, Nevada Day-To-Day Lineup (alphabetical):
THURSDAY Preparty – August 17th, 2017
Conan
Goya
Graf Orlock
Great Electric Quest
Mustard Gas & Roses
Pentagram
Ruby The Hatchet
Sasquatch
Urchin
Yawning Man
THURSDAY – August 17th, 2017
Yob + SubRosa * Sold Out
FRIDAY – August 18th, 2017
Black Anvil
Brian Jonestown Massacre
Chelsea Wolfe
Dark Castle
Fister
Khemmis
Magma
Melvins
Mothership
Mouth Of The Architect
Mulatu Astake
Pelican
Royal Thunder
Sleep
Slo Burn
Sons Of Otis
Sumac
The Rods
Toke
Usnea
Vhol
Wolves In The Throne Room
Young And In The Way
Youngblood Supercult
SATURDAY – August 19th, 2017
Ace Frehley
Blood Ceremony
Carcass
Celeste
Cough
Cult Leader
Diamond Head
Earthless
Elephant Tree (Aka Flights)
Gojira
Gost
Heavy Temple
Hollow Leg
Inter Arma
Jex Thoth
King Diamond
Morne
Myrkur
Neurosis
Saturndust
Slomatics
Snail
Summoner
The Skull
Weedeater
SUNDAY – August 20th, 2017
Abbath
Cirith Ungol
Cloud Catcher
Corrosion Of Conformity
Code Orange
Cult Of Luna With Julie Christmas
Domkraft
Floorian
Gatecreeper
Manilla Road
Mastodon
Merlin
Minsk
Murder City Devils
North
Pigeonwing
Psychic TV
Swans
Warning
Windhand
Wizard Rifle
Year Of The Cobra
Zeal & Ardor
"The atmosphere at PSYCHO was electric. Not only was everybody seeing their favorite bands, but also all of their best friends, and in the most garish environment possible too." – Metal Injection
"…the whole weekend had the feel of a heavy-metal family gathering meets The Big Lebowski; a laid-back get-together with an ensemble cast of far-out characters, from gray-haired dudes in Captain Beefheart T-shirts to Yeti-shaggy heavy-metal epicureans…" — Las Vegas Review Journal
http://www.vivapsycho.com
http://www.facebook.com/psychoLasVegas
http://www.instagram.com/psycholasvegas