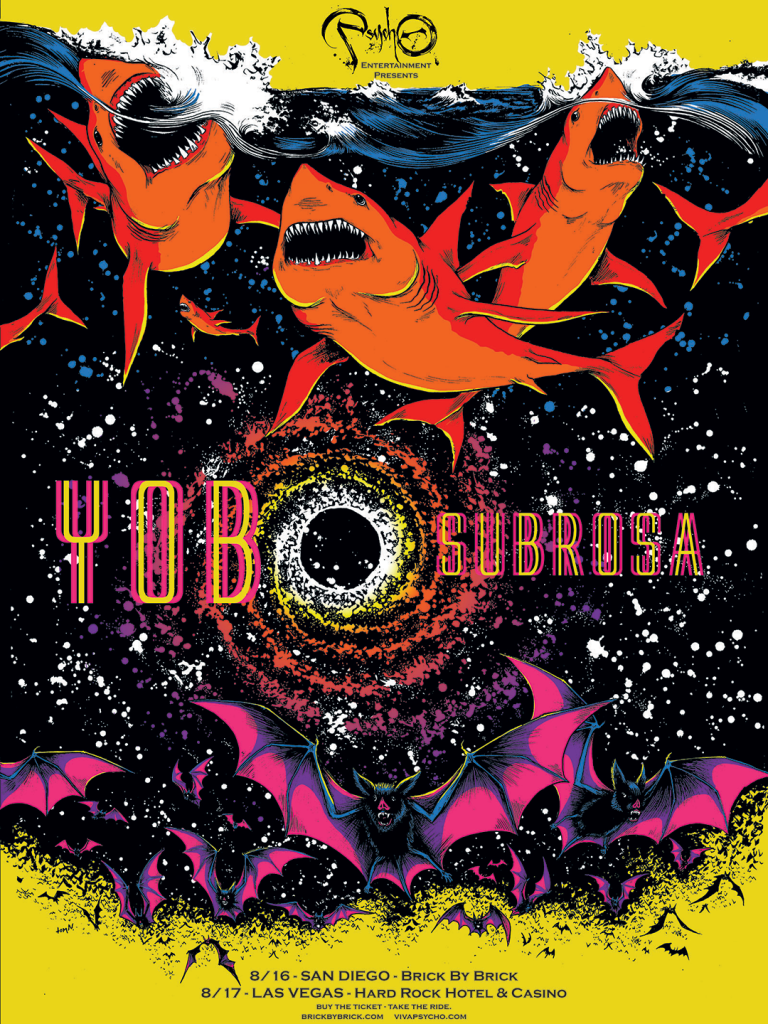 "The atmosphere at PSYCHO was electric. Not only was everybody seeing their favorite bands, but also all of their best friends, and in the most garish environment possible too." – Metal Injection
PSYCHO LAS VEGAS will make its descent upon the Hard Rock Hotel And Casino Las Vegas in Las Vegas, Nevada from August 18th and run through August 20th, with a special peparty to be held on August 17th.
Flaunting one of the best heavy lineups ever put together for an American festival, PSYCHO LAS VEGAS includes headlining sets from Atlanta goliaths, Mastodon, psychedelic rock legends, The Brian Jonestown Massacre, and heavy metal icon King Diamond performing the zenith Abigail opus in its entirety as a US-exclusive. Additionally, reunited UK doom icons Warning, will grace the fest alongside cult stoner/desert rock unit Slo Burn, fronted by Kyuss' John Garcia, Sleep, Wolves In The Throne Room, Ace Frehley, Neurosis, Gojira, Corrosion Of Conformity, Pelican, Chelsea Wolfe, Carcass, Dark Castle, Jex Thoth, and over seven dozen of the scene's most groundbreaking, eclectic, and plainly ruling acts.
Adding to the four-day adventure, the curators of PSYCHO LAS VEGAS have added an additional show featuring cosmic doom trio YOB! The band with lay their purifying riff rituals upon the Hard Rock Hotel & Casino on August 17th directly following the pool party. Additional support will be provided by experimental doom practitioners SUBROSA.
Tickets to this event are extremely limited and will only be available online until this event has sold out. This concert is a separate ticket from the festival pass. For tickets, point your browser to THIS LOCATION.
YOB released their Clearing The Path To Ascend full-length via Neurot Recordings in 2014. On Clearing The Path To Ascend, YOB is as formidable as they've ever been, demanding the tandem attention of mind, body, and soul. Drummer Travis Foster wields his signature rhythmic furor here with bombastic precision while bassist Aaron Rieseberg coils around the sonic tide with an unforgiving churn all the while in a deadly synchronicity with singer/guitarist Mike Scheidt's uncanny vocal range and its pendulous movement between the triumphant howls of a medieval madman and the earth-splitting growls of a war-battered titan. YOB is love.
SUBROSA is an experimental sludge/doom band from Salt Lake City, a city plagued by the tension of opposites. Within the SUBROSA crucible, sludgy low-end and high-volume lock arms with ultra-melodicism, folk, and experimental elements delivered through the haunting ambience of two electric violins. The band release their For This We Fought The Battle Of Ages album via Profound Lore last year. The most colossal and engrossing SUBROSA album yet, For This We Fought The Battle Of Ages is a stirring and moving sonic monument released during these times and moments of desperation and uncertainty, reflected through the band's heaviest and darkest sonic tapestry that is the chamber doom unit's newest album.
Single day tickets for PSYCHO LAS VEGAS 2017 are on sale now and selling fast. Don't miss out. Secure yours today at THIS LOCATION.
Payment options for PSYCHO LAS VEGAS 2017 are available through Affirm, with immediate delivery of tickets. More info at THIS LOCATION. Hotel discounts at the Hard Rock Hotel And Casino are also available using the code "psych17" (Note: You must use this special code at the time of booking; not when you arrive at the hotel). Book today at THIS LOCATION.
PSYCHO LAS VEGAS 2017 At The Hard Rock Hotel And Casino – Las Vegas, Nevada Day-To-Day Lineup (alphabetical):
THURSDAY Preparty – August 17, 2017
Conan
Goya
Graf Orlock
Great Electric Quest
Mustard Gas & Roses
Pentagram
Ruby The Hatchet
Sasquatch
Urchin
Yawning Man
THURSDAY – August 17th, 2017
YOB + SubRosa [tickets]
FRIDAY – August 18th, 2017
Black Anvil
Brian Jonestown Massacre
Chelsea Wolfe
Dark Castle
Fister
Khemmis
Magma
Melvins
Mothership
Mouth Of The Architect
Mulatu Astake
Pelican
Royal Thunder
Sleep
Slo Burn
Sons Of Otis
Sumac
The Rods
Toke
Usnea
Vhol
Wolves In The Throne Room
Young And In The Way
Youngblood Supercult
SATURDAY – August 19th, 2017
Ace Frehley
Blood Ceremony
Carcass
Celeste
Cough
Cult Leader
Diamond Head
Earthless
Elephant Tree (Aka Flights)
Gojira
Gost
Heavy Temple
Hollow Leg
Inter Arma
Jex Thoth
King Diamond
Morne
Myrkur
Neurosis
Saturndust
Slomatics
Snail
Summoner
The Skull
Weedeater
SUNDAY – August 20th, 2017
Abbath
Cirith Ungol
Cloud Catcher
Corrosion Of Conformity
Code Orange
Cult Of Luna With Julie Christmas
Domkraft
Eternal Tapestry
Floorian
Gatecreeper
Manilla Road
Mastodon
Merlin
Minsk
Murder City Devils
North
Pigeonwing
Psychic TV
Swans
Warning
Windhand
Wizard Rifle
Year Of The Cobra
Zeal & Ardor
http://www.vivapsycho.com
http://www.facebook.com/psychoLasVegas
http://www.instagram.com/psycholasvegas