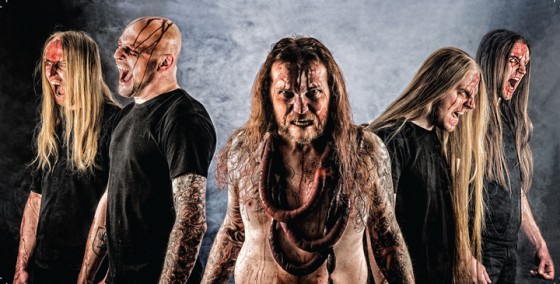 Today, long running Dutch death metal deviants, PROSTITUTE DISFIGUREMENT, spew forth the lyric-laced video demonstration for "Crowned In Entrails." The latest ballad of bedlam comes by way of the band's charmingly titled From Crotch To Crown full-length. Slated to drop later this Winter, the long-anticipated follow-up to 2008's Descendants Of Depravity long player features ten groin-churning tracks of guttural brutality.
Notes Metal Injection: "PROSTITUTE DISFIGUREMENT aren't the kind of band where you're left wondering what type of music they'll be playing. As the name heavily insinuates, it's gory, brutal death metal in the vein of Carcass that will kick your ass up and down the morgue. 'Crowned In Entrails' is a pretty sick song too, both in terms of enjoyability and sickening lyrics… so overall, awesome."
Get down with the putrid poetry of "Crowned In Entrails," courtesy of Metal Injection, at THIS LOCATION.
A meticulous mesh of old-school mayhem and modern, technical riffing, From Crotch To Crown was recorded in multiple locations throughout The Netherlands including Split Second Sound Studio in Amsterdam, guitarist Frank Schiphorst's home studio in Zwolle, guitarist Martijn Moes' home studio in Meppel and Final Focus Studio in Tilburg, and was re-amped, mixed and mastered by Yuma Van Eekelen and Bart Hennephof (also at Final Focus). The end product oozes forty-one heinous minutes of the band's sickest, most instrumentally refined and unapologetically sadistic material to date.
From Crotch To Crown will be released via Willowtip Records on February 4, 2014. Preorder your copy today at THIS LOCATION.
http://www.prostitutedisfigurement.com
http://www.willowtip.com
http://www.facebook.com/willowtip
http://www.twitter.com/willowtip
http://willowtip.bandcamp.com