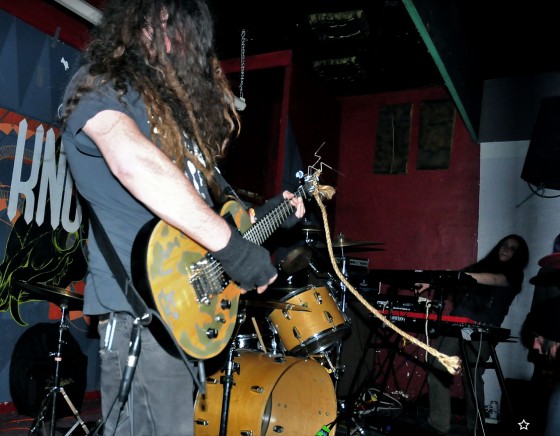 Portland's celestial space sludge trio, PRIZEHOG this week celebrates the release of their mammoth third full-length as outsider horde, Eolian Empire, unveils the supernova of creativity that is Re-Unvent the Whool.
Admired rock/doom underground online nucleus, The Obelisk, is now hosting a stream of PRIZEHOG's latest works alongside a detailed report of the Taskmaster's voyage into the band's terrestrial turmoil on Re-Unvent the Whool. In part, the account states, "The bass-less trio – you'll note no lack of low end in the record – run a spectrum of effects-laden churning, mashing together bright ambient echoes and deep, dank tonality. I wouldn't be the first person to compare them to the Melvins, but that doesn't really do complete justice to the psychedelic side of their sound, which shows up quickly," while also noting of specific tracks, "The melody that emerges from 'Shed"s midsection builds on some of the best impulses Zoroaster and Kylesa have touched on, but is ultimately no more adherent to those bands than it is to a preconceived notion of what 'heavy' should sound like, and 'Parradiggum' succeeds early in throwing off the listener with blastbeats and overlaid vocal drone. It's bizarre but surprisingly easy listening."
Blaze the cosmos and hear Re-Unvent the Whool now at The Obelisk through THIS PORTAL.
Orders for the album are now live at the Eolian Empire fort HERE, the album available in a digital package as well as 180-gram vinyl LP including a 24″ x 24″ poster of the Chris Jehly cover art and download of the album.
This past weekend, PRIZEHOG blew the minds of the capacity crowd at The Know at their record release show with the help of local legend, Thrones, and up-and-comers, Polst. The band is finalizing an upcoming cross-country voyage into the recesses of the American populous this Spring, and will announce the entire confirmed course in the coming days.
Combining meditative grooves, punishing sludge, dazzling melodies, ultra-heavy psych, and crunchy riffs aplenty using a baffling and impossibly cryptic calculus, PRIZEHOG has created its own bizarro universe of heaviness. Re-Unvent the Whool is a byzantine labyrinth of impenetrable riffs, crushing dirges, heavy hooks, and warped excursions wrapped up in triumphant progressions made complete with downshifted bellows and dark cries; perplexing and mystifying yet grand, spellbinding, enthralling, and uncannily soulful. It's a record full of depth, complexity, power, humor, and beauty. Recorded and mixed by Toshi Kasai (Melvins, Big Business, Tool, Russian Circles) at his new Sun Valley studio Sound of Sirens, Re-Unvent the Whool is focused, sophisticated, and masterfully produced to showcase the exquisite but intense interaction within the trio: guitars, synths, and drums push and pull one another as they crunch, crush, whirl, weave, and straight up rock their way through mazes of dynamic and dramatic movements, adding layers upon layers to sculpt mountains of sonic majesty. Pitched-down vocals, at once otherworldly and deeply human, shift between omnipotent bellows, soulful wails, and surprisingly gorgeous chants, elevating the whole enterprise to a whole other level.
http://www.prizehog.net
http://www.facebook.com/prizehog
http://www.eolianempire.com
http://goods.eolianempire.com
https://www.facebook.com/eolianempire