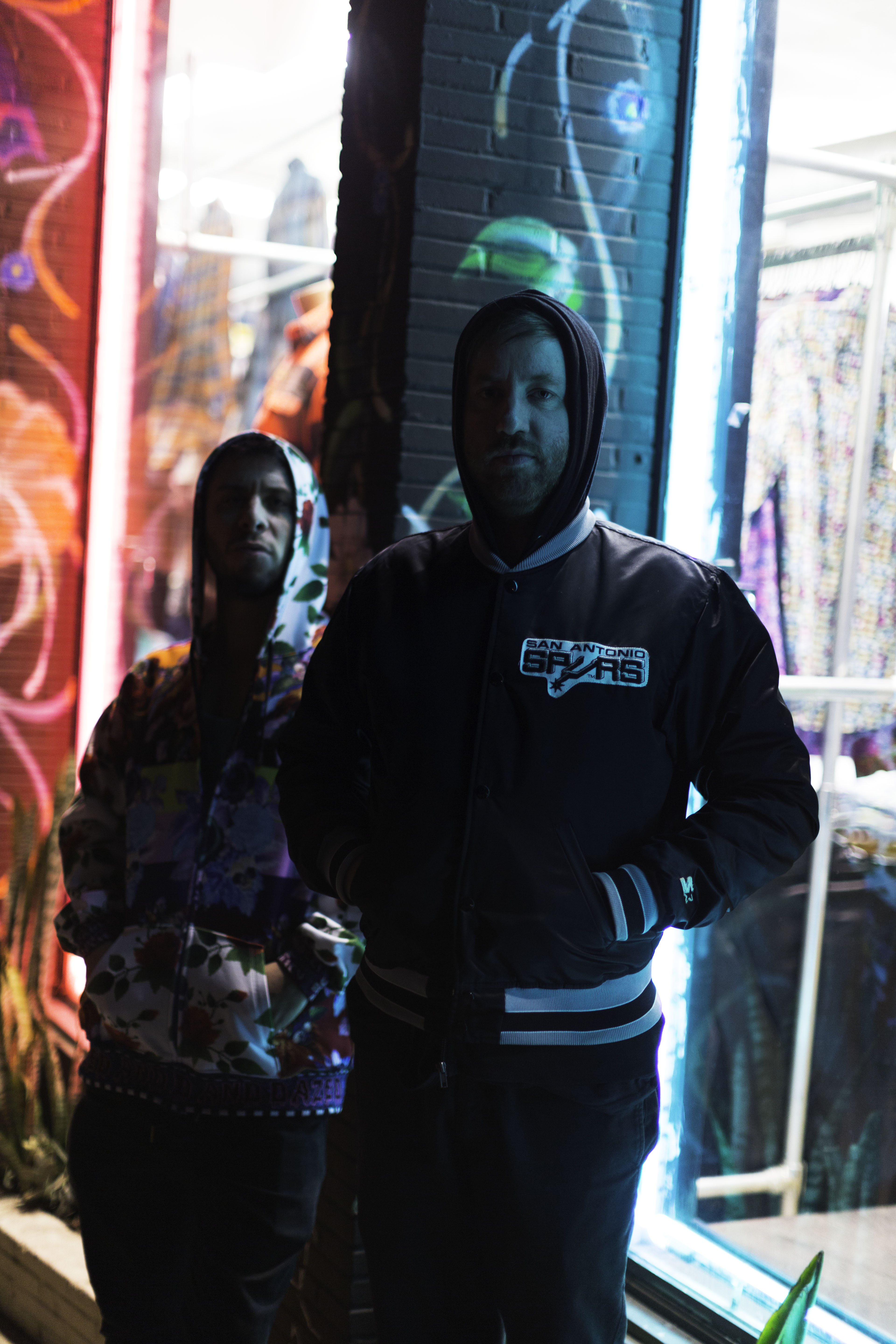 [photos by Kristen Cofer]
BrooklynVegan is now streaming Silent Partner, the debut album from Los Angeles/Austin-based psychedelic cyber-synth rock duo PRIVATE LIFE, the collaborative project between Christopher Royal King (This Will Destroy You) and Sam Chown (Shmu). The outfit will release Silent Partner through Dark Operative Digital this Friday.
PRIVATE LIFE's Silent Partner is a fascinating blend of cyberpunk, dream pop, psych, prog, and kraut vibes from the '70s, bits of thrash, and modern modular electronic synths. Think of it as the latest operating system update for a computer with plenty of Talking Heads, Gang Of Four, and Bloc Party on the hard drive. The album is completed with psychedelic cover art by Keith Rankin.
With the advance album stream, BrooklynVegan posts, "The album combines apeshit drumming, psychedelic synths, blasts of metallic fury, crazy Battles-esque math rock, weird avant-garde noise stuff, and glistening dream pop. It's all over the place, and it comes together in a way that really works."
Hear PRIVATE LIFE's Silent Partner at BrooklynVegan RIGHT HERE.
Dark Operative Digital will release Silent Partner this Friday, August 17th; find digital preorders HERE and across all digital platforms, and see the band's recently-released video for "Hesitation" was directed by Anthony Ferrara aka Bokeh Monster HERE.
The impetus for PRIVATE LIFE stemmed from King's desire to start a high BPM, futuristic cyber-synth group comprised of him on modular synths with the accompaniment of drums. After a series of conceptual meetings and rehearsals, the duo hatched out schematics and installed configurations wherein Chown's drums would trigger additional modular synths beyond King's main melodies. Demos were cut, and the duo saw tremendous sonic potential in their unique approach. A few months later, the duo holed up in Austin's 5th Street Studios to capture the seven songs that would become their debut album, with overdubs recorded in both Austin and Los Angeles.
https://www.facebook.com/privatelifelaatx
https://www.instagram.com/privatelifelaatx
https://soundcloud.com/privatelifeofficial
https://darkops.site
https://darkoperative.bandcamp.com
https://www.facebook.com/darkoperativemusic
https://twitter.com/dark0perative