Ireland's PRIMORDIAL are making a serious impact on German press with their latest offering, Where Greater Men Have Fallen. The album has won the soundchecks in all four major metal magazines: Metal Hammer, Rock Hard, Deaf Forever and Legacy!
Comments singer A.A. Nemtheanga: "When you make an album, you try and step outside of the rehearsal and studio world and see if you still have the hunger and the energy. You take nothing for granted and we certainly don't so we are humbled by the critical reaction so far. Four #1s was not what we expected but we accept it graciously and hope the fans feel the same. See you on the field of battle. Vae victis!"
Where Greater Men Have Fallen serves as the follow-up to PRIMORDIAL's globally adored, 2011-released Redemption At The Puritan's Hand long player and their eighth studio offering overall. An eight track, fifty-eight minute magnum opus, Where Greater Men Have Fallen was recorded at Grouse Lodge in Dublin with Jaime Gomez (Cathedral, Angelwitch, Grave Miasma) and delivers some of the band's deepest, most methodically arranged, thematically profound and plainly gripping compositions of their winding catalog of sonic enormity.
Where Greater Men Have Fallen will be released on November 25th, 2014 via Metal Blade Records. Visit http://www.metalblade.com/primordial where you'll find a lyric video for the title track as well as a gaggle of preorder options. The record will come available on CD and on vinyl in various color variants. Additionally, Where Greater Men Have Fallen will be released in a limited European deluxe edition wood boxset which includes a CD+DVD digibook, an exclusive 7″, a leather wristband, a poster and a certificate of authenticity.
"When the the guitarists of these Irishmen play their profoundly melancholic, yet gladly non-clichéd Celtic riffs while singer Alan Averill's voice is dripping with pathos, it's goosebumps galore. And since Where Greater Men Have Fallen is once more an album that works out well, the result cannot be less than six points!" — Metal Hammer
"Sublime and tasteful: PRIMORDIAL celebrate on Where Greater Men Have Fallen dark, sinister hymns to die for!" — Rock Hard

"Brutally heavy, yet dramatic and sophisticated – the album of the year!" — Deaf Forever
"…an album hard to beat in authenticity, emotionality, in heaviness and atmosphere!" — Legacy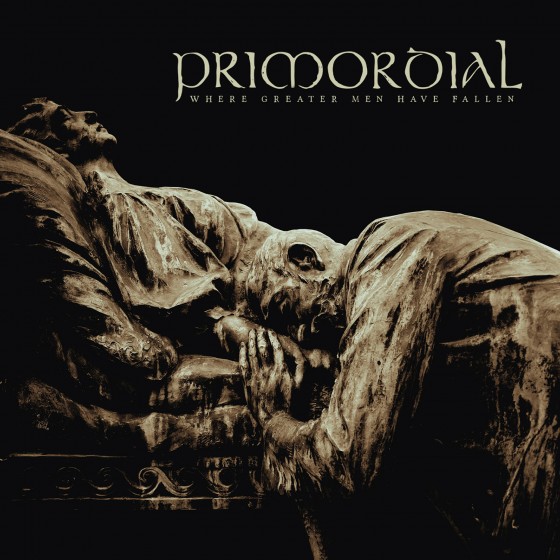 http://www.primordialweb.com
http://www.facebook.com/primordialofficial