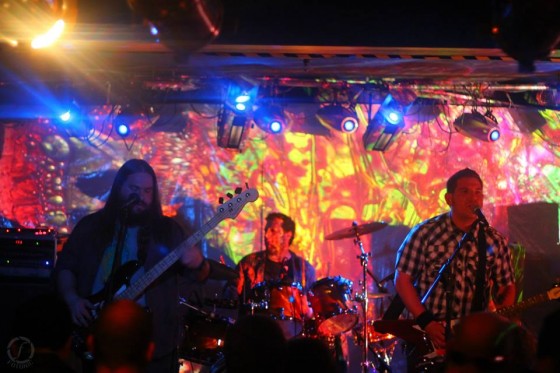 Southern Arizona stoner rock specialists, POWERED WIG MACHINE, will reintroduce their sophomore album, Supa-Collider, to the public in a deluxe vinyl edition via Battleground Records on February 21st, as the band performs at the awesome Borderland Fuzz Fiesta, an event booked by the members of the band themselves.
Brothers Joey and Wayne Rudell of POWERED WIG MACHINE have produced and organized the inaugural edition of the Borderland Fuzz Fiesta, which is set to take over The Rock in Tucson, Arizona on Saturday, February 21st, with a plethora of quality acts from across the spectrums of heavy rock, stoner rock, doom, psych and fuzz. In addition to headliners Fireball Ministry, Wo Fat, Mos Generator and POWERED WIG MACHINE, sets form Goatroper, Skulldron, Asimov, Yeti Ender, Mad Alchemy, Liquid Light Show, Conqueror Worm, Methra and more are confirmed to perform at the all-day event.
Borderland Fuzz Fiesta also marks the day that the deluxe vinyl version of POWERED WIG MACHINE's 2014-released sophomore album, Supa-Collider, will be available publicly, ahead of Battleground Records' street date of its release. Only fifty of the three hundred high-quality platters will be available at the event for diehard listeners, while all other preorders will ship to land by the official March 10th release date. One year after its initial release, Supa-Collider comes raging back to life on 180-gram translucent green vinyl with orange and black splatters, housed in a deluxe gatefold package and bearing the new LP-only track, "Highish Noon," along with a download of the record, including the bonus track. All shipped orders will be eligible to win the test pressing copy of the LP as well. Preorders for the wax are now live HERE.
POWERED WIG MACHINE Live:
2/21/2015 The Rock – Tucson, AZ @ Borderland Fuzz Fiesta w/ Fireball Ministry, Wo Fat, Mos Generator, more [info]
3/11/2015 The Rialto Theatre – Tucson, AZ w/ Uriah Heep
Additional POWERED WIG MACHINE news announcements will follow in the coming weeks, as the band begins to record their third LP.
Now in their eighth year as a band, POWERED WIG MACHINE's ever-evolving, entertaining brew of fuzzed-out, southern fried blues-boogie and righteous jams merging classic rock/blues influences with that of top-tier modern rock acts, the Tombstone, Arizona-based "Tombstoners" have issued several recorded works since inception, including their 2009 debut full-length, Bearded Goddess. In March of 2014 the band delivered the fantastic jams of their sophomore album, Supa-Collider, their dexterous diversity and empowering tactics shining brighter than the blazing sun which ignites their desert surroundings on the album, putting the listener on cruise control into the furthest reaches of the planet and beyond, the tunes infiltrated with a slight flux of sci-fi otherworldliness. Self-recorded by the band and mixed by Brian Gold at Primrose Studio in Sierra Vista, mastered by Chris Goosman at Baseline Audio, the artwork was crafted by Joseph Rudell and Rudy Flores. Fans of Clutch, Deep Purple, Fu Manchu, Thin Lizzy, Queens Of The Stone Age and Fu Manchu, tune in.
http://www.facebook.com/Poweredwigmachine
http://poweredwigmachine.bandcamp.com
http://www.facebook.com/battlegroundrecords
http://www.battlegroundrnr.com
http://www.battlegroundrecords.bigcartel.com