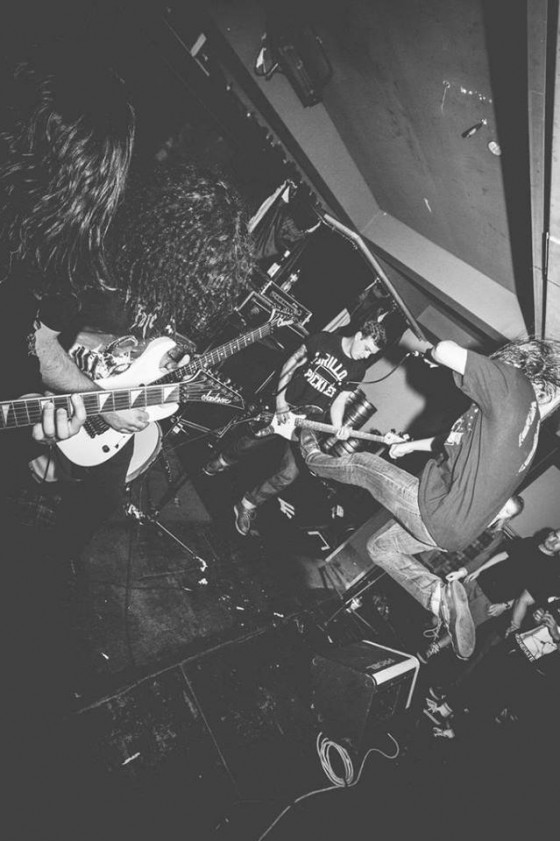 Having been on the road relentlessly all year, Texas crossover outfit, POWER TRIP, continues to announce new live actions, with a new round of tour dates now confirmed for the months ahead.
For over one year straight, since the weeks preceding the release of their mid-2013-released Southern Lord debut, Manifest Decimation, POWER TRIP has inundated the masses on a nearly nonstop road warrior mission, conquering stages, razing venues, and throwing their rabid audiences into vicious mosh melees at their every appearance. Their diehard tactics have seen the band on countless regional, national and international tours, with dominating sets at festivals including South By Southwest, the A389 X Bash, the New England Metal & Hardcore Fest, Chaos In Tejas included.
POWER TRIP's latest wave of shows will begin mid-May, as the band is now confirmed to take part in the annual Scion Rock Fest in Pomona, California on May 17th, joining Machine Head, High On Fire, Red Fang, Crowbar, King Buzzo, Midnight, Bl'ast!, In Cold Blood and Coffins among others. The following day the band will find themselves on the opposite end of the country to rip it up at the 2014 installment of the Black N' Blue Bowl in Brooklyn, New York, the two-day rager set to include Hatebreed, Agnostic Front, Ludichrist, All Out War, Discharge, 7 Seconds, Kraut and tons more. June and July will see POWER TRIP invading Calgary, Alberta's five-day Sled Island Music Festival with Spiritualized, Neko Case, Rocket From The Crypt, Mission Of Burma, Bob Mould, Chelsea Wolfe, labelmates Black Cobra and countless others, as well as This Is Hardcore Fest in Philadelphia, Pennsylvania, with Crowbar, Ringworm, Overcast, Xibalba, Converge, Bl'ast, Turmoil, Slapshot, Blacklisted, Bold, Nails, Madball, The Bad Luck 13 Riot Extravaganza among tons of other acts on the four-day bill. Additional shows all the way into September have also been confirmed, and more shows will continually be added to the band's upcoming itinerary.
POWER TRIP Tour Dates:
5/17/2014 The Glass House – Pomona, CA @ Scion Rock Fest [info]
5/18/2014 The Well – Brooklyn, NY @ Black N Blue Bowl [info]
6/18/2014 Sled Island Music Festival – Calgary, AB [info]
6/21/2014 Marquis Theatre – Denver, CO @ Trve Brewing Anniversary [info]
7/22/2014 Stone Fox – Nashville, TN w/ Mammoth Grinder
7/23/2014 Strange Matter – Richmond, VA w/ Iron Reagan, Ramming Speed, Mammoth Grinder
7/24/2014 Metro Gallery – Baltimore, MD w/ Occultist, Genocide Pact w/ Mammoth Grinder
7/27/2014 The Electric Factory – Philadelphia, PA @ This Is Hardcore Festival [info]
7/30/2014 Webster Underground – Hartford, CT w/ Mammoth Grinder
7/31/2014 Presidents Rock Club – Quincy, MA w/ Mammoth Grinder
8/01/2014 Katacombes – Montreal, QC @ Rrroooaaarrr Festival w/ Cro-Mags
8/04/2014 Lager House – Detroit, MI w/ Mammoth Grinder, Easy Action
8/05/2014 Beat Kitchen – Chicago, IL w/ Mammoth Grinder
8/07/2014 Outland Ballroom – Springfield, MO w/ Mammoth Grinder
8/08/2014 Sons of Hermann Hall – Dallas, TX w/ Mammoth Grinder
9/04-06/2014 Hopscotch Music Festival – Raleigh, NC
Surging with a modernized translation of the works of mandatory crossover pioneers Nuclear Assault, the Cro-Mags and Leeway, Manifest Decimation hurtles POWER TRIP's "steel, speed and destruction" ethos direct at the jugular with thirty-five minutes of crossover intensity that sounds like it was excavated from a 1987 time capsule with sixteen tons of radioactive dynamite. With nearly thirty-five minutes of thrashing violence, Manifest Decimation wages war on all in its earshot, much like the POWER TRIP name has become synonymous with in the wake of their extreme live shows.
http://www.powertriptx.bandcamp.com
http://www.facebook.com/pages/Power-Trip/225888068887
http://twitter.com/#!/PowerTripTX
http://www.twitter.com/#!/PowerTripTX
http://www.southernlord.com
http://twitter.com/twatterlord
http://www.facebook.com/SLadmin