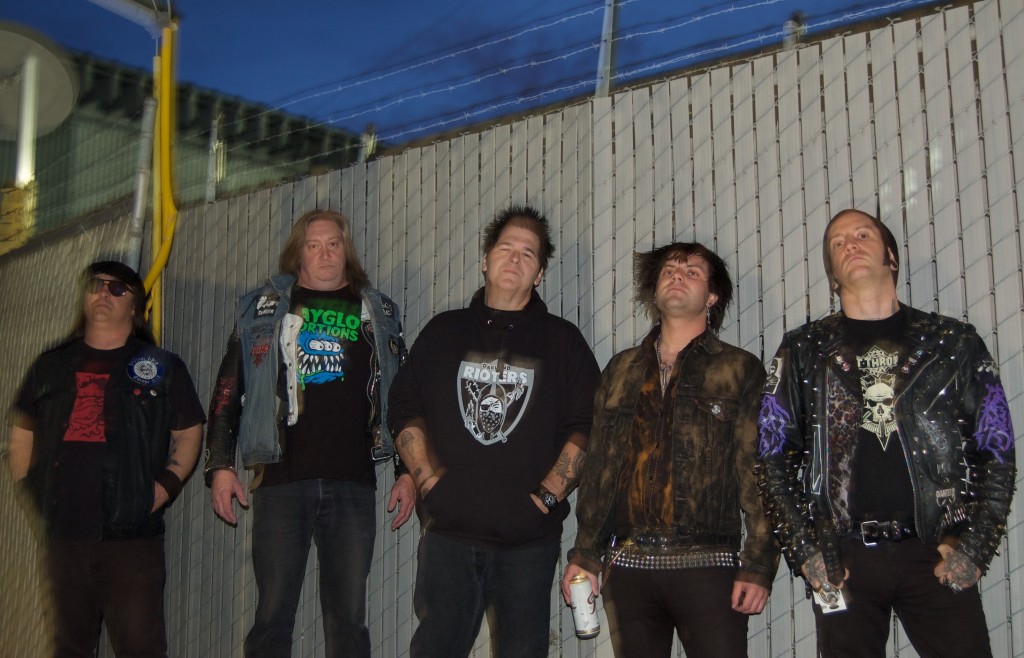 [photo by Jason Charles]
The undisputed reigning kings of hardcore punk, POISON IDEA, are preparing for vicious live assaults on opposing coasts of North America flanking the turn of the year, with a West Coast tour about to begin next week, and an East Coast run now confirmed for February.
POISON IDEA returned to full-time deployment in 2015 with the triumphant release of their brutalizing new studio full-length, Confuse & Conquer, which was unveiled by Southern Lord in April. The band's first new album since 2006's Latest Will And Testament, and first since the passing of their great friend and guitarist, the iconic Tom "Pig Champion" Roberts, Confuse & Conquer boasts thirty-five minutes of thundering, infectious rage recorded in the band's hometown by Joel Grind (Toxic Holocaust) and mastered by Brad Boatright (From Ashes Rise) at Audiosiege. Setting everything in its path ablaze with the nonstop pummeling punk the band has assaulted the planet with for three-and-a-half decades, the album became an instant classic for all fans of the band, and is one of the most indisputably vital releases in the punk/hardcore realms this year.
Following their recent appearance at the Housecore Horror Fest in San Antonio, Texas, from December 11th through the 19th, POISON IDEA will storm the West Coast US, the first show taking place in Reno and followed by eight gigs throughout California, including San Francisco, Berkeley, Santa Cruz, Anaheim, San Diego, Long Beach, Ventura and Sacramento. Two weeks later the band will hammer their hometown of Portland, Oregon with a show on January 2nd.
February sees POISON IDEA back in the van yet on the opposite side of the country as they embark on their first East Coast tour in three years. The confirmed routing begins in Richmond on February 11th with support from Iron Reagan, then takes them to Baltimore, Philadelphia, Brooklyn, Amityville, Wallingford, Somerville, Albany, Montreal, Toronto and ends in Grand Rapids on February 21st. Detroit's Child Bite will supply support for all but the first three shows of this run, NYC kingpins Sheer Terror join the mayhem at the Amityville show and more.
Following both upcoming tours, POISON IDEA will once again make their way back to Europe for another tour of that continent during the Springtime thaw. Stand by for further updates in the weeks ahead.
POISON IDEA's Confuse & Conquer LP is available on vinyl and CD HERE, and the album streaming in full and available for digital purchase HERE.
POISON IDEA Tour Dates:
12/11/2015 Shea's Tavern – Reno, NV
12/12/2015 Thee Parkside – San Francisco, CA
12/13/2015 924 Gilman – Berkeley, CA
12/14/2015 Catalyst Atrium – Santa Cruz, CA
12/15/2015 The Doll Hut – Anaheim, CA
12/16/2015 Soda Bar – San Diego, CA
12/17/2015 Alex's Bar – Long Beach, CA
12/18/2015 The Garage – Ventura, CA
12/19/2016 Blue Lamp – Sacramento, CA
1/02/2016 Ash Street – Portland, OR w/ The Lovesores, Shadowhouse
2/11/2016 Strange Matter – Richmond, VA w/ Iron Reagan
2/12/2016 Ottobar – Baltimore, MD
2/13/2016 Voltage Lounge – Philadelphia, PA
2/14/2016 Acheron – Brooklyn, NY w/ Child Bite, Chud
2/15/2016 Amityville Music Hall – Amityville, NY w/ Child Bite, Sheer Terror, Deathcycle
2/16/2016 Cherry Street Station – Wallingford, CT w/ Child Bite
2/17/2016 Once – Somerville, MA w/ Child Bite
2/18/2016 Fuzebox – Albany, NY w/ Child Bite
2/19/2016 Bar Le Ritz PDB – Montreal, QC w/ Child Bite
2/20/2016 Hard Luck – Toronto, ON w/ Child Bite
2/21/2016 Pyramid Scheme – Grand Rapids, MI w/ Child Bite
http://www.facebook.com/pages/Poison-Idea-Official-/366089496806858
http://www.southernlord.com
http://southernlord.bandcamp.com
http://twitter.com/twatterlord