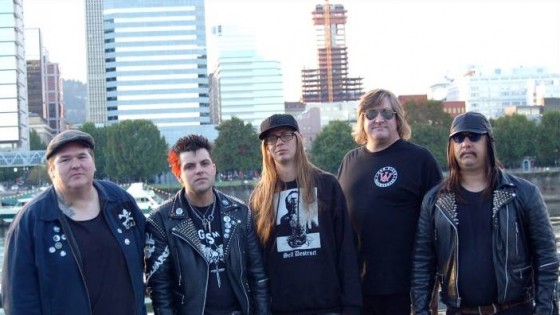 It is with massive enthusiasm that Southern Lord Recordings announces the impending brand new studio LP from long-running, legendary and infamous Portland, Oregon-based American hardcore punk outfit, POISON IDEA!
Over recent months, out of the public eye, the current POISON IDEA lineup has been intermittently raiding Audiosiege in Portland for clandestine recording and mastering sessions, covertly harnessing their first new album since 2006's Latest Will And Testament LP. Bearing eleven raging new anthems, the new album has been titled Confuse & Conquer. Recorded by Joel Grind (Toxic Holocaust) and mastered by Brad Boatright (From Ashes Rise), the record booms with thirty-five minutes of fully ignited hardcore punk in the monolithic style the band has provided for three-and-a-half decades now.
Though Confuse & Conquer is the first new POISON IDEA album to be released since the passing of iconic guitarist Tom "Pig Champion" Roberts in early 2006, the loved, infectious sound delivered on the band's seminal albums including 1990's Feel The Darkness and 1992's Blank Blackout Vacant blazes through the entire album. POISON IDEA currently includes Eric "The Vegetable" Olsen, back on lead guitar. He was the first real lead guitarist in the band and the second player after Pig Champion, and he played on the 1987's War All the Time LP and 1988-released Filthkick EP. The band also welcomes the return of Chris "Spider" Carey on bass, who played on Latest Will And Testament, the last recording before Pig passed. The lineup is rounded out with Brandon Bentley also joining on guitar, Nathan "Skinny" Richardson on drums, and as always, founding vocalist Jerry A. Lang handles the hot-blooded vocal delivery.
"What can I say? We're all happy with the record," reports Jerry A., on the completion of Confuse & Conquer. "It's a group effort; we all had a part in writing the songs. We've been screwing around for too long. We had to hang back and see whose heart was really in this thing we've been doing for thirty years and who was bullshitting. We have a lot of touring to do next year, to make up for the last one being cancelled due to people with the wrong priorities. Everybody in the band now lives to play and make music; that comes first. It always has, it just took a long time to filter out the flakes, and keep the diehards. So these guys know how to make this ship float. As far as I'm concerned, it feels like being reborn, having a second wind, a hardcore revival, and just discovering meaning, all at the same time. To put it mildly, we're happy, I'm happy, and this is just the start. No stopping from here out."
Issues Southern Lord owner Greg Anderson on the signing and upcoming album: "I've been a rabid POISON IDEA fiend ever since seeing them decimate the legendary Gorilla Gardens in Seattle in 1985. Having the opportunity to work with this legendary band all these years later is an inexplicable honor."
Confuse & Conquer is being slated for a Spring 2015 release through Southern Lord Recordings, who, in conjunction with TKO, has been reintroducing deluxe versions of POISON IDEA's back-catalog over recent years, including Darby Crash Rides Again, The Fatal Erection Years and Kings Of Punk. In addition to the release of the brand new Confuse & Conquer album in 2015, expanded reissues of War All The Time, Feel The Darkness and more are also in the works for the coming years. POISON IDEA is planning a massive European tour for in conjunction with the release of Confuse & Conquer, with more stateside touring and other live actions to be confirmed as well.
Formed in 1980, POISON IDEA became a household name in the hardcore/punk scenes early in their career, and are known as one of the most notoriously in-your-face acts in the American musical underworld, with an enraged, high-energy live set even more rambunctious than the massive roster of singles, EPs, full-length studio and live releases and more, across a realm of labels including Pusmort, Alchemy, American Leather, Bitzcore, Tim/Kerr, Taang!, Farewell, TKO, Southern Lord, Candlelight, and their own Fatal Erection. They've been an incredibly influential act to major performers including Nirvana, Pantera, Napalm Death, Machine Head, Eyehategod, Emperor, Turbonegro and an endless list of others.
http://www.facebook.com/pages/Poison-Idea-Official-/366089496806858
http://www.southernlord.com
http://southernlord.bandcamp.com
http://twitter.com/twatterlord