With its imminent unveiling now just one week away, today mainstream music gateway, Pitchfork, offers up PILGRIM's II: Void Worship in its entirety!
Recorded at Moonlight Mile Recording by sound sage Mike Moebius and centered on tales of swords and sorcery, death, doom and widespread obliteration, PILGRM's II: Void Worship is a frighteningly crushing exercise in pure, sonic doom. Each of its eight tracks ebb and flow into frenzied climaxes and fade into sweet audio depressions, molding perfectly crafted rock songs into twisted spires of critic, shadowy doom metal epics. Relays Metal Insider upon an early investigation of the offering, "On their newest album, II: Void Worship, PILGRIM turn in their drone elements for a more melodic approach to the doom ethos. Don't let that trick you into thinking this album isn't as heavy or is in some way more radio friendly than their previous effort. On the contrary, the riffs on this album and the way the songs are structured are such that it's an even darker and more sinister sounding effort in certain ways, not unlike the classic outputs of doom titans Trouble, Candlemass and Cathedral," Pit Riff notes, "In the epic world of doom metal, there are a lot of pretenders. There are only a few that are truly authentic though. PILGRIM is one of the most authentic… Their grinding, slow moving sludge is such from which legends put on this Earth to slay anyone or anything in its path. …PILGRIM have created a behemoth of a release that's almost too heavy to listen to in a single sitting," while Metal Injection adds succinctly, ""Oh, were you looking for something that didn't weight one thousands tons? Well that's just too damn bad."
Hear the planets collide with II: Void Worship, now playing at Pitchfork at THIS LOCATION.
PILGRIM is currently performing their ceremonies across the US supporting reunited stoner rock icons, Spirit Caravan. The journey will raze nearly two dozen cities by its conclusion and has already seen the band captivating newfangled ears at three SXSW performances. Don't miss them level your town.
PILGRIM w/ Spirit Caravan [remaining dates]:
3/24/2014 The Shredder – Boise, ID
3/25/2014 Burt's Tiki Lounge – Salt Lake City, UT
3/27/2014 Marquis Theater – Denver, CO
3/29/2014 Reggie's – Chicago, IL
3/30/2014 Cactus Club – Milwaukee, WI
3/31/2014 The Fifth Quarter – Indianapolis, IN
4/01/2014 Outland Ballroom – Springfield, MO
4/02/2014 Rock Island Brewing – Rock Island, IL
4/03/2014 Fubar – St. Louis, MO
4/04/2014 Hi Tone – Memphis, TN
4/05/2014 V Club – Huntington, WV
4/06/2014 Hideaway – Johnson City, TN
4/08/2014 Pyramid Scheme – Grand Rapids, MI
4/09/2014 Skully's – Columbus ,OH
4/12/2014 31st St Pub – Pittsburgh, PA
4/13/2014 Empire – Springfield, VA
4/14/2014 AS220 – Providence, RI
4/15/2014 Saint Vitus Bar – Brooklyn NY
Since the early 2012 unveiling of their debut sonic behemoth, Misery Wizard, fans and critics alike have patiently yet anxiously awaited the second chapter in the ongoing legacy of the mighty Rhode Island trio that is PILGRIM. Their first release shook the metal underground to its core, making a loud, in-your-face effort to bring doom metal back to its most minimalist and archaic roots, restoring it to its former glory. Their critical success, paired with their controversial interviews and emotionally draining live performances have lead PILGRIM to excellence, traversing the globe performing sold-out shows in multiple countries and playing festivals alongside some of the biggest names in their genre. Two years later, the fabled outfit has returned with a brand new record, the highly anticipated next installment of their aural adventure, II: Void Worship.
II: Void Worship is scheduled for release on April 1, 2014 in North America, and on March 28/31 in Europe/UK via Metal Blade Records. Special preorder packages, including vinyl, are currently available at http://www.metalblade.com/pilgrim/.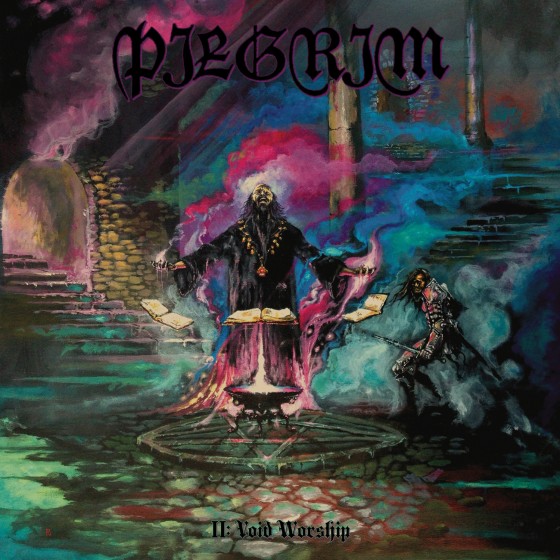 http://www.facebook.com/hailthepilgrim
http://www.metalblade.com