The second full-length of demolition from PIG HEART TRANSPLANT — the solo works of one Jon Kortland of Iron Lung — has been declared for release this September, as a conjoined release between 20 Buck Spin and the band's own Iron Lung Records.
The alter ego of Jon Kortland, one half of surgical powerviolence duo, Iron Lung, PIG HEART TRANSPLANT delivers both a vicious beating and violent outcome, however the operating methodology is an entirely different animal; slow, churning, industrial, electronic, painfully percussive, a bureaucratic nightmare of State Power with gears grinding the individual into a hallow shell, perfectly molded into one of Them. This is 1984.
Kortland's second opus, For Mass Consumption is composed of twenty-eight tracks, each approximately forty-four seconds long, each song bearing a four-letter word, structured in a perfectly palatable way for optimum group adoption and mindless adherence to common purpose. Electronic manipulation, no wave guitar noise, abrasive hammering and eerie synthetic ambiance imbue the listener with the seedy malaise of manipulation on a societal scale. One might recognize the pulverizing brutality of early Swans on tracks like "Film" or "Pigs," the pulsing throb of Brighter Death Now and IRM on "Coma" or even Robert McNaugton's soundtrack work for Henry: Portrait Of Serial Killer on "1970" or "1980."
For the first widespread preview of this aural torture, tune in to the fourth track from For Mass Consumption, "Born," being broadcast from THIS LOCATION.
Undoubtedly a horrifying work of aural terror, PIG HEART TRANSPLANT's For Mass Consumption is the logical result of a culture bent on banal conformity and the futile struggle against its domination. 20 Buck Spin is pleased to bring this tormented future vision into the present in collaboration with Iron Lung Records. The album will storm North America first via 20 Buck Spin on September 2nd, followed days later on September 8th upon European populations. Vinyl and cassette editions will follow via Iron Lung Records shortly after.
New performances among the humans should be considered forthcoming, alongside additional previews of For Mass Consumption and more. Devotees of early Swans (early), SPK, Test Dept, Bastard Noise, Pharmakon, Godflesh and of course, Iron Lung, get hip to this one.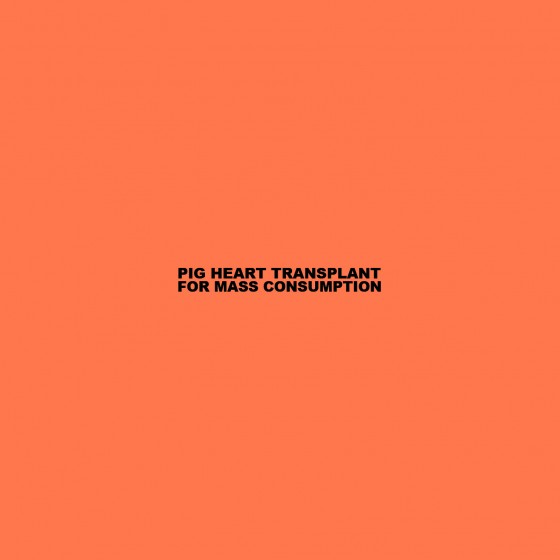 For Mass Consumption Track Listing:
1. Drug
2. Film
3. Gift
4. Born
5. Male
6. Numb
7. Pigs
8. Acts
9. Pray
10. Swim
11. Thaw
12. Coma
13. Copy
14. 1970
15. Dirt
16. Used
17. Cuts
18. City
19. Line
20. Home
21. Scum
22. Safe
23. Half
24. Edit
25. Belt
26. Mute
27. Sold
28. 1980
http://www.20buckspin.com
http://www.facebook.com/20buckspin
http://twitter.com/20buckspinlabel
http://lifeironlungdeath.blogspot.com
http://ironlungrecords.bigcartel.com