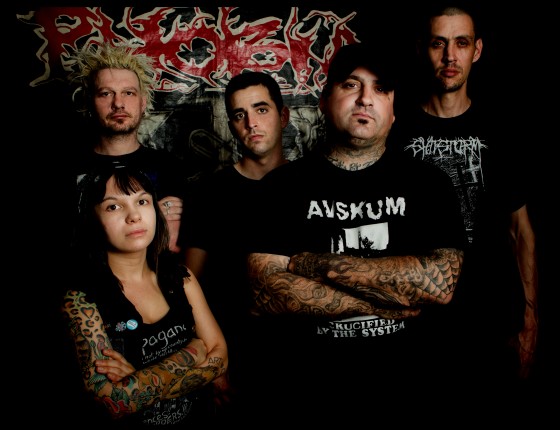 Longstanding grindcore powerhouse PHOBIA today brutalize the masses with another brand new track from their forthcoming LP, Remnants Of Filth, pending public release via Willowtip Records on June 5th. Unleash total hell with the relentless third track from Remnants Of Filth, the unarguably pissed "Submission Hold," right now via DECIBEL MAGAZINE.
The band also recently disbursed the album's second track, "Contradiction," which is slaughtering the lands via Youtube HERE.
PHOBIA will be spreading their hostility throughout North America later this year and will appear on this year's edition of the Scion Rock Fest, set to take place at the Ritz Theatre in Tampa, Florida alongside the likes of Down, Sleep, Merzbow, Church of Misery, All Pigs Must Die, Ides Of Gemini and more!
In conjunction with the release of Remnants Of Filth, PHOBIA will join forces with power violence insurgents Strong Intention for the The East Coast Filth Tour 2012 set to commence June 3 in Detroit and decimate 9 cities. Check tour dates below.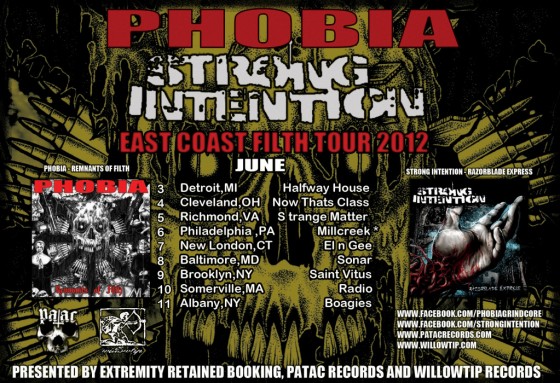 PHOBIA Live:
5/19/2012 Church Hill's Pub – Miami, FL
5/31/2012 Red 7 – Austin, Texas @ Chaos In Tejas Fest
PHOBIA – East Coast Filth Tour 2012
w/ Strong Intention
6/03/2012 Halfway House – Detroit, MI
6/04/2012 Now that's class – Cleveland, OH
6/05/2012 Strange matter – Richmond, VA
6/06/2012 Millcreek – Philadelphia, PA
6/07/2012 El N Gee – New London, CT
6/08/2012 Sonar – Baltimore, MD
6/09/2012 Saint Vitus – Brooklyn, NY
6/10/2012 Radio – Somerville, MA
6/11/2012 Boagie's – Albany, NY
With 22 notorious years of charged auditory mayhem under their belts, Orange County, California's grindcore unit PHOBIA will assault humankind with their fifth full-length, Remnants of Filth. Easily one of the most enraged releases in the band's iconic discography — citing classic releases for the genre via labels like Slap-A-Ham, Relapse, Deep Six, Deathvomit in addition to previous releases with current label home Willowtip Records — Remnants Of Filth surges with eighteen socio-political grind hymns in about as many minutes, produced and mixed by Scott Hull (Pig Destroyer, Agoraphobic Nosebleed) at Visceral Sound Studios in Bethesda, Maryland and engineered by Mike Harrison at Winter Skies Productions in San Antonio, Texas.
https://www.facebook.com/phobiagrindcore
http://www.myspace.com/phobiagrindcore
http://willowtip.com