PHILIP H. ANSELMO & THE ILLEGALS and Housecore labelmates/Detroit noise rock collective CHILD BITE will kick off the second leg of the Choosing Mental Illness US tour on November 1st. The tour follows THE ILLEGALS' recent East Coast run with Australian grind comrades King Parrot. See all confirmed dates below.
View a clip of PHILIP H. ANSELMO & THE ILLEGALS performing the track "Choosing Mental Illness" at Saint Vitus Bar in Brooklyn, New York last month, courtesy of Revolver, at THIS LOCATION.
PHILIP H. ANSELMO & THE ILLEGALS + CHILD BITE:
11/01/2018 The Lost Well – Austin, TX [tickets]
11/02/2018 Jakes – Lubbock TX [tickets]
11/03/2018 Black Sheep – Colorado Springs, CO [tickets]
11/05/2018 Marquis Theater – Denver, CO [tickets]
11/07/2018 Diamonds – Jerome, ID [tickets]
11/08/2018 Cargo – Reno, NV [tickets]
11/09/2018 Senator Theatre – Chico, CA [tickets]
11/10/2018 Strummer's – Fresno, CA [tickets]
11/11/2018 Holy Diver – Sacramento, CA [tickets]
11/15/2018 Brick By Brick – San Diego, CA [tickets]
11/16/2018 Viper Room – Los Angeles, CA [tickets]
11/17/2018 Club Red – Mesa, AZ [tickets]
11/18/2018 Launchpad – Albuquerque, NM [tickets]
11/19/2018 89th St. – Oklahoma City, OK [tickets]
11/20/2018 Rev Room – Little Rock, AR [tickets]
PHILIP H. ANSELMO & THE ILLEGALS released their critically-lauded Choosing Mental Illness As A Virtue full-length earlier this year via Anselmo's own Housecore Records. Crowned, "fifty minutes of gnarly, vicious extreme metal…," by Revolver Magazine, "an ever-shifting fusillade of extreme groove prog…," by Decibel Magazine, and, "unquestionably one of the angriest and heaviest albums of ANSELMO's career," by Exclaim!, Choosing Mental Illness As A Virtue is extreme, abrasive, aggressive, and anthemic.
Choosing Mental Illness As A Virtue is out now on CD, vinyl, and digital formats in North America via Housecore Records. Order bundles are currently available via the Housecore Store at THIS LOCATION. For digital orders and to stream the record in full, go HERE.
American noise rock/hardcore punk/heavy metal band CHILD BITE formed in 2005 in Detroit, Michigan. The band's core members are founding vocalist Shawn Knight and long-time bassist Sean Clancy. CHILD BITE has released four full-length albums and ten EPs over the past twelve years, all featuring artwork by Shawn Knight. Their recently-issued two-disc anthology, Burnt Offerings, features twenty-four tracks of rarities and covers recorded between 2010-2017. To date, CHILD BITE has played nearly nine-hundred shows throughout Europe and North America, including tours supporting acts such as Down, Voivod, Negative Approach, Superjoint, Poison Idea, and Unsane. Earlier this year, the band completed a month-long Australian tour with labelmates King Parrot… and the caravan rolls on.
Stream Burnt Offerings: Covers And Rarities 2010 – 2017 at the Housecore Bandcamp page at THIS LOCATION. For physical orders, visit the Housecore Store HERE.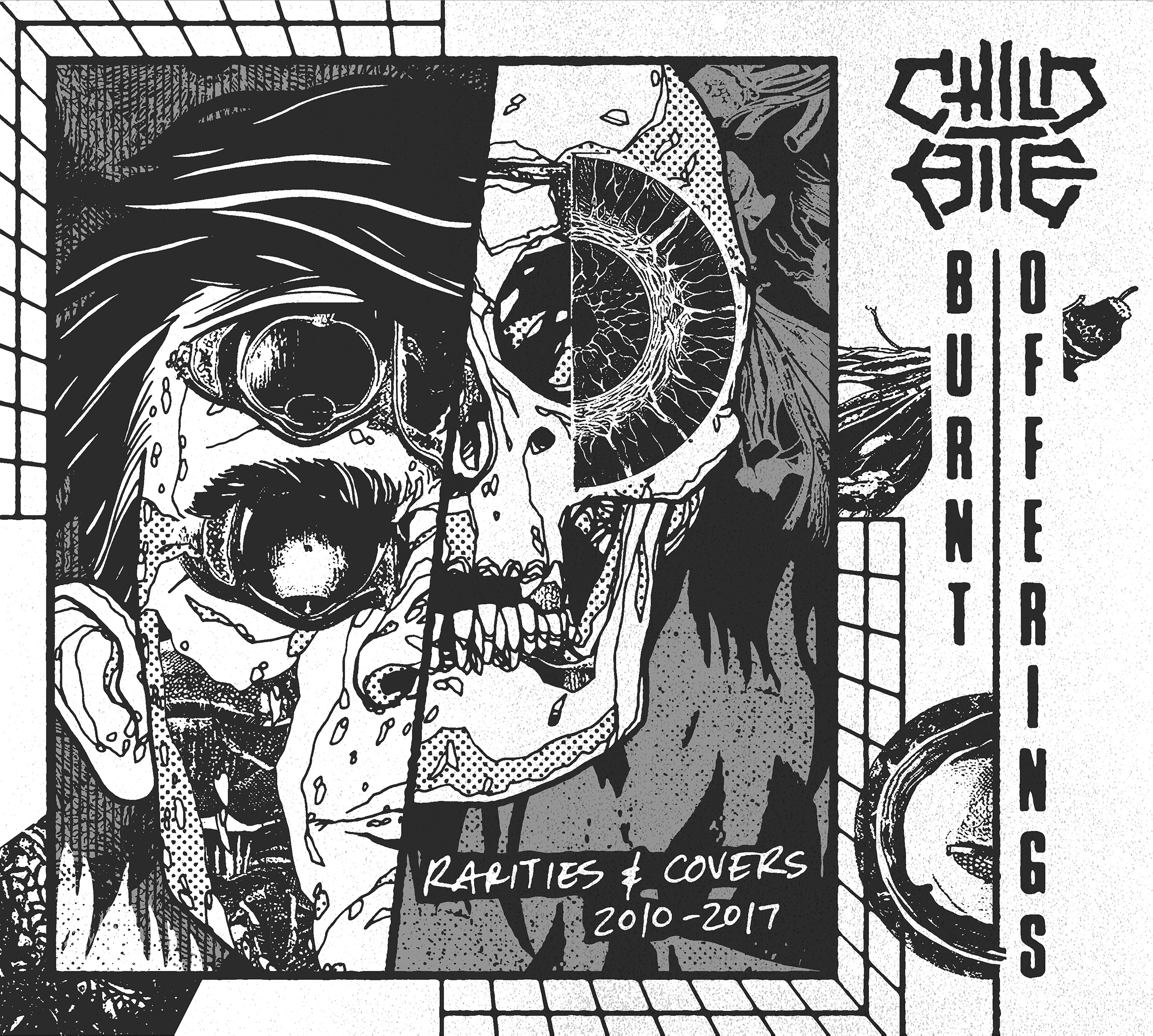 http://www.facebook.com/philipanselmo
http://www.facebook.com/Philipillegals/
http://www.childbite.com
http://www.facebook.com/childbite
http://www.thehousecorerecords.com
http://www.thehousecorestore.com
http://www.facebook.com/housecorerecords