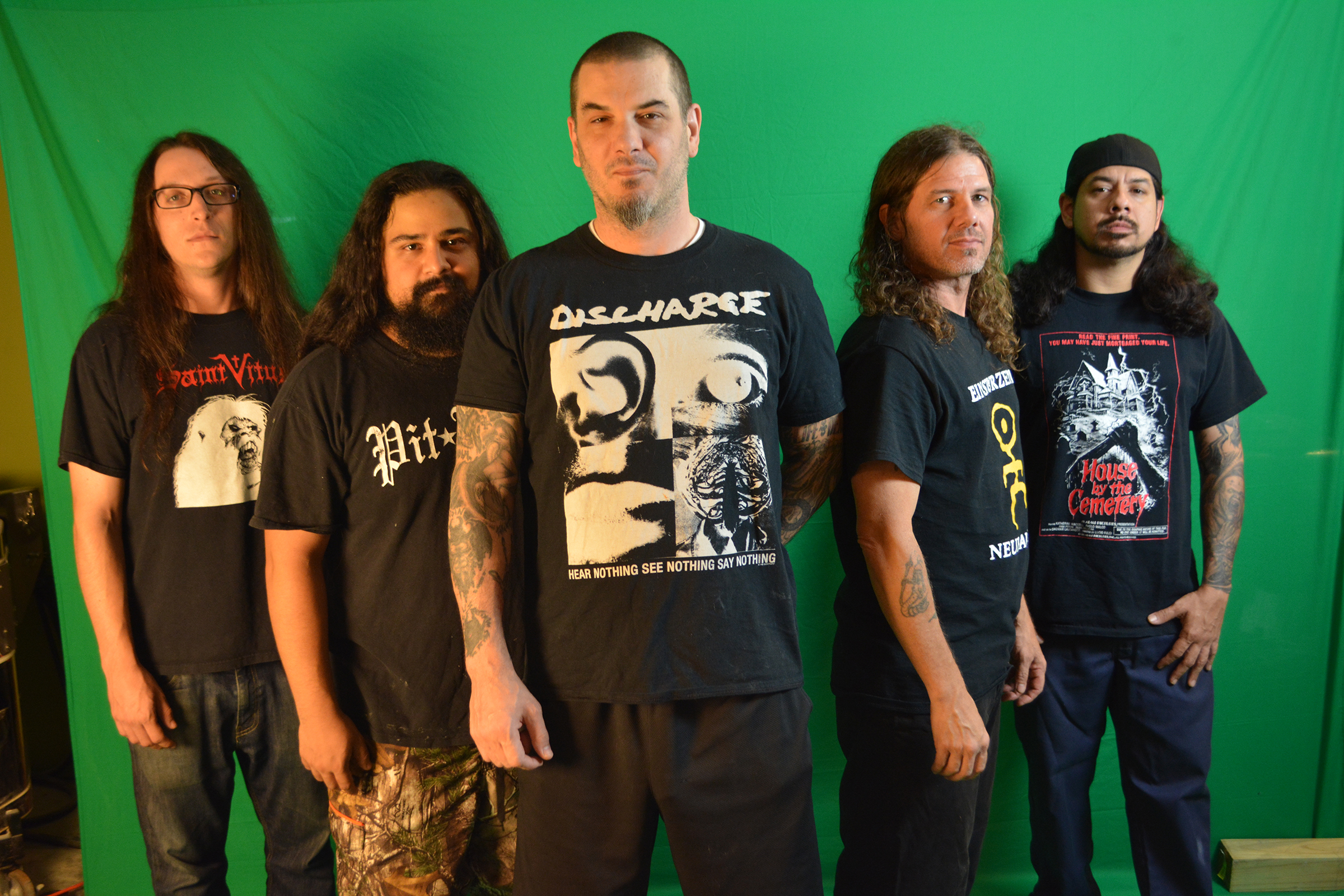 Stream PHILIP H. ANSELMO & THE ILLEGALS' "Choosing Mental Illness," at THIS LOCATION.
PHILIP H. ANSELMO hasn't just paved his own path; he's bulldozed it with his bare hands. His primal, powerful presence led Pantera to Grammy Award nominations, sales of 20 million albums worldwide, legions of diehard fans, and an indisputable heavy metal legacy. Simultaneously, Down carved out a distinct niche with a gold-selling debut and three more critically acclaimed releases. Superjoint made a triumphant return in 2016 and in the midst of everything, Anselmo joined Scour alongside members of Pig Destroyer and Cattle Decapitation and teamed up with horror icon Bill Moseley for the Bill & Phil project. However, PHILIP H. ANSELMO & THE ILLEGALS speaks to a certain need for him.
Instead of treading the same ground, ANSELMO and his bandmates in THE ILLEGALS, open up another doorway altogether with their 2018 sophomore release, Choosing Mental Illness As A Virtue, available through the vocalist's own Housecore Records. It's extreme, abrasive, aggressive, and anthemic. In other words, it's purely ANSELMO.
Following up 2013's Walk Through Exits Only, this new body of work hinges on no holds-barred lyrical misanthropy and insurgent instrumental intricacy as it sharpens any and all edges to guillotine precision. "It ain't pretty," ANSELMO exclaims. "It's more straightforward and cohesive to a degree, but it still goes off the rails here and there. We went through it song after song cut and fucking dry. I was in a specific mindset. I wanted to further my endeavors into a genre of music that I adore. As all ten songs blow by, I wanted an unforgiving feel. This is what was on my mind. It's a recorded capsule of time."
Following a successful maiden touring cycle for THE ILLEGALS, the frontman hunkered down at his home studio in Louisiana to record what would become Choosing Mental Illness As A Virtue in 2014 and 2015. The lineup shifted as Stephen Taylor (Superjoint) transitioned from bass to guitar, Mike DeLeon (Flesh Horder, Being Killed, ex-MOD et al) joined as a guitarist, and Walter Howard (Grieved, Oppressive Force) took over bass duties. Meanwhile, Jose Manuel "Blue" Gonzalez (Superjoint, Warbeast) held down the drums. Through rigorous rehearsals and writing sessions, a framework for the new music took shape as ANSELMO wholeheartedly welcomed the ideas of his cohorts.
"Their creative input is fucking fantastic," beams ANSELMO. "This is something that was very different from the first record where I was very staunch. I wanted it to be ugly. I was very firm that I was writing every fucking note. The thought was, 'This is my contribution to ugly music right this second in a heavy metal vein.' That was great at the time. Walk Through Exits Only made its own little statement that I am a free agent and I belong to no single band. This time, I worked closely with everyone. We tried different ideas together. It made the spirit of this thing come alive even more because of the enthusiasm these guys bring. It enhanced the integrity of the project."
"Choosing Mental Illness As A Virtue is going to get hated. It's going to get loved. Like every record I've ever done, I put zero expectations upon my peers, critics, or the general fucking public," he continues. "If you take one thing away from it, let it be this: Do not bog yourself down to one brand, character, or whatever. Have the guts to spread your wings and fucking flourish. I can promise you this is a beginning. As my music trickles out over the next two years, it's going to be quite the roller coaster ride. This new ILLEGALS is just the tip of the whole fucking avalanche."
Choosing Mental Illness As A Virtue will see release in North America via Housecore Records on January 26th, 2018. The record is being licensed in Europe by Season Of Mist. Digital preorders will be available this Friday, November 24th via all digital outlets with physical preorder bundles to be unveiled via the Housecore Store HERE.
In the meantime, Decibel magazine is currently streaming first single, "Choosing Mental Illness" issuing of the track: "Anselmo snarls over razor-sharp riffs and pounding rhythm section on 'Choosing Mental Illness,' teasing a violent and aggressive tone for the new record."
Hear "Choosing Mental Illness," at THIS LOCATION.
Choosing Mental Illness As A Virtue Track Listing:
Little Fucking Heroes
Utopian
Choosing Mental Illness
The Ignorant Point
Individual
Delinquent
Photographic Taunts
Finger Me
Invalid Colubrine Frauds
Mixed Lunatic Results

http://www.facebook.com/philipanselmo
http://www.facebook.com/Philipillegals/?ref=br_rs
http://www.thehousecorerecords.com
http://www.thehousecorestore.com
http://www.facebook.com/housecorerecords